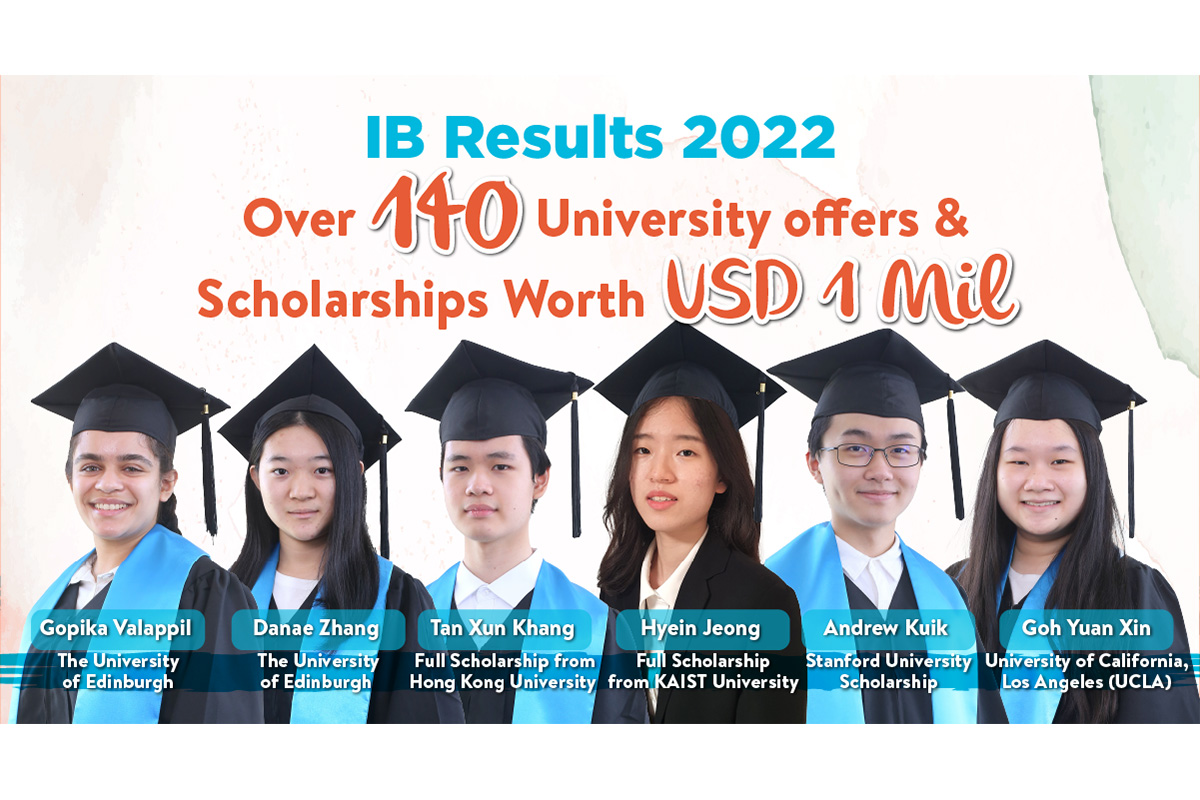 Nexus International School Malaysia, recognised as the Top IB School in Malaysia and 73rd in the World last year, announced that its International Baccalaureate Diploma Programme (IBDP) graduates has won over 140 university offers & USD 1 million in scholarships from prestigious universities around the world including Stanford University, University of British Columbia, University of Toronto, University of Glasgow, Korea Advanced Institute of Science and Technology (KAIST), Hong Kong University and many more.
Nexus International School, offers international education & boarding, has achieved an outstanding average score of 35 points in the examinations, above the 2021 worldwide average score. The school is proud of the achievement of one of its biggest and most diverse IB graduating cohort ever, with learners from 13 different nationalities offering a truly international experience for learners.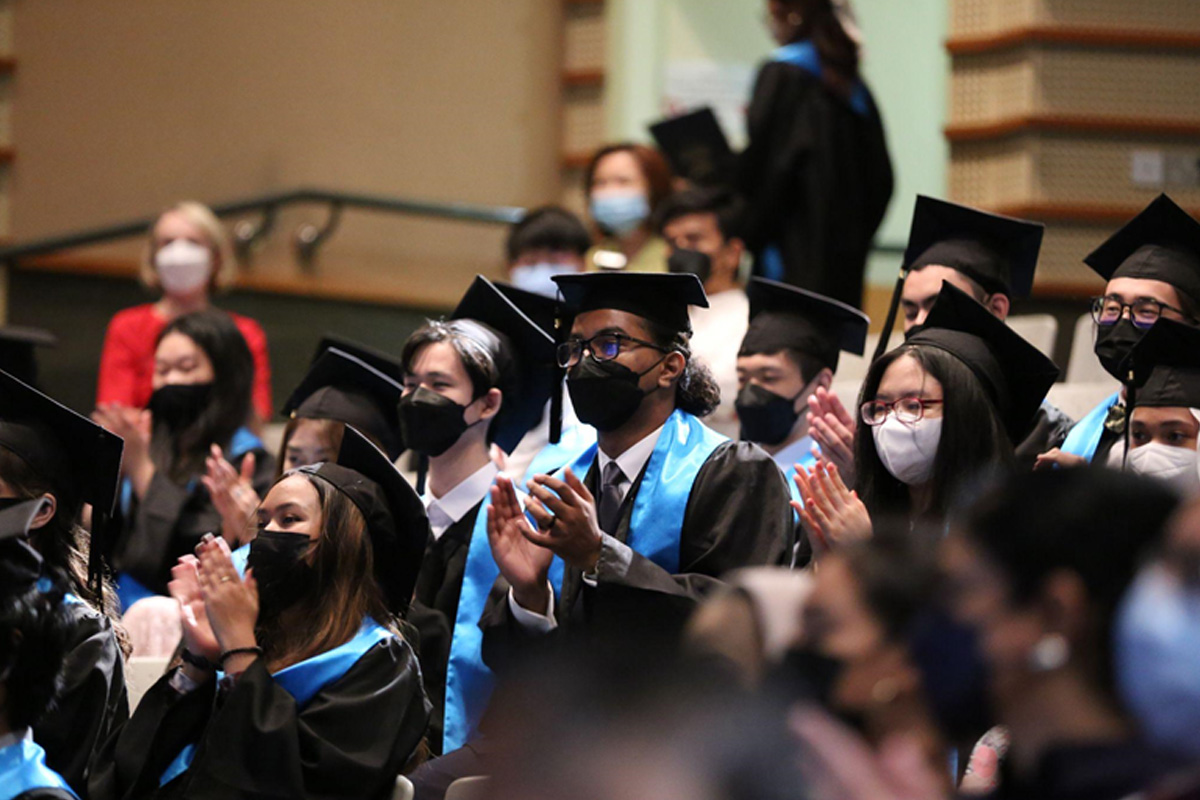 Even before the IB results were announced, Nexus learners had won over 140 university offers & USD 1 million in scholarships from prestigious universities around the world
The International Baccalaureate Diploma Programme
The IB Diploma Programme is made up of six subject groups, which offers a wide range of subject choices for pre-university students including the opportunity to take creative subjects as well as languages. The Diploma Core subjects aim to broaden students' education experiences and challenge their application of knowledge and skills. The Theory of Knowledge (TOK) subject asks students to reflect on the nature of knowledge; Community, Action, Service (CAS) require students to take part in a range of activities and projects such as music, sports or fundraising; while the Extended Essay is an independent piece of research, culminating in a university-level 4,000-word paper.
A Headstart to University Life with an IB Experience 
Testimony to the IB approach and philosophy of producing life-long learners who are able to make a difference, Nexus International School graduates have indeed had a headstart to their future, through the enriching IB experience they have had.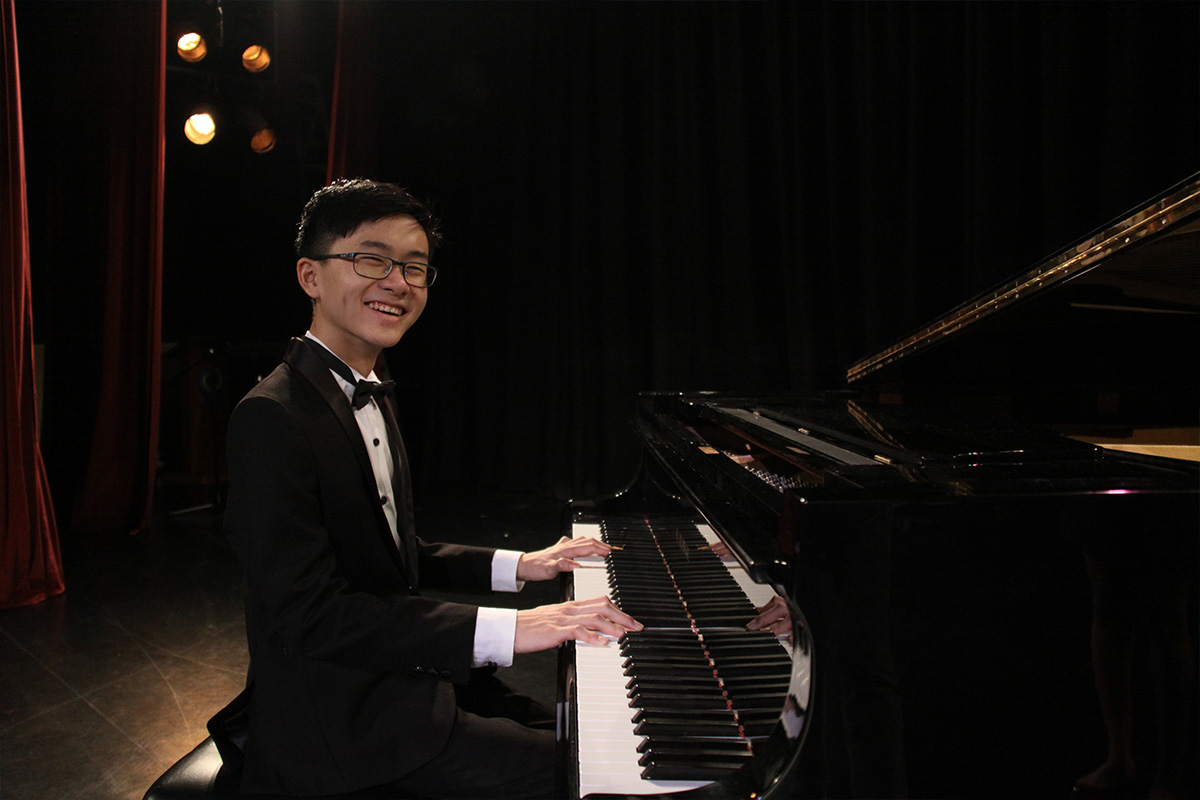 Andrew, a Nexus graduate, has won a scholarship to attend Stanford University. Also an accomplished pianist, he organised charity concerts raising funds for charitable causes
Andrew Kuik, is one such learner who has won a scholarship to study Computer Science at the prestigious Stanford University, USA and has achieved 42 points in the IB exams. A passionate & accomplished pianist, he has raised a total of RM 147,000 in funds over the last 5 years by organising Charity Concerts in aid of refugee centres, autistic children associations and many other charitable organisations. 
"Since I enjoyed playing the piano, I wanted to turn this into something that could also help out other people, especially the underprivileged. The concerts that I organised in various locations in Kuala Lumpur and Selangor, also provided an opportunity for other musicians including Nexus learners to perform in front of a large audience," says Andrew, who has been with Nexus for 6 years of his Secondary school life. "I chose to continue to study the IB Diploma because I felt it gave me the opportunity to take up a wider range of subjects, which helps open up more possibilities in career choices," he adds. 
The University of British Columbia, Canada on the other hand, has recognised Joseph Chung, another Nexus International School graduate with the Karen McKellin International Leader of Tomorrow Award, which offers a full scholarship worth USD $250,000 for him to pursue a Bachelor of Science in the university.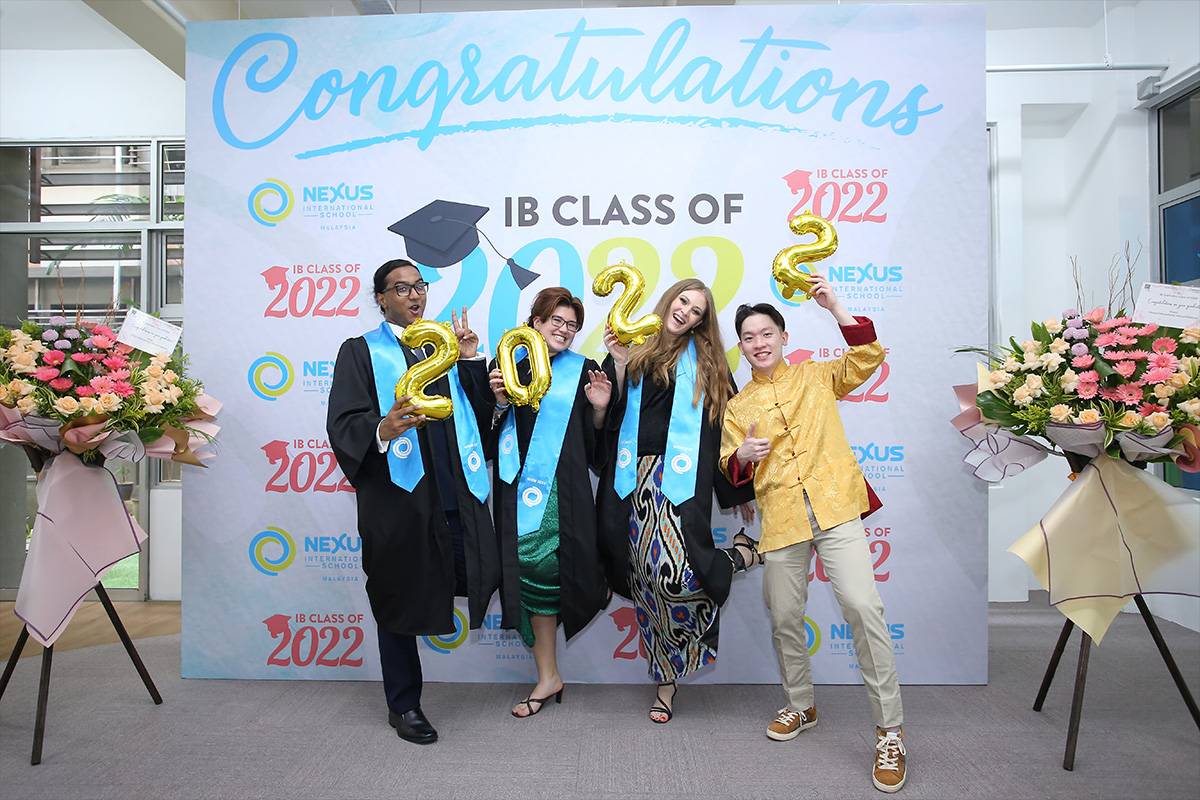 Joseph, first from the right, graduates with his IB classmates, winning the Karen McKellin International Leader of Tomorrow Award from University of British Columbia.
While studying at Nexus, Joseph had already established a research internship with The Genomics Research Center, Academia Sinica in Taiwan and was even granted a patent for his invention of a 'Safety Alert Method for Child Safety Seats'. He attributes his success to the school's philosophy of supporting every learner in their passions and to reach their potential, and as such, was always able to reach out to his Science teachers for clarifications on questions that were outside of textbook content. Joseph has won several other awards including the Best Biology Award and Top 15 Nationwide in the International Medical University (IMU) Science Discovery Challenge 2021 and was named two-time National Champion in the Sime Darby Young Innovators Challenge (SDYIC). 
Further to this, Danae Zhang who achieved 44 points, hails from China and has enjoyed the openness and positive learning culture throughout the IB programme. "When I first started at Nexus in Year 9, my English skills were not that great, but I took up Drama in Year 10 and learnt a lot by interpreting and analysing various texts. Her hard work paid off, since the school awarded her with a partial scholarship to continue to study the IB programme. "Teachers are very encouraging throughout the IB programme, and most definitely a reason for my success," she adds.
One of the big emphasis in international schools such as Nexus is their Career Guidance & Higher Education Counselling, where learners are provided with advice and guidance as early as 14 years old on their career aptitude, exposure to diverse higher education and career choices and one-to-one assistance on university application processes (including writing Personal Statements), scholarship sourcing and more. This is an essential part of the IB Diploma Programme to ensure graduates gain entry into their course and university of choice.
IB Diploma scholarships and fee waivers available

Find out more about our international-minded IB learners and how they are taught to solve real-world problems and make a difference in the world. Be part of the Top IB School in Malaysia. 
The school is currently offering IB Diploma scholarships of up to 30% off tuition fee for August 2022/23 intake. For those who would like to consider boarding, a special promotion of up to RM50,000 off tuition fees and boarding is available. Enquire now at https://bit.ly/3RELoFv. 
For more information, visit www.nexus.edu.my or contact the Nexus Admissions team at [email protected] / +60 3 8889 3868 / +6017 606 6255 (Whatsapp).