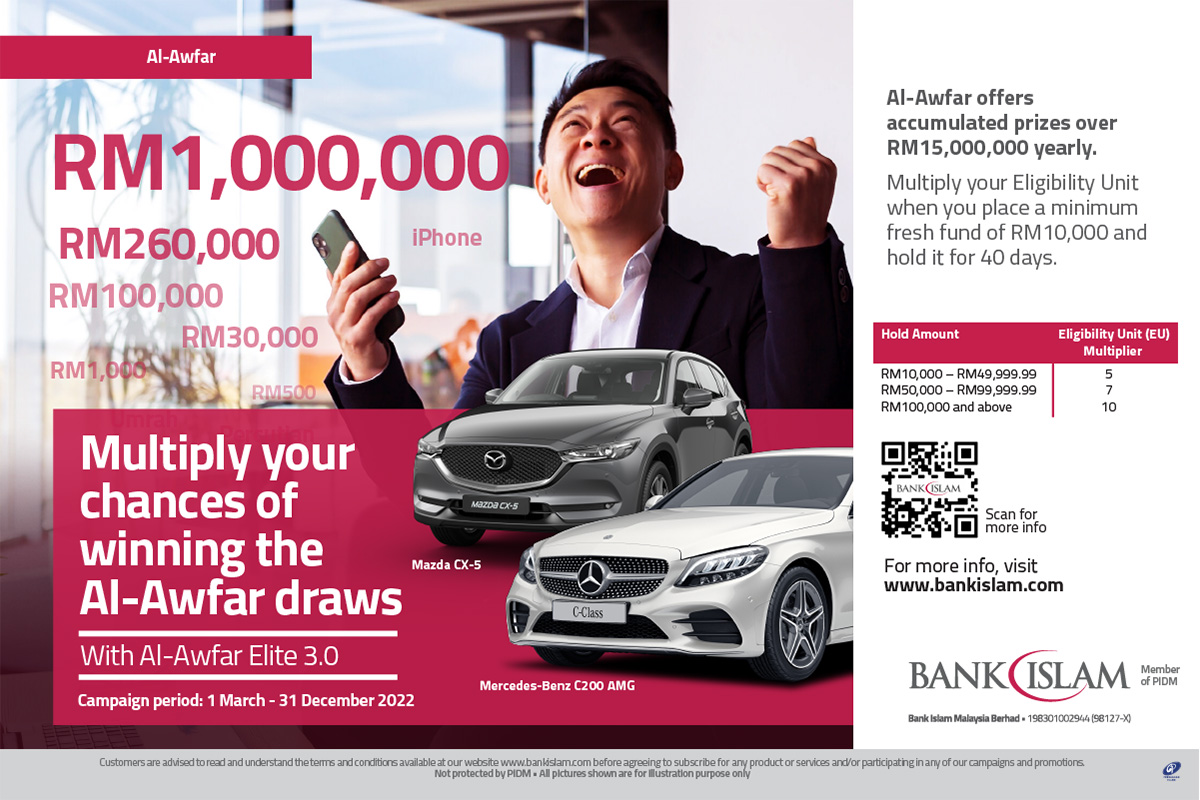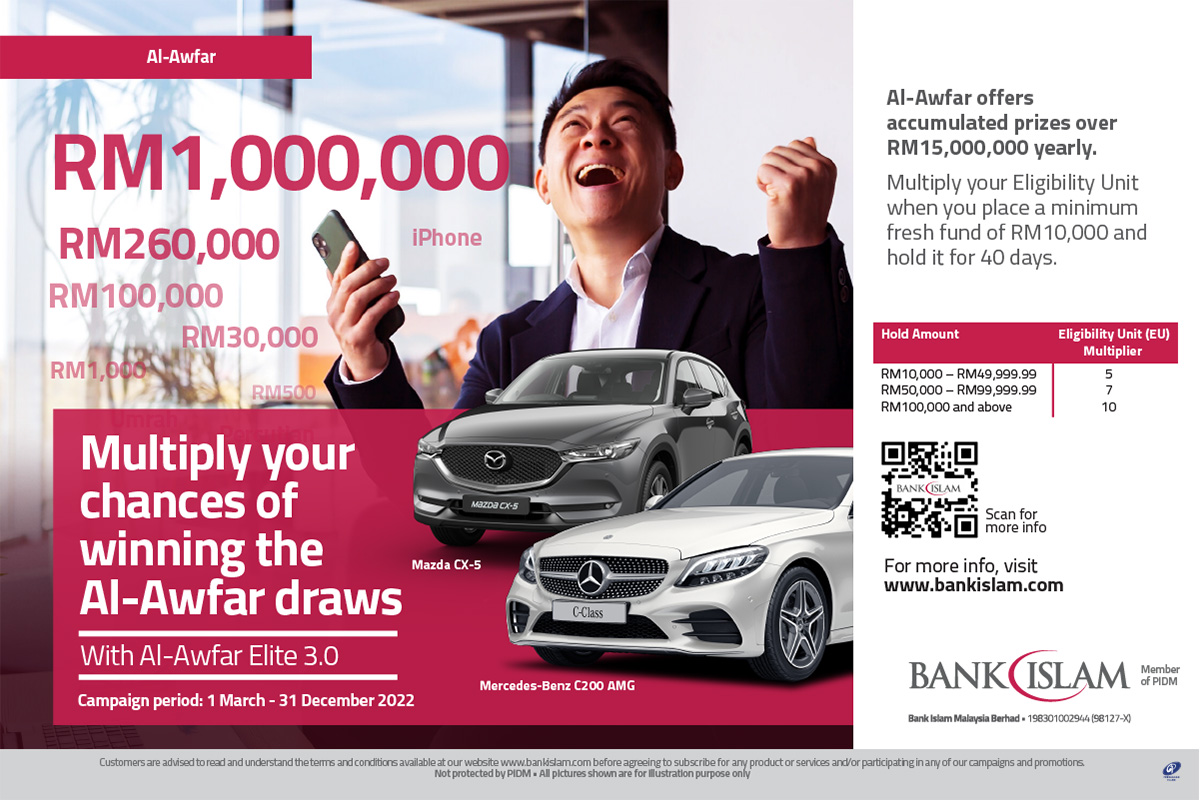 Introduced in 2009, Al-Awfar is an innovative investment account which offers attractive accumulated  prizes worth over RM15 million a year through their Monthly, Quarterly and Half-Yearly draws. It is a low risk investment account based on Mudarabah concept where the funds are invested in House Financing  and Fixed Assets portfolio in order to ensure a strong sustainable investment.  
In its effort to encourage investors to become Al-Awfar winners, Bank Islam has recently introduced  the Al-Awfar Elite 3.0 Campaign which offers higher chances for Al-Awfar customers (individuals) to win  attractive prizes through the Al-Awfar draws. This campaign runs from now till 31 December 2022 and the  requirements to join this campaign are as follows: 
 Make a new/additional placement of minimum RM10,000 from fresh funds in Al-Awfar account;  and  
 Retain minimum RM 10,000 for 40 days 
So, what gives this campaign an extra edge? Customers who participate in Al -Awfar Elite 3.0  Campaign will be entitled for Eligibility Unit (EU) Multipliers until 31 December 2022, despite exceeding  its retention period. The EU Multipliers is provided based on the retention amount agreed by the  participant when participating in this Campaign. The same EU Multiplier will continued to be enjoyed by  the participants based on the average balance until the end of campaign. The multiplier will be multiplied  with normal EU to obtain total EU for each participant for each draw. The normal EU is obtained based on  the current average balance divided by RM100 / RM1,000 / RM10,000 (depending on each draw category's minimum average balance). The higher your average balance amount, the more chances of  winning.  
| | |
| --- | --- |
| Retention Amount | EU Multiplier |
| RM10,000 - RM49,999.99 | 5 |
| RM50,000 – RM99,999.99 | 7 |
| RM100,000 and above | 10 |
What are the attractive prizes to be won from the Al-Awfar draws? There are four categories of draw  offered currently, such as: 
Monthly Draw Category
Monthly Draw
13 States Draw*
Grand Prize - RM100,000 x 1
Grand Prize - RM10,000 x 1 each state
Second Prize – RM10,000 x 1
Second Prize – RM1,000 x 10 each state
Third Prize – RM1,000 x 50
Consolation Prize – RM500 x 20 each state
Consolation Prize – RM500 x 200
*Draws for Kedah & Perlis are combined.
Quarterly Draw Category
Jutawan Al-Awfar
RM1,000,000 x 1
Half Yearly Draw Category
Special Al-Awfar Draw
Grand Prize – Mercedes Benz C200 x1 each draw
Second Prize – Mazda CX-5 x 4 each draw
Third Prize – Umrah/Holiday Package x 20 each draw
Consolation – iPhone 13 Pro 128GB x 20 each draw
In addition, Al- Awfar continues to hold its Jom Pindah Gaji monthly campaign which offers a total  of RM100,000 to 13 winners every month. In order to participate, customers need to switch their current  salary account to Al-Awfar account and maintain a minimum average balance of RM100 to be entitled for  the Jom Pindah Gaji Draw. This campaign is open to public sector employees as well as government  agencies. To date, 35 depositors have become millionaires through the Al-Awfar Quarterly draws, so now  it's your chance to be one of them! Open the Al-Awfar account today at any Bank Islam branch. For more  info, visit https://www.bankislam.com/al-awfar-elite-3-0-campaign/ or submit your details here  https://vao.bankislam.com.my/sales/ and our Deposit Marketing Executive will contact you.