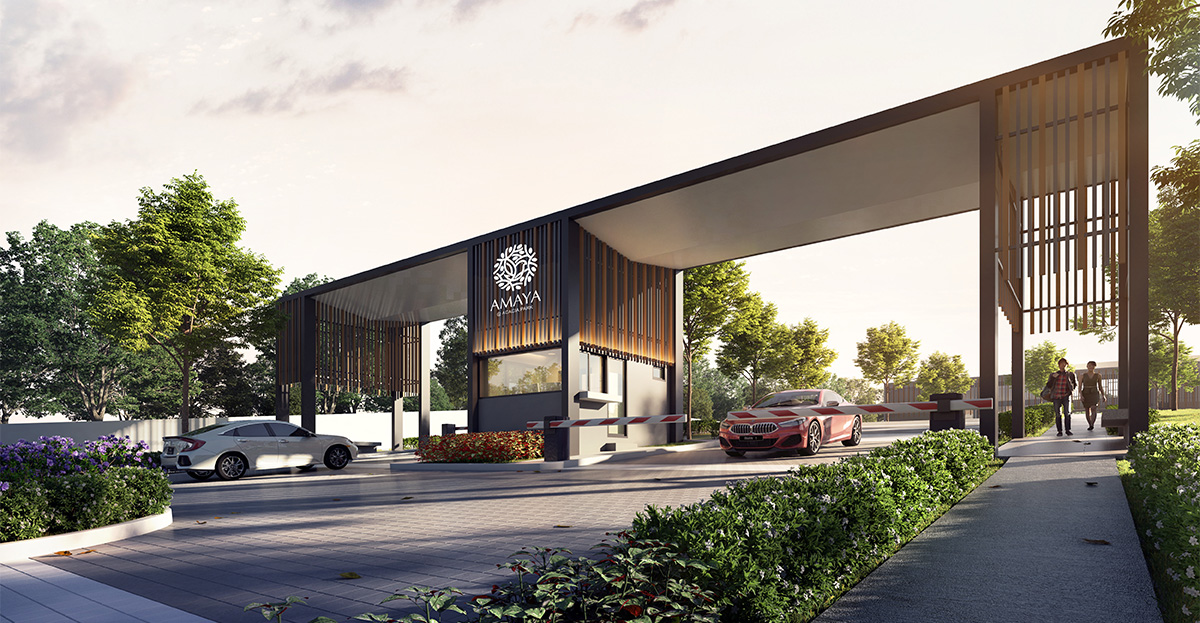 Amaya offers the whole package - lifestyle living with attractive facilities and adequate security that promotes peace and well-being
Since commencing operations as a construction company in 1974, Low Yat Group has grown in leaps and bounds. The group is popularly known for developing Malaysia's first international hotel, The Federal Hotel in Bukit Bintang, back in 1957 as well as Plaza Low Yat, which was recognised as the country's largest IT lifestyle centre by the Malaysia Book of Records in 2009.
With a vision of becoming one of Malaysia's most innovative privately owned companies with a diversified portfolio, the group dedicated its core business to delivering top-quality results in industries such as property development, hotels and resorts, retail, commercial and agriculture.
To further strengthen its property development portfolio, the group - through its subsidiary Rawang Lakes Sdn Bhd - embarked on a journey to develop the 2,670-acre Bandar Tasik Puteri (BTP) township in Northern Klang Valley. The development of BTP started in 2000, with a total of 42 lots (Lot BTP1 to BTP42) comprising residential enclaves and commercial components.
As of 2020, BTP became a self-sustainable township with a population of 70,000, allowing residents to enjoy harmonious living experiences with the community. Another nicety about the township is the BTP-LATAR Interchange, which connects residents to the city and its offerings within minutes, providing them with the luxury of ease and convenience.
Located in the 145.68-acre Acacia Park residential enclave is Amaya, a double-storey terraced house development. Andrew Goh, Rawang Lakes' general manager of area property - development and management, says Amaya is all about simplicity at its best. "It has a modern exterior and façade with contemporary designs. We call it contemporary minimalist because of its practicality in form and function. The homes have clean cladding and wall finishes as well as simple detailing."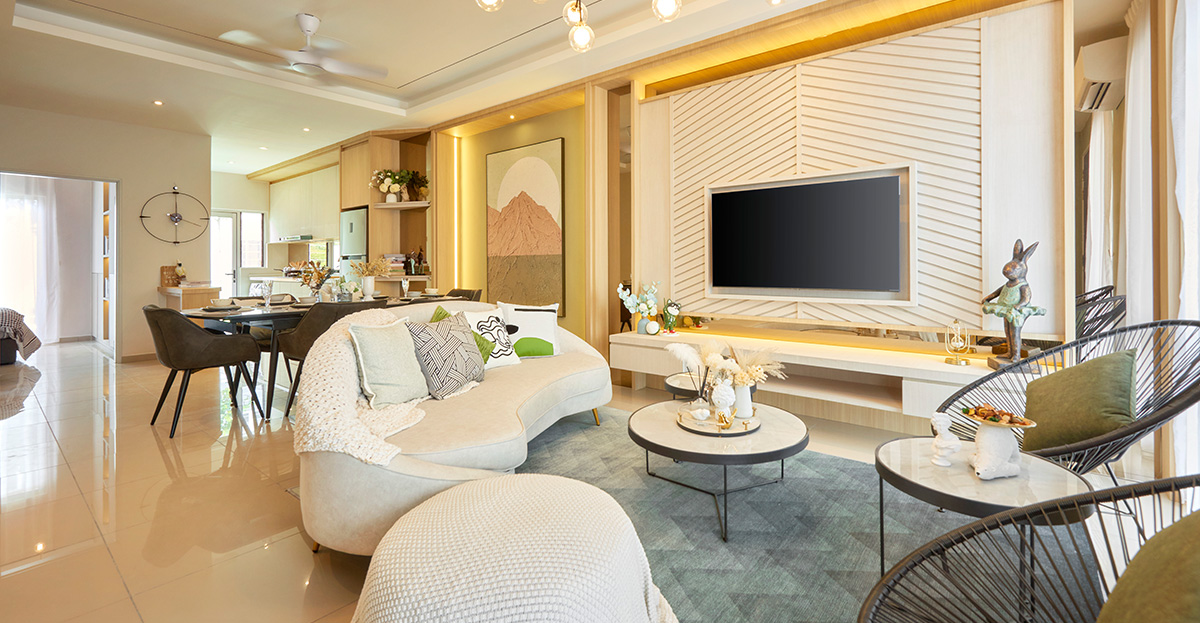 Units in Amaya have open layouts, providing residents with flexibility between the living, dining and kitchen areas
The word "Amaya" or "Amaia" is of Spanish and Japanese origin, carrying various meanings including heavenly valley, mother city and night rain, Goh explains. "BTP is very cooling in the evenings because of its location and Lot BTP5 - where Amaya is situated - is one of the cooler areas, so it fits perfectly well with the mist after a night's rain in that sense."
Embedded in an oasis of lush greenery and parks, the neighbourhood of Amaya is well-designed with ample green spaces to encourage healthier lifestyles. The 4.7-acre residents-only main park, as well as the back alleyways that were transformed into spacious linear parks, aim to let residents unwind from their hectic schedules and connect with neighbours.
On top of that, the development is planted with the most suitable choice of tree canopy and plants that help purify the air and reduce surrounding temperatures by providing shade plus natural lighting and ventilation.
Designed to meet its purpose
Occupying a 15.72-acre tract in the heart of Acacia Park, Amaya comprises 201 intermediate, end lot and corner units with built-ups of 1,619 to 1,888 sq ft and land sizes of 18ft by 70ft and 20ft by 70ft for the typical units, and 22ft by 70ft for the limited corner units.
Goh says Amaya is called contemporary minimalist also because of its open layout. "This type of design allows residents to customise their interior spaces to their preference. Open-plan layouts provide residents with spaces that have no barriers and grant seamless flow plus flexible functions between the living, dining and kitchen areas.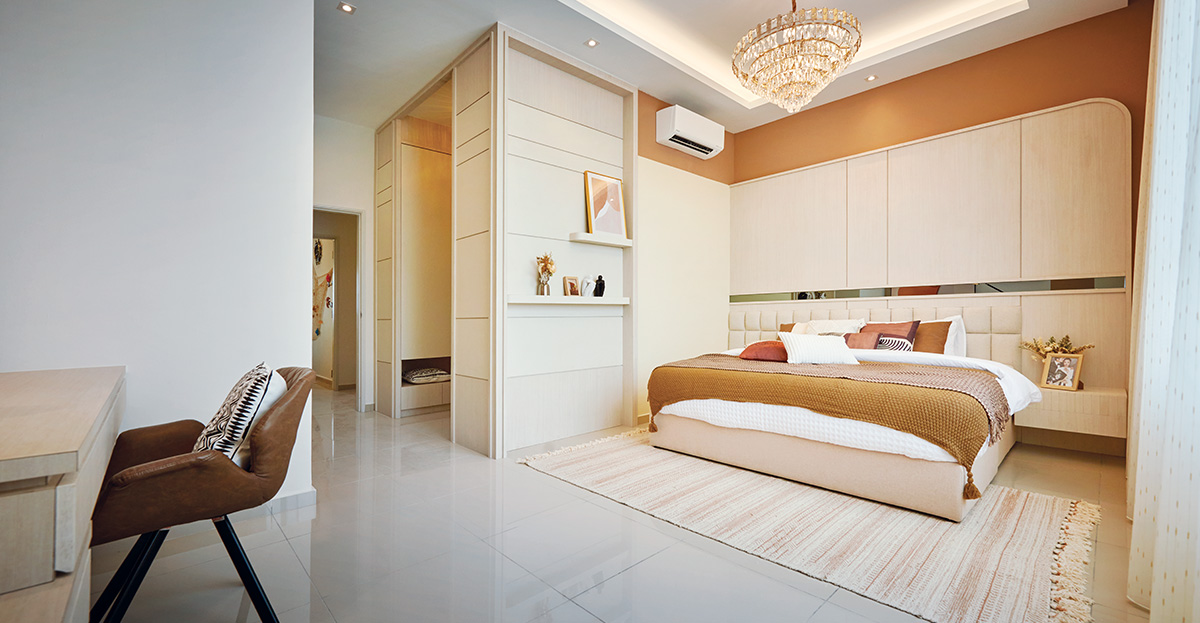 Bedrooms in Amaya are designed to be functional and spacious
"We worked closely with our architects to ensure the rooms are functional and spacious. We knew the buyers would want practical homes, so we needed to make sure that bit was delivered," he adds.
The strata-titled development has a selling price that starts from RM600,000 and a maintenance fee of 16 sen psf, including sinking fund. Goh opines that the price of homes in BTP, including Amaya, is slightly more affordable than other developments in the area. Despite the 30% to 35% increase in the cost of building materials, he assures that the group has managed to offer its buyers a reasonable market price without compromising on product quality.
Residents of Amaya would also be able to indulge in the myriad facilities on offer. Those who enjoy fitness activities can utilise the full-sized basketball court, par-course, and jogging path or have a nice swim in the residence clubhouse's swimming pool. For events and social activities, Amaya offers a multipurpose hall, right at your doorstep.
There is something for everyone. Children would have absolute fun in the wading pool and playground that were built with the utmost care, prioritising all safety measures. Working parents need not worry for the development also provides a nursery for young children.
Highly sought-after homes
Launched at the end of November last year, Amaya has achieved a strong take-up rate of 80%. "We opened Amaya for registration of interest three months prior to its official release, leading to 1,500 registrants," says Goh.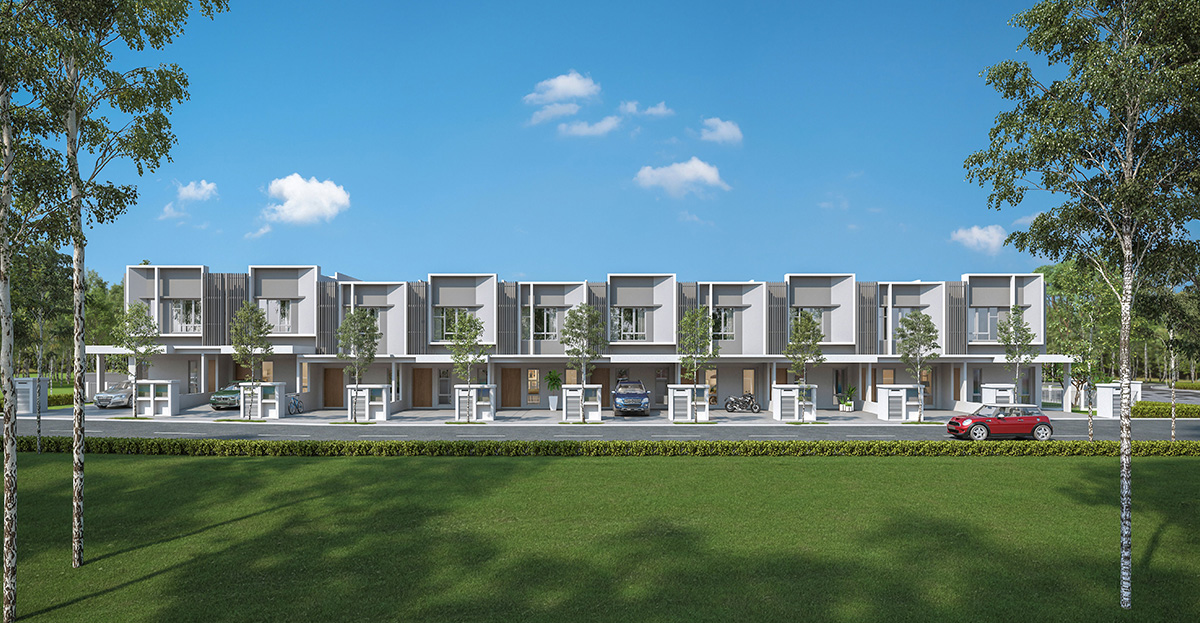 Amaya showcases modern and contemporary minimalist designs for both its exterior and interior spaces
He adds that most purchasers are from the mid- to high-income groups consisting of young families and upgraders. "Most upgraders lived within a 30km radius of BTP. A large majority of the purchasers are owner-occupiers. Easily 95% buy to stay. We also have repeat buyers - those who have bought houses in BTP have also bought units in Amaya."
Aiming to attain the whole package is a pattern Goh has noticed among the new generation of homebuyers. "Having a home that promotes peace and security generally gives residents a sense of well-being. Buyers nowadays want the whole package, lifestyle living with complete facilities and adequate security. The things they look for are the type of product offered and the location, including its connectivity features and amenities."
Amaya is gated and guarded with 24-hour security guard patrol services, CCTV monitoring, video surveillance system and an auto barrier gate system with smart access card entry. Goh adds that a smart community app will be introduced when residents start moving into Amaya. The app will be implemented for Amaya first, followed by other upcoming gated-and- guarded developments in BTP.
Strategically located in the Northern Klang Valley, BTP is less than a 30-minute drive from the Kuala Lumpur city centre, on a toll-to-toll basis. The township is accessible via major highways, including the Kuala Lumpur-Kuala Selangor Expressway (LATAR), Guthrie Corridor Expressway and PLUS expressways.
Public amenities nearby include schools, banks, medical centres and eateries. Within the township, Rawang Lakes offers commercial developments such as a KFC drive-thru as well as the upcoming Star Grocer and Paradise Fair lifestyle retail mall.
With Amaya, Goh hopes to implement more gated-and-guarded residences in BTP for the coming years. "We know this is going to be a very successful project based on the current demand and the economy is poised to improve this year, albeit with the predicted global downturn. The majority of products we have launched in BTP have been fully sold and we hope this momentum will continue for Low Yat Group's other upcoming developments as well."