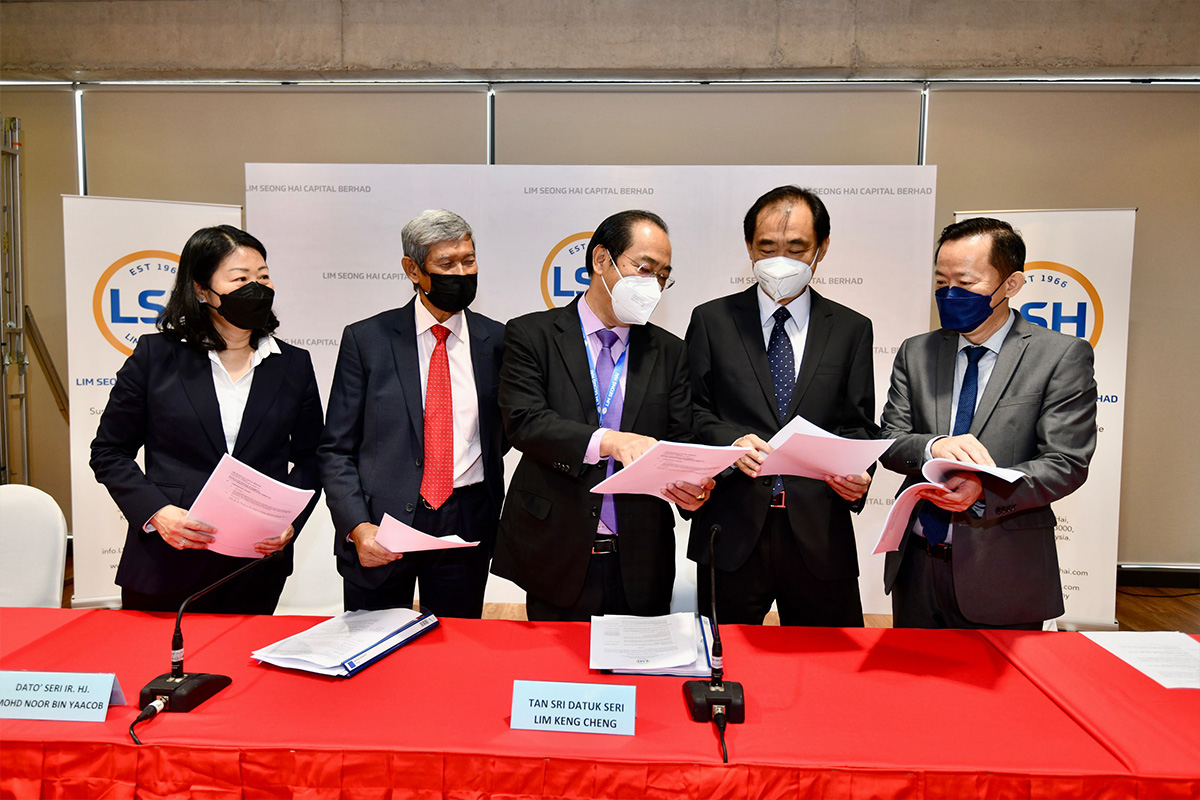 Since its listing on Bursa Malaysia's LEAP Market in late July last year, Lim Seong Hai Capital Bhd (LSH Capital) has gone from strength to strength and is on its way to realising its aim of becoming a billion-ringgit company.
LSH Capital — which has acquired LSH BEST Builders Sdn Bhd, a company that provides construction solutions to clients via its BEST Framework (Blue Ocean Strategy; Enhancement Solutions for Finance; Sustainability, Made Affordable; and Transformation and Innovation)  — announced on March 28 corporate proposals that will diversify the business into property development and strengthen its construction and construction-related order book.
"We have streamlined some of the business into LSH Capital. The board is very happy and excited about the prospects of LSH Capital and also believes that the RM1 billion target is on track," says non-executive chairman Tan Sri Lim Keng Cheng.
With the diversification, the construction-related products and service provider will be able to move up the construction value chain, and the corporate proposals for vertical integration within the construction industry will help provide a foundation for future growth.
LSH Capital will continue to provide construction-related products and look for more opportunities to bulk up its construction order book.
Lim says LSH Capital will always be interested in participating in any tenders and is eyeing the tender for construction work on the upcoming Mass Rapid Transit Line 3 (MRT3) that is expected to be open in May. "We will try to submit the best tender package and see how it goes from there."
Besides that, he points out, there may be more execution of construction works and construction-
related services via its BEST Framework, which provides for specific solutions to be offered to clients depending on the type of project.
"We will also launch more property development projects in the future depending on market conditions as well as the volume of construction work that is on hand."
"All in all, we will always look for ways to create and return value to our shareholders. The plan to transfer the listing is one of the options that we are currently evaluating," says Lim.
LSH Capital is also working on a number of proposals and will make the necessary announcements as and when they materialise. The size to which the company has grown since its listing will provide confidence to future clients and partners in its capabilities.
As at end-February, LSH Capital had an order book of about RM782 million and this is expected to contribute more than 25% of its profit after tax (PAT), with the order book providing earnings visibility up to 2026.
At the same time, LSH Capital is also involved in projects with a combined value of RM2.7 billion via its BEST Framework collaboration. The demand for these products, as Lim foresees, will remain as it is one of the subsectors of the construction industry.
"Our existing business will definitely benefit from the existing order book under LSH Capital as well as the BEST Framework collaboration that we are involved in now.
"As for our property division, we need to be aware of the changes in the market and ensure that the products that we offer are right. In addition, being involved in the construction activity will also allow us to control the supply chain better to manage our costs," says Lim.
Enriching lifestyles through sustainable, affordable values
"Sustainability, Made Affordable" is one of LSH Capital's core business philosophies under the BEST Framework. Here, clients can rely on LSH Capital to formulate sustainable business policies and project management directives to prevent cost-overruns in their projects.
"We take pride in our track record where all projects undertaken by LSH Capital have low gearing ratios, and our sustainable policies have ensured that entities under the LSH Capital group never fall into loss-making positions," says Lim.
LSH Capital's sustainable approach is further evident in the property development and construction industries. For example, LSH Capital is involved in multiple developments with Federal Territories Affordable Housing Project (RUMAWIP) and Perumahan Penjawat Awam Malaysia (PPAM) products, which are under the government's affordable housing schemes.
LSH Capital also performs a balancing act in ensuring the design and construction of the developments fit the requirements of the clients while keeping the products affordable for homebuyers during these trying times.
"Our other ongoing efforts include our set policy where 10% of our annual profits will be utilised for environment, social and governance as well as corporate social responsibility (ESG/CSR) purposes. We firmly believe in giving back to our community, especially for educational purposes," adds Lim.
Being innovative is the way forward
LSH Capital's subsidiaries, Lim Seong Hai Lighting Sdn Bhd and Knight Auto Sdn Bhd, have been growing their online retail presence since 2012, and had ramped up their digitising efforts during the early stages of the pandemic.
This includes having multiple shopping portals — via their own websites as well as prominent digital shopping platforms such as Lazada and Shopee — with sales generated online translating roughly to 30% of overall retail sales for both business entities.
Besides retail, LSH Capital has launched a cloud-based system for the trading of building materials. Its contractors, procurement personnel and management personnel can link up via the paperless system to better track their material requisition and delivery statuses, greatly increasing efficiency at construction sites.