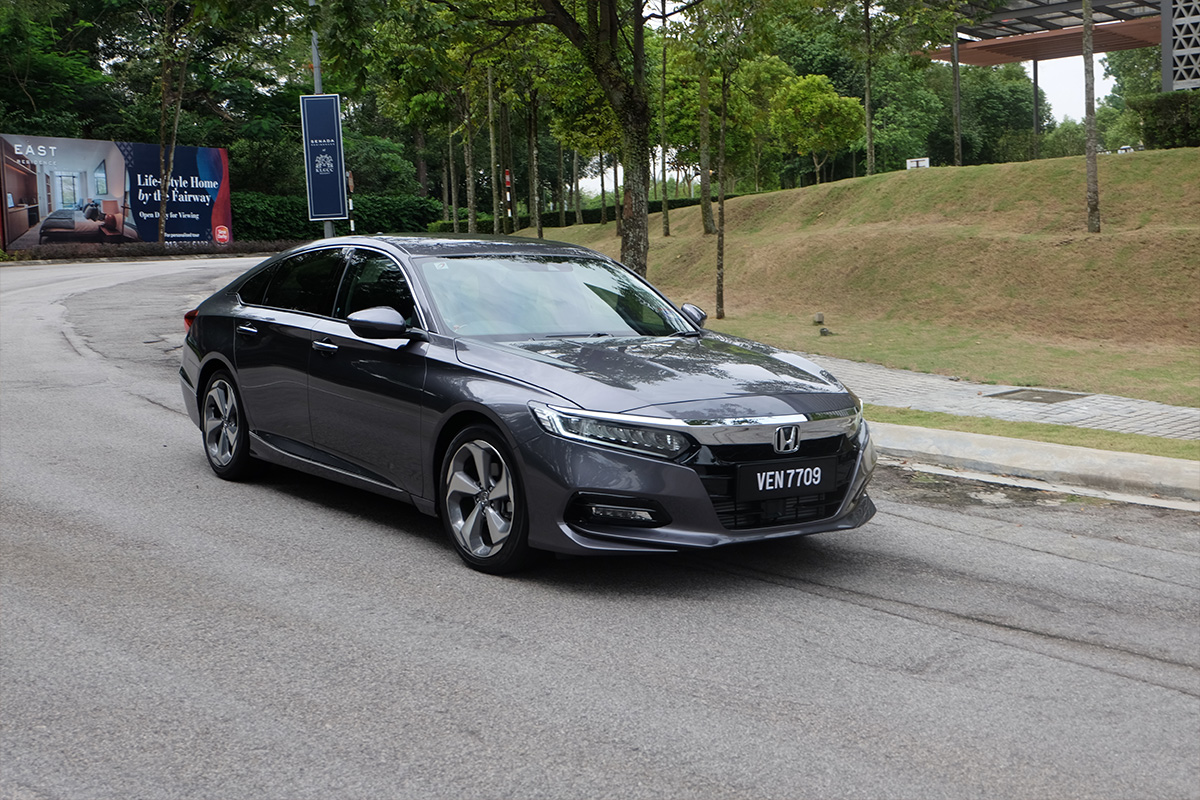 The all-new Honda Accord delivers refined performance, enhanced safety and sublime comfort to raise the bar for executive sedans 
There are specific criteria and standards to be met when it comes to executive sedans. Quality, economy, comfort and space are some of the major considerations, followed by performance, handling and safety. For drivers looking for a vehicle that ticks all those boxes, they will not have to look past the 10th-generation Honda Accord.
The model name plate truly needs no introduction, having been introduced back in 1976. When it made its debut, itwas instantaneously recognised as a safe, reliable and strong all-round family sedan. Throughout its 45-year existence, it has not only maintained its position as one of the best D-segment sedans around but has also served to raise the bar for automotive standards within the segment. The 10th-generation Honda Accord continues to do the same, receiving accolades and rave reviews for its elegant design, excellent performance and premium features. For buyers looking for an executive ride, the smart money is definitely on the all-new Accord for a number of solid reasons.
Looks That Thrill
One glance at the all-new Accord and you'll immediately rec ognise that it has grown significantly in design and size. Big and plush, the sedan benefits greatly from a stylish and premium look with a wider stance, lower roofline and sweep ing hood, giving it the look of a fastback.
Sleek and classy, the model strikes a sporty and muscular design with its signature chrome wing front grille, slim LED headlights and tail lights. Sitting on 18-inch alloys and complete with a resonator, which is specially designed to reduce tyre noise, the all-new Accord undoubtedly strikes an imposing and muscular pose, with a certain degree of stateliness that makes it one of the most beautiful executive sedans around. 
An Interior That Excites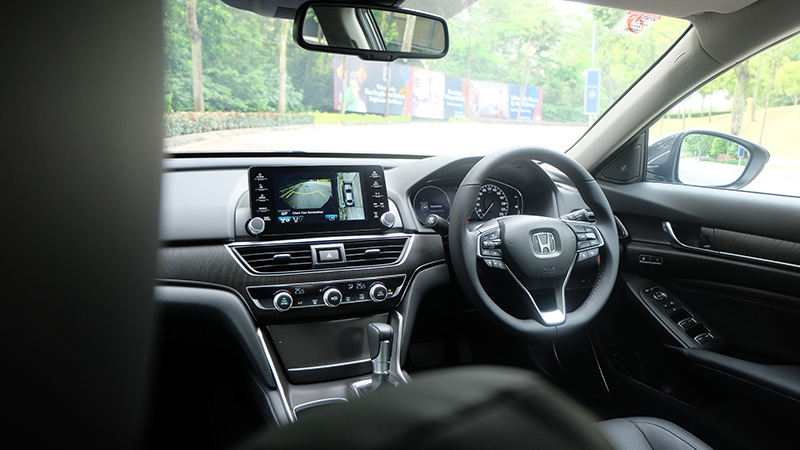 As you would expect from an executive-class sedan, the cabin of the all-new Accord is not just spacious but also boasts a number of features that prioritises the driver as well as passengers. The interior of the vehicle is not just classy but also highly functional, with innovative features that put most contenders, even European ones, to shame.
Exemplifying Honda's "Man-Maximum, Machine-Minimum" design philosophy, the model arrives with leather seats with a 4-way Assistant Power Seat with Shoulder Switch up front. Drivers also get Driver's Seat Memory for added convenience and comfort. The 8-way Driver Power Seat and Driver's Seat model features an 8-inch Advanced Display Audio, which is compatible with both Android and iOS, and a 7-inch Interactive Thin Film Transistor (TFT) Meter Cluster.
Owners also benefit from Wireless Charging integrated into the centre console, with a total of four USB ports, including two in the rear to ensure that all essential smart devices are fully powered and ready for the tasks at hand. 
All Round Comfort
The handling characteristics of the all-new Accord have to be experienced to be fully appreciated. It delivers a smooth ride and is calm and collected even when pushed through bends and corners. The suspension set-up is firm but also comfortable, affording a certain level of lightness in steering and navigating.
For drivers, it provides an effortless and fatigue-free experience behind the wheel, especially on long commutes. The ride is also much more refined, thanks to improved build quality and rigidity, which produces a better travel ambience for all passengers. NVH (noise, vibration and harshness) levels have also been improved upon with spray foam, which provides extra sound insulation to enhance cabin quietness. 
Riveting Performance
Tucked under the hood of the all-new Accord is an enhanced 1.5L VTEC Turbocharged engine, which, although sounding tame, delivers performance that is more powerful than that of a 2.4L engine. Paired with a continuously variable transmission (CVT), the powerplant is tuned to deliver an output of 201PS and maximum torque of 260Nm.
The engine delivers adequate torque with efficient power distribution for greater fuel efficiency. As such, it is not surprising to see that the new Accord is also the latest Honda model to be certified with an Energy Efficient Vehicle (EEV) status. In terms of performance, the D-segment sedan feels composed and light, delivering a ride that is both comfortable and smooth, befitting that of an executive-class sedan.
Enhanced Safety

If you were to seek what truly gives the all-new Accord the edge over most contenders, then you'll find that answer within the safety department. The model again shifts the goalposts in this area by offering the most comprehensive safety technologies and features in a sedan. The vehicle arrives with a full suite of Honda SENSING - the brand's smart safety and driver-assistive technologies - which has been designed to mitigate accidents.
Cutting-edge features in the all-new Accord include Adaptive Cruise Control (ACC), Low Speed Follow (LSF), Auto High-Beam (AHB), Collision Mitigation Braking System (CMBS), Forward Collision Warning (FCW), Lane Keep Assist System (LKAS), Road Departure Mitigation (RDM) and Lane Departure Warning (LDW). These new features are in addition to Vehicle Stability Assist (VSA), Anti-lock Braking System (ABS), Electronic Brake Distribution (EBD), Emergency Stop Signal (ESS) and Hill Start Assist (HSA) that the Accord is already equipped with. Plus a total of six airbags and Rear Seat ISOFIX, it is not surprising to see why the all-new Accord arrives with a five-star safety rating by ASEAN NCAP.
Driver Assisted Technologies 
Credit has to be given to Honda engineers who have once again prioritised drivers with several innovative features designed to not just enhance safety and convenience, but to also elevate the driving experience. Despite its large size, parking the all new Accord is made easy with Smart Parking Assist System with Brake Assist (Rear).
The feature not only recognises the border line of the parking space but it also assists the driver with automatic steering assist, screen display, voice guidance and auto braking assist when an obstacle is detected. The flagship executive sedan is also equipped with front and rear parking sensors with a Multiview Camera System (360° Camera) and Cross Traffic Monitor (CTM) that utilises radar sensors to monitor the rear corners of the car when reversing, which helps make parking a worry-free affair.
Out on the road, the all-new Accord also instils new levels of confidence for the driver with features such as Honda Lane-Watch, which uses a camera installed below the passenger-side mirror to relay potential blind spot areas to the central display screen. This not only makes it easier when changing lanes or making turns but also helps avoid untoward collisions.
Additionally, the all-new Accord also comes with Driver Attention Monitor that monitors and alerts the driver when it detects a potential diversion of his attention, Walk Away Auto Lock, as well as Remote Engine Start. The Electric Parking Brake with Brake Assist also makes it easier to engage and disengage the parking brake with the touch of a button. It also makes travelling in stop-and-go traffic much more convenient. 
A Value Proposition
As it is equipped with a number of outstanding and innovative features, discerning drivers will no doubt be drawn to the all-new Honda Accord for a number of practical and sensible reasons. For starters, it not only offers zero compromise on power performance and a certain level of prestige but it also delivers unmatched safety and driver-friendly features. 
At the current asking price from RM178,203.00 - thanks to the 0% sales tax exemption - for the flagship 1.5 TC-P variant, one will be hard-pressed to find a better or a smarter deal around, especially when it comes to finding a vehicle that provides the same classy and premium appeal as the all-new Honda Accord.
For more details on the all-new Honda Accord, visit here