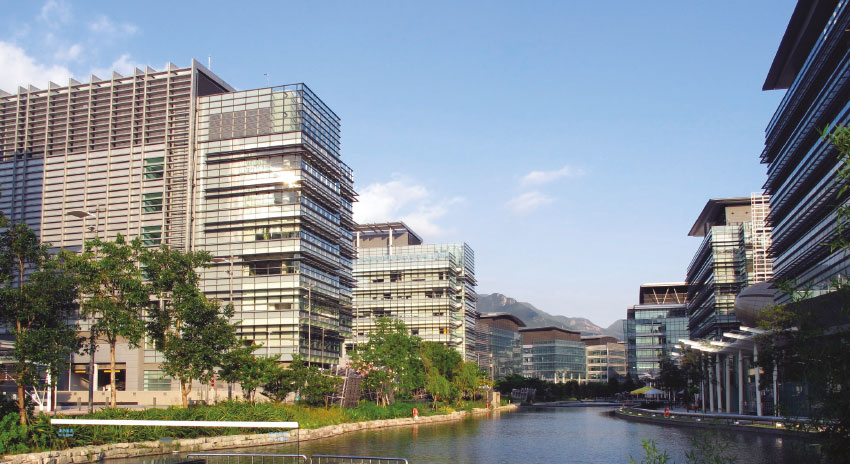 An artist's impression of Penang South Island. Source: Wikimedia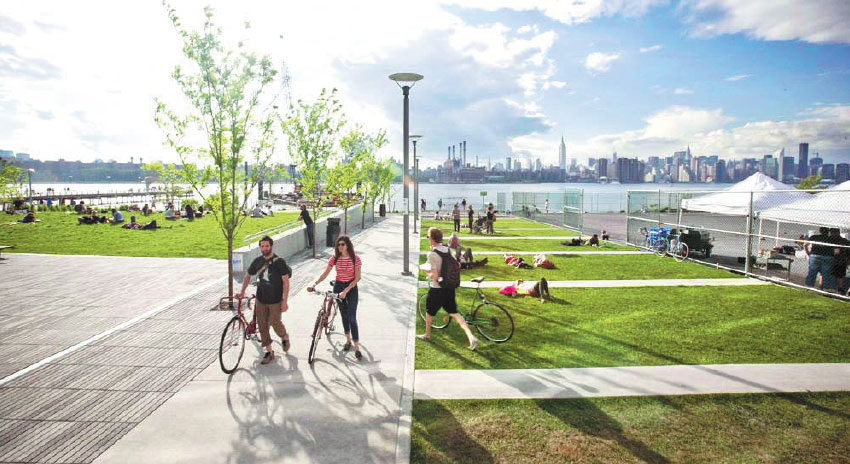 An artist's impression of green network and public space. Source: worldlandscape.com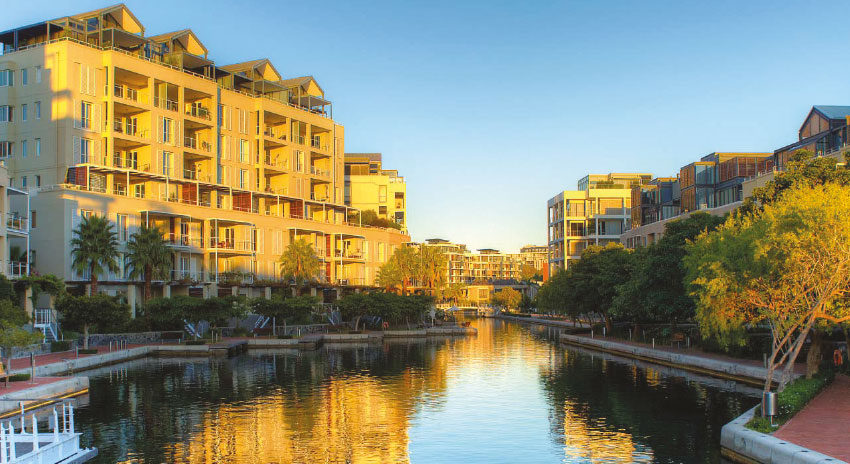 An artist's impression of the residential units. Source: ptole.pregames.info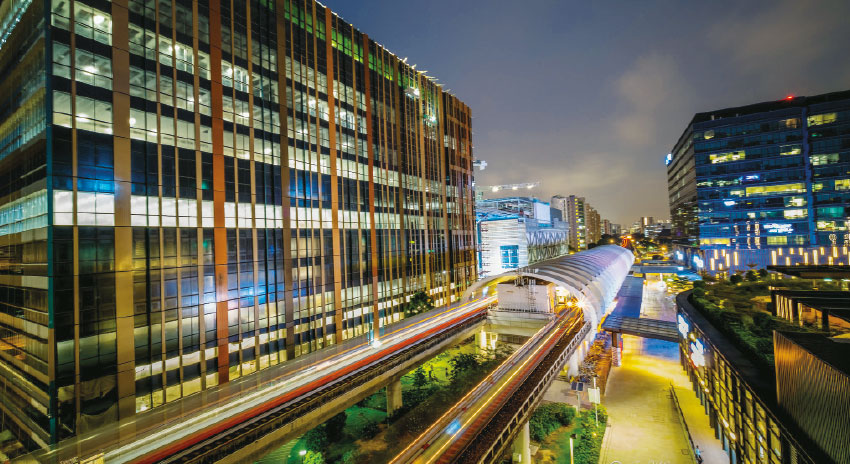 An artist's impression of the next generation Smart Industrial Parks with multi-mode transit system. Source: Flickr
If you visit the state of Penang — which is made up of Penang Island and Seberang Perai on the mainland — it is usually for the cuisine, beaches and walks through the historical centre of its capital George Town, which was made a Unesco World Heritage Site in 2008.
However, Penang is more than just a tourist destination. It is also a driver of the country's economy. Since 1972, when the Bayan Lepas Free Industrial Zone was established, it has attracted a host of multinational companies (MNCs) to the high-tech manufacturing area. In the past decade, the state's industrial sector has contributed RM47 billion in foreign direct investment (FDI), representing 15% of Malaysia's total FDI.
Moreover, according to the Department of Statistics Malaysia's Socioeconomic Performance by State 2018 report, Penang's economy grew 5.1%, beating the national average of 4.7%.
This growth, however, is being challenged by the knowledge economy, which is now front and centre globally. As a result, the state government last year launched Penang 2030 to boost economic engines as well as elevate Penangites' quality of life. The four pillars of Penang 2030 are: liveability, which looks at enhancing quality of life; the economy, where it looks to raise household incomes; the built environment, where investments are made to improve resilience; and the people, it seeks to empower citizens and strengthen civic participation.
One of the key initiatives in this plan is the reclamation of three islands south of Penang Island, which are state-owned land. The focus is on the first island — Penang South Island (PSI) — which will measure 2,300 acres once it is completed in 10 years' time. The development is aimed at attracting the next generation of electrical and electronic (E&E) companies.
In the Bayan Lepas Free Industrial Zone, there are about 480 tenants in MNC clusters that are involved in consumer electronics, semiconductors, industrial automation and medical devices. The majority of them focus on packaging, assembling and testing design in the E&E value chain.
The E&E Industry is posed to continue growing robustly well into the next generation as a result of emerging technologies such as autonomous vehicles, artificial intelligence (AI), 5G and Internet of Things. The E&E companies will take up 800 acres of industrial land and each company will be assisted in building a structure that suits its operations.
Click / Tap image to enlarge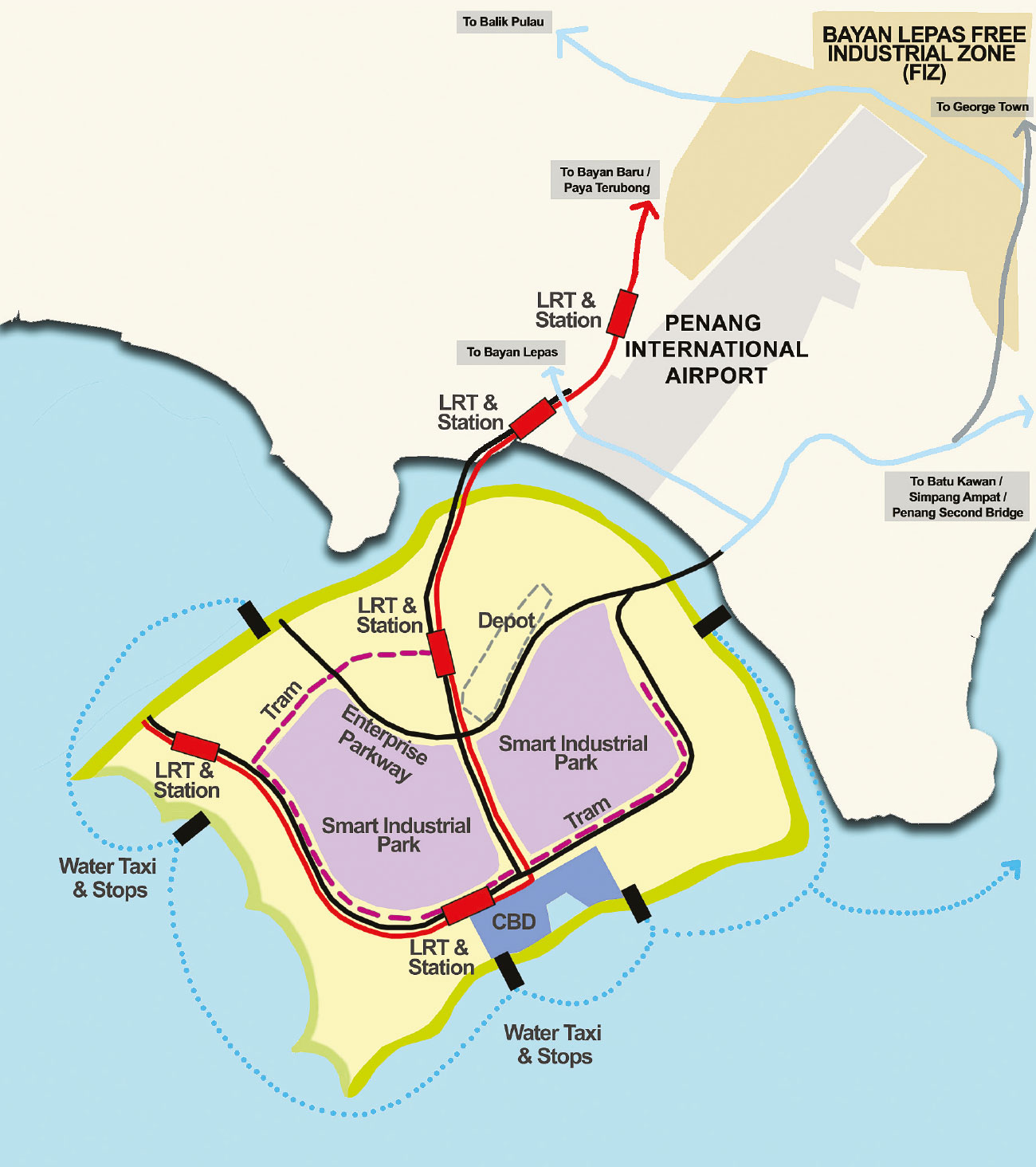 However, it will not be all work and no play in PSI as the island will feature idyllic settings by the waterfront, 13km of public beaches, 140 acres of coastal parks, open green spaces, a 12km cycling track and recreational amenities.
There will be 20,000 residential units comprising affordable housing, mixed-use developments and landed properties. It is hoped that the island will attract top global talent from the E&E industry to enhance Penang's economy.
To address the long-term sustainability requirements of businesses located on PSI, infrastructure and smart city components such as digital connectivity, energy management and centralised management services such as waste disposal, water treatment, intelligent traffic system, security and emergency services, as well as future-proof designs to deal with climate change will also be employed.
Furthermore, in tandem with the public recreational spaces and new homes on PSI, there will be a "Heart of the Island" area with Instagram-worthy iconic structures. The must-visit destination will feature a vibrant blend of live, work, play, eat, shop and fun elements, much like the world's best known and popular streets.
Tying everything together will be a comprehensive and well-designed integrated transport infrastructure that will provide short and longer-distance travel within PSI and to the main parts of Penang Island. These include the Pan Island Link, Light Rail Transport, trams and water taxi services.
In line with the state's initiative to go green, personal mobility is being promoted through walkability and bike-ability programmes. Even the streetscape connectivity is thoughtfully designed. These multiple modes of connectivity will drive productivity and efficiency.
To facilitate the design and development of PSI, the state government launched the International Masterplan Design Competition on Nov 6 (see above). The competition, which is open to local and international architects and planners that lead multidisciplinary consortiums, is a collaboration with the Malaysian Institute of Architects Northern Charter (PAMNC) and is supported by the Board of Architects Malaysia. So far, it has garnered great interest and the winners will be identified on May 8, 2020.
With the rapid expansion of these highvalue sectors, Penang is primed to capitalise on global companies seeking to expand their current businesses, create or expand their next-generation E&E businesses or relocate to Southeast Asia to tap its population of over 600 million.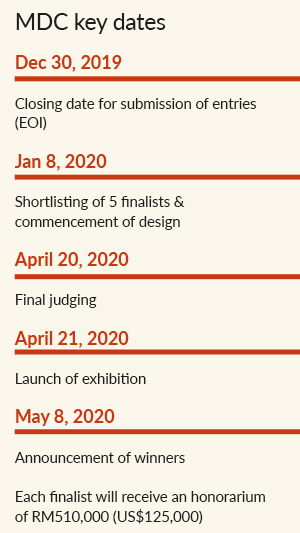 INTERNATIONAL MASTERPLAN DESIGN COMPETITION

The International Masterplan Design Competition (MDC) is an urban design ideas competition for Penang South Islands. Launched on Nov 6, it is organised by the state government in collaboration with the Malaysian Institute of Architects Northern Chapter (PAMNC) under the auspices of the Board of Architects Malaysia (Lembaga Arkitek Malaysia).
Structured as an open, international single-stage competition with a qualification process, the MDC is a platform to elicit the most creative and strategic propositions that can be put towards the development of a compelling master plan for PSI that meets and exceeds the expectations and aspirations of the state of Penang.
As at Nov 25, 2019, more than 100 applications had been received from Malaysian and international architects and planners leading multidisciplinary project consortiums with diverse expertise in smart city, economics, engineering, technology and innovation, mobility and transportation, landscape, sustainability and environmental design.
For more information, visit https://pg-mdc.com/