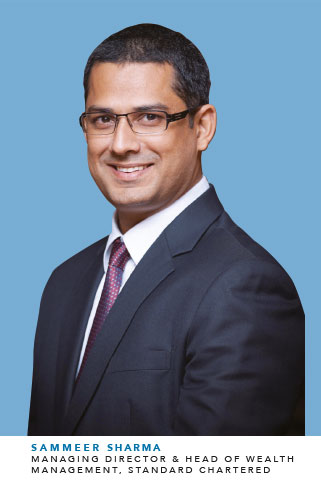 Planning for children's education is never an easy task for parents. This is especially so when it comes to tertiary level today when the inflation rate for education is about 5% per annum. Many Malaysian parents aspire to send their children to study in universities overseas, particularly in countries like the UK and Australia where the tuition fees and living costs, on average, can go as high as RM500,000 for a three to four-year course. Those who send their children to local universities may not have to pay that much but may still find it challenging to save enough, especially in the current difficult global economic environment.
In short, three factors make financing children's education an uphill battle today.
Firstly, parents mostly struggle to gauge exactly how much they should be saving and often end up underestimating the financial commitment. This is because the cost of education has historically risen faster than the general inflation (as gauged by the Consumer Price Index).
The inflation rate associated with the cost of education depends on which country you are looking at. For Malaysian universities, the rate is around 3% to 4% and for universities abroad, it is slighty higher at 4% to 5%, courtesy of foreign currency movements. The 10-year inflation rate in Malaysia has been around 2% to 3% on average per annum.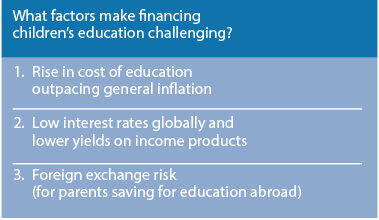 Putting the two together, you can see that the cost of education is rising faster than inflation. The shortfall compounds over the years and makes it even more difficult to clearly evaluate how much money parents need to save towards education costs.
Secondly, even if you can accurately gauge the amount of savings you need to acheive your goal, crafting a diversified portfolio that can offer the kind of returns you seek can be tough in the current macroeconomic environment where yields on income assets are low. For example, parents may not find returns on fixed deposits enough to build sizeable portfolios to fund university education.
The US Federal Reserve lowered its interest rate for the first time in a decade in July and twice more subsequently. At home, Bank Negara Malaysia reduced its overnight policy rate by 25 basis points (OPR) to 3% and could lower it further going forward.
Given the lower yields on income assets, parents seeking higher returns on portfolios to fund their children's education are recommended to allocate some of their savings to growth assets such as equities to increase the potential returns on their portfolios. This is where access to sound investment advisory and planning can help parents achieve their goals.
Foreign exchange (forex) risk is the third factor that complicates matters further for parents who want to send their children overseas for tertiary education. It is also a risk that many parents tend to overlook or underestimate.
Just look at the exchange rate of the ringgit against the US dollar today. It used to be 3.20 against the dollar but has now weakened beyond 4.00. If you had been saving in ringgit for your children to study in the US for many years now, without doing anything wrong, the value of your money would have gone down by about 30%.
The fast-rising costs of education, lower returns on income assets and foreign currency movements over the long term are the three factors that have made it hard for parents to save enough.
Aware of these challenges being faced by our clients planning to send their children overseas for education, we at Standard Chartered Wealth Management take a portfolio-based approach when looking at our clients' savings portfolios and recommend diversified solutions in foreign currencies to help them towards their goals.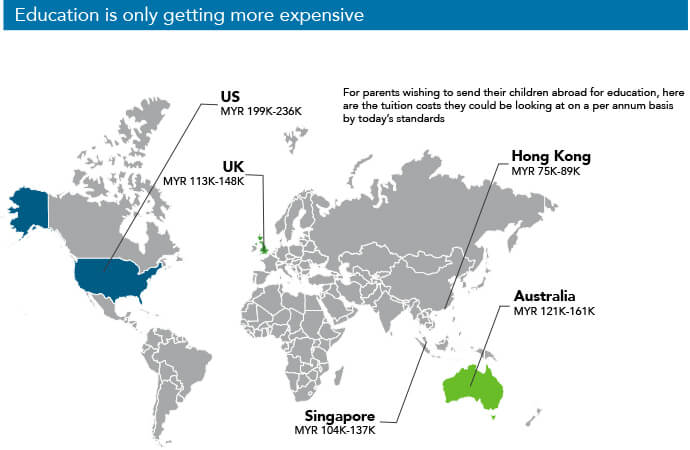 How parents can be assisted to achieve their goals
The first step here is to understand our clients' needs and educate them on how these factors can impact their savings allocated for financing their children's education. This involves holistically looking at their financial goals and aspirations and then working backwards to develop a plan that can help them achieve these goals. We can then implement a plan via a diversified savings portfolio that offers a broad range of solutions that can help clients generate their desired returns and mitigate risks such as unfavourable forex movements.
To help them achieve optimum returns, we offer customers the best available products in the market via our open architecture approach. An open architecture approach means that we do not manufacture our products but instead focus on sourcing the best products in the market and providing unbiased investment advisory to our clients. Our global and local advisory committee will debate on and decide which are the best products in the market that fit our investment strategy based on independent views.
Also, the products that we pick cut across various asset classes. They do not just include unit trusts but also insurance products such as education savings that allow policyholders to save and invest while being protected at the same time.
The protection element offered by such insurance plans is often under-appreciated. What if something happened to you and you are not there to provide for your children's education?
To prepare for the unknown, our diversification-led approach leverages the protection element in insurance-based solutions and customises them to meet unique client needs. Allocating part of their savings to insurance products for stability offers parents peace of mind. Guaranteed returns and/or cash payouts in case of unforeseen circumstances, for example death or disability, means our clients are well prepared to achieve their goals. Our regular savings plans also help our clients develop discipline and follow-through on the financial goals they have set for themselves;
We also realise that a lot of parents who bank with us aspire to send their children to universities in, for example, the UK and Australia. When saving for education abroad, foreign currency risk is an important consideration as depreciating home currency and/or appreciating foreign currency can erode one's savings. Thus, to cater for the forex needs of such clients, we offer foreign currency-denominated investment and insurance solutions that can help clients hedge against forex risks.
If the clients already know where they want to send their children for further studies, such as the UK, they could buy solutions with returns in the pound sterling. If they are uncertain of where they want to send their children, they could opt to buy a plan that would pay them in a stable currency such as the US dollar.
Our advice and products can be catered to fit unique client needs. For example, we can offer child education plans that allow policyholders to save in a foreign currency. For clients requiring potentially higher income on their assets, we can also offer to power up returns on investment portfolios using leverage.
Our investment advisory solutions come in all shapes and sizes and can be tailored to meet individual client needs and preferences. Our portfolio-based approach is focused on holistic advisory and crafting savings portfolios that can genuinely help our clients save towards their goals such as children education. I believe this is what sets us apart from our competitors.
To watch a quick video highlighting our wealth management capabilities, click here
Consolidate, review and grow your investments easily with Standard Chartered Just Transfer Wealth programme: click here
Let's chat. Leave your details here or call us at (03) 7718 9788 to learn more.