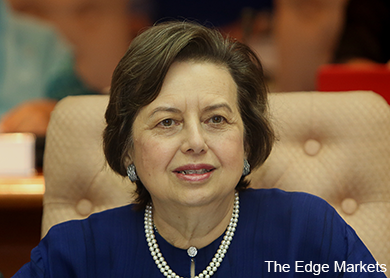 KUALA LUMPUR (Nov 27): Bank Negara Malaysia Governor Tan Sri Dr Zeti Akhtar Aziz has allayed concerns over the level of Malaysian household savings, saying the central bank's data shows about 90% of households have savings accounts.
 
"The report published by UNDP (United Nations Development Programme) is partial and misleading, as it relies heavily on data by the World Bank, which track household savings via banking accounts. It does not truly reflect the real situation.
"You have to remember that in Malaysia, savings are not necessarily measured by commercial banks. We also have non-bank financial institutions or 'shadow banks', cooperatives, BSN [Bank Simpanan Nasional] and [Lembaga] Tabung Haji," Zeti told reporters during a media workshop session held by the bank here today.
 
UNDP launched the inaugural Malaysia Human Development Report titled 'Redesigning an Inclusive Future' on Nov 25. Citing figures from the Household Income Survey (HIS), the report also noted that nearly 90% and 86% of the rural and urban households, respectively, had no savings, while the majority of households, at 88%, had zero earnings from their savings.
It said that while Malaysia recorded a relatively high gross national savings rate, the bulk of the savings came from the corporate sector.
The report also highlighted that the majority of Malaysians will likely struggle in the event of income emergencies as they have no financial assets and no banking or financial account of any kind. More than half or 53% of Malaysian households have no financial assets, while one in three Malaysians do not have an account, the report said.
 
The report provides a comprehensive and robust look into the challenges facing Malaysia and gives recommendations to steer the nation towards vision 2020 and beyond, said UNDP in its website.
 
"Among the key subjects touched by the independent report are poverty, income and wealth inequality, vulnerable groups, low wages, small middle class, gender inequality, affirmative action and policy reforms," it added.
The report was published for the UNDP and was sponsored by both the UNDP and the Economic Planning Unit, which is under the Prime Minister's Department. 
It was jointly authored by adjunct professor of Economics and Development Studies at Universiti Malaya Tan Sri Dr Kamal Salih, Director of Research at Khazanah Research Institute Dr Muhammed Abdul Khalid, and Senior Lecturer at Universiti Malaya's Faculty of Economics and Administration Dr Lee Hwok Aun.