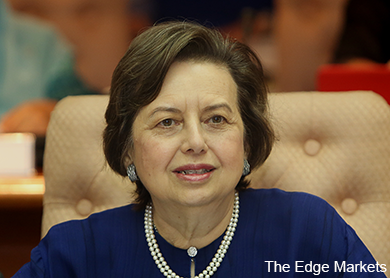 KUALA LUMPUR (Dec 1): The decline seen in global crude oil prices is still favourable for Malaysia, said Bank Negara Malaysia governor Tan Sri Dr Zeti Akhtar Aziz.
For current level of oil prices means lower costs for consumers, said Zeti at the Asean Business Club corporate networking lunch today.
"Of course, this means people will have more income for discretionary expenditure, hence spurring growth," she said.
However, she admitted that if prices were to drop below a certain threshold, it would have a negative impact on the country.
"What this threshold is, is not yet certain. But certainly government revenues and development expenditure will be affected," she said.
"Petroleum industries will also be affected, particularly exploration and production. That is problematic since once prices go up, supply will be contained," she added.
Today, oil fell more than US$2 a barrel to a five-year low, extending a steep sell-off after OPEC decided not to cut production last week. Brent hit a low of US$67.82 a barrel, the lowest since October 2009.
US crude briefly fell more than 3% to a five-year low of US$64.10 a barrel, the lowest since July 2009. It last stood at US$64.56, down 2.4%.