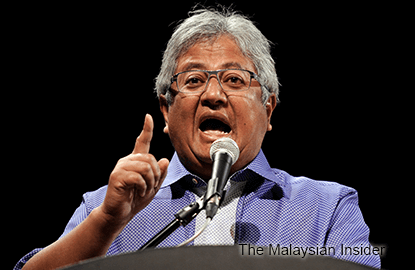 (Dec 3): Datuk Zaid Ibrahim will be charged tomorrow under the Sedition Act, believed to be over his speech demanding the removal of Datuk Seri Najib Razak as prime minister.
It is also learnt that Zaid will be meeting with police at the Dang Wangi police headquarters later this afternoon but the purpose of the meeting is unknown.
He had already given a statement to the police on November 16 and November 17 on the case.
Zaid, however, declined to comment when asked by The Malaysian Insider this morning on his impending charge, adding that he would only do so after learning more about the matter.
The former law minister had previously expressed surprise that his speech, "Rally behind Tun Dr Mahathir Mohamad", which he made at the Royal Selangor Club in September, was considered to be seditious.
"I'm very surprised my speech is considered seditious. I remember my speech was in the context of democracy, that leaders can be charged, can be toppled by lawful means, through a vote of no confidence, public pressure," he had said after being questioned by police last month.
His speech was also uploaded on the his blog, www.zaid.my, titled "Rally behind Tun Dr Mahathir Mohamad". – The Malaysian Insider