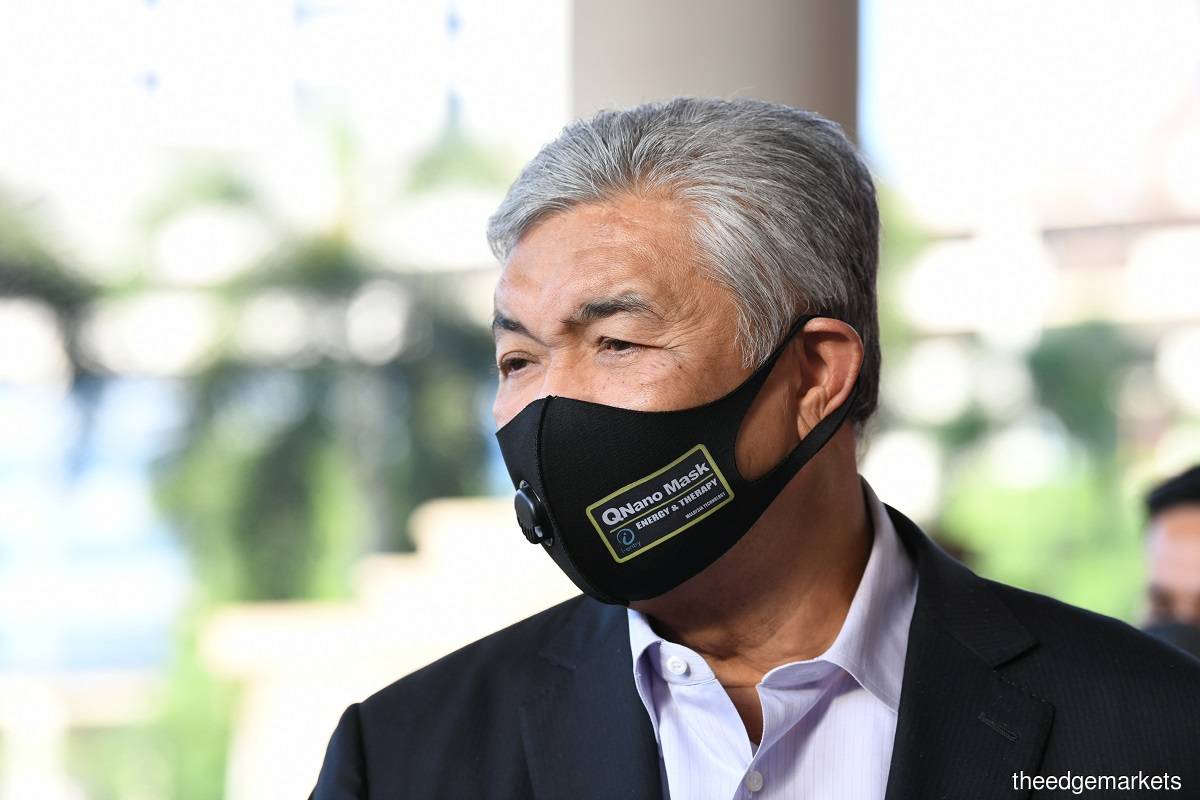 KUALA LUMPUR (July 29): Umno president Datuk Seri Dr Ahmad Zahid Hamidi has called on the party's MPs to retract their support towards Prime Minister Tan Sri Muhyiddin Yassin following the royal snub over the revocation of the Emergency Ordinances.
In a party statement,  Zahid said Umno regrets the action of the government's leadership led by Muhyiddin to disobey the commands of Yang di-Pertuan Agong for the ordinances to be debated in Parliament.
The Bagan Datuk MP also said Umno will request for Muhyiddin and Minister in the Prime Minister's Department (Parliament and Law) Datuk Seri Takiyuddin Hassan to "respectfully resign".
"It was all the more disappointing when His Majesty himself exposed that the revocation of the Emergency Ordinances, as announced by the minister of law on Monday in Parliament, was very confusing as there was no consent from Yang di-Pertuan Agong thus far.
"This action is clearly treacherous to Yang di-Pertuan Agong, and ignores the principles of the Federal Constitution," he said.
Zahid said the Umno MPs must execute the decision of the Umno Supreme Council working committee on July 7 to retract their support for Muhyiddin as the prime minister.
"This decision is to fulfil the oath of office taken by the MPs who must express loyalty to Yang di-Pertuan Agong, and preserve, protect and defend the Federal Constitution at all times.
"This stance is also in line with the basis and objectives of the establishment of Umno to always preserve and defend the Institution of the Malay Rulers as stated in Clause 3 of Umno's constitution," he said.
Earlier today, a statement from Istana Negara said the King was disappointed that the Cabinet had decided to revoke the Emergency Ordinances promulgated during the state of emergency without receiving his consent.
The palace also stressed that Takiyuddin's statement to Parliament on the cancellation of the ordinances was inaccurate and had confused the MPs as the agreement was to have the ordinances debated in Parliament.
On the first day of the five-day special meeting of Dewan Rakyat on Monday, Takiyuddin informed the house that the Cabinet had revoked all Emergency Ordinances on July 21.
Some MPs questioned the minister's statement on the grounds that only the King can make such a decision. The Emergency Proclamation itself is scheduled to end on Aug 1.
For more Parliament stories, click here.