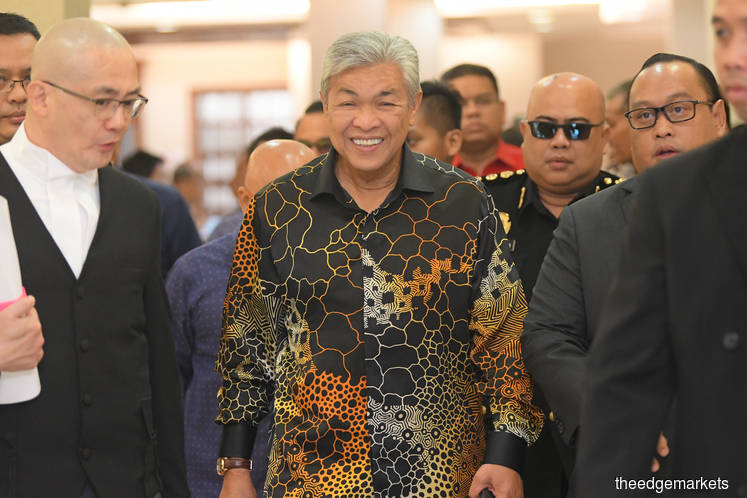 SHAH ALAM (June 27): Former deputy prime minister Datuk Seri Ahmad Zahid Hamidi was slapped with another 33 charges at the Sessions Court here today for receiving bribes totalling RM42.7 million, as an inducement to extend the contract of Ultra Kirana Sdn Bhd in managing the One Stop Centre (OSC) in China and the Visa Luar Negara (VLN) system.
The member of parliament for Bagan Datoh claimed trial to all charges.
Two interpreters took more than half an hour to read out all 33 charges in Bahasa Malaysia to Zahid, who, each time, serenely replied he understood and pleaded not guilty to each count.
The Umno president, who is on garden leave from his post, arrived at the Sessions Court here around 8:30am, accompanied by his daughter Datuk Nurulhidayah and supporters.
He was allowed to sit in the dock after the interpreter read out the first ten charges, as requested by him and his lawyer.
He faces 26 charges under Section 16(a)(B) of the Malaysian Anti-Corruption Commission (MACC) Act 2009 and seven charges under Section 165 of the Penal Code relating to offences involving receiving bribes in various currencies including the Singapore dollar, euros, US dollar and ringgit.
For offences under the MACC Act, Zahid allegedly received a total of S$9.32 million from Ultra Kirana at his residence located at No.389, Jalan Bayu Nyaman, Country Heights, Kajang, between October 2014 and July 2017.
The charges, punishable under Section 24(1) of the same Act, provides for a maximum jail term of 20 years and a fine of not less than five times the amount of bribe received, or RM10,000, whichever is higher, upon conviction.
For the remaining offences under the Penal Code, he allegedly received RM3.125 million, S$1.15 million, €15,000 and US$15,000 without any consideration from the same company at the same place between June 2015 and April 2017, which he knew to have a relation with his official functions as a home minister.
If found guilty under Section 165 of the Penal Code, Zahid faces a maximum jail term of two years or with fine, or with both.
Zahid on RM500,000 bail, case mention on July 29
Deputy Public Prosecutor (DPP) Mohd Mukhzany Fariz Mohd Mokhtar, who appeared with fellow DPP Zander Lim Wai Keong, offered bail at RM1 million with one surety.
However, Zahid's legal team, led by senior criminal lawyer Kitson Foong, opposed the amount and suggested that his client should be allowed bail of RM500,000 as it was merely to secure the accused person's attendance and not to punish him.
Foong further said his client had given full cooperation to the MACC throughout its investigation and is not a flight risk.
He then cited other high profile cases involving the former premier Datuk Seri Najib Razak and his wife Datin Seri Rosmah Mansor and said the bail amount for subsequent batches of charges was always lower than the first batch as the attendance of the accused persons is always secured by the terms of the bail for the first charge.
After hearing the submissions, the Sessions Court Judge Rozillah Salleh set bail at RM500,000 with one Malaysian surety and set July 29 for mention.
Total charges to date: 87
Earlier, the judge was also informed by Foong that the defence will make an application to have his client's 33 charges in relation to receiving bribes from Ultra Kirana to be jointly tried with the earlier seven charges faced at the High Court here yesterday.
However, the final court venue for joint trial has not been finalised pending discussion between both parties and the court's decision.
With the 33 charges today combined with the earlier 54 charges for money laundering, criminal breach of trust (CBT) and receiving gratification, the 66-year-old now faces a total 87 charges, giving him the dubious distinction of being one of the most senior Umno politicians facing the most charges to date.
Zahid was first hauled to court on Oct 19 last year for 45 counts of CBT involving RM20.83 million, for receiving RM21.25 million in gratification as the then home minister, and for laundering RM72.07 million in funds.
On Dec 14, 2018, he was charged with another count of CBT involving RM10 million of Yayasan Akal Budi funds from three years ago.
On Feb 20 this year, he faced another CBT charge in relation to the alleged abuse of Yayasan Akal Budi funds.
Yesterday, Zahid again pleaded not guilty to seven counts of receiving bribes totalling S$4.24 million, in connection with the VLN system. He had allegedly received the money from Ultra Kirana on seven occasions at Seri Satria, the official residence of the deputy prime minister in Putrajaya, between March 28, 2017 and March 2, 2018.
Zahid remains optimistic despite having the highest number of criminal charges among Umno leaders, said his lawyer.
Foong said Zahid was "upbeat and positive" despite facing a staggering amount of charges.
"We are not near anywhere being convicted yet," he said.
When asked whether Zahid will give his statement in relation to his charges, Foong replied: "It is not our stand for an accused person [Zahid], who is facing charges, to give any statements vis-a-vis his matters.
"We will only state what the facts are and if there is any statement, it will only come from the defence [lawyers] as one voice," he said.
Foong further added that they will not be using social media to make statements.