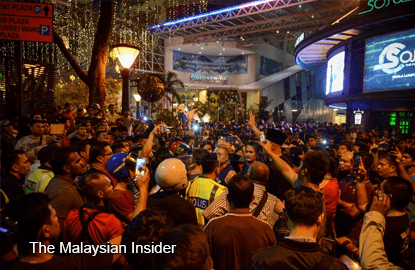 (July 14): A 22-year old man who was accused of stealing a mobile phone at Low Yat Plaza on Saturday has pleaded not guilty to the offence.
Shahrul Anwar Abdul Aziz, who is unemployed, was brought to the Jalan Duta Magistrate's Court at noon today today to face a charge of theft, under Section 380 of the Penal Code.
Shahrul initially pleaded guilty for committing the offence when the charge was read to him, but changed the plea after his counsel expressed shock by his unprecedented move, leading Magistrate Nur Aminahtul Mardiah Md Nor to allow the charge to be read again.
Nur Aminahtul granted RM3,000 bail with one surety, after taking into the consideration that both Shahrul's parents were disabled persons.
The Deputy Public Prosecutor Suhaimi Ibrahim had initially asked for RM5,000 bail.
Shahrul was represented by counsel Shaharuddin Ali.
Shahrul's parents and siblings were also present today, with his father as the bailer.
Nur Aminahtul later set August 14 for the next mention of the case.
Shahrul was arrested on Saturday after he allegedly stole a mobile phone at the mall. His arrest later sparked an amok incident by his friends at the premises, a protest outside the mall on Sunday and a brawl near the area that left seven people injured.
Social media was abuzz with negative comments since Saturday with claims that he was cheated by the salesman when buying a phone there.
Police have dismissed the claim, saying that it was a clear-cut theft case and warned against those spreading false news and racial sentiment. – The Malaysian Insider