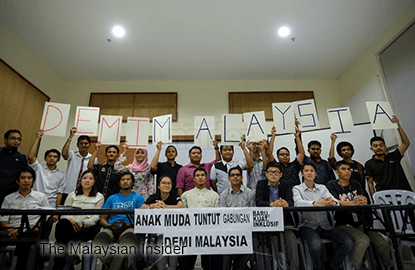 KUALA LUMPUR: Young activists from various civil society movements urged political parties to set up a new, stronger and more inclusive coalition for Malaysia.
The group, calling themselves Anak Muda, also asked that a meeting be held among interested parties within 14 days to discuss the suggestion.
Its spokesman Adam Adli said it is important for the parties to heed the group's call for a new opposition coalition, as it represents the silent voices who want change.
"About 4.8 million young voters might take part in the 14th general election and today, these are 146 people voicing out ... any political party will not want to lose [these] votes."
Adam added that Anak Muda would continue to push for dialogue between interested parties to be held within two weeks, to prove that the group is serious about change.
Activist Syukri Razab of Suara Rakyat Malaysia (Suaram) said this would be an opportunity for opposition parties to show their determination to bring new politics to the country.
"We are tired of seeing the egocentric attitude of political parties who only focus on their own agenda and abandon the people's interest ... that's why we need the intervention of a third party."
"We have had enough of opposition parties like PKR, DAP and PAS who make their own decisions and focus on their own party's agenda," Syukri said.
Among notable activists joining in the loose coalition are #KitaLawan secretariat member Mandeep Singh, Jay Jay Denis, Syefura Othman, student activists Khairol Najib, Lau Yi Leong and Safwan Anang. — The Malaysian Insider
This article first appeared in The Edge Financial Daily, on July 3, 2015.