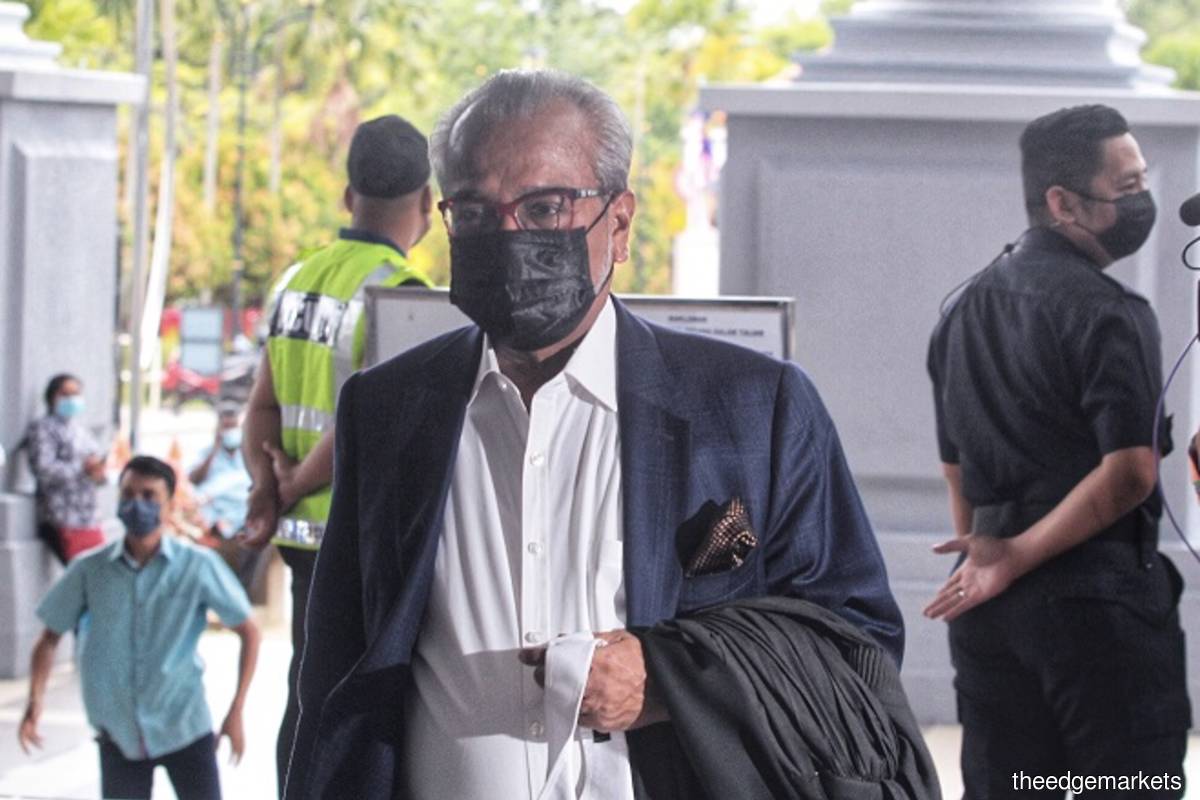 KUALA LUMPUR (Aug 23): Datuk Seri Najib Razak's lawyer has contended that 1Malaysia Development Bhd (1MDB)'s former CEO Mohd Hazem Abd Rahman and other executives should be in jail for committing fraud and criminal breach of trust (CBT).
Tan Sri Muhammad Shafee Abdullah, the former premier's counsel in the 1MDB-Tanore trial, turned the screws on Hazem again during the High Court hearing today, continuing from where he left off last week.
This issue raised concerned a US$975mil loan from Deutsche Bank which was intended for the use of 1MDB in 2014, but was instead siphoned off to a fake shell company run by fugitive financier Low Taek Jho (Jho Low).
Shafee suggested to Hazem that he was in on the scheme with Jho Low, together with Datuk Sharol Azral Ibrahim Halmi, Azmi Tahir and Terrence Geh, to siphon off the funds.
Shafee: You and Azmi were selected by Shahrol to perpetrate the fraud organised by Jho Low. That's how you were head hunted by Jho Low.
Hazem: I disagree.
This was in regards to 1MDB's subsidiary 1MDB Energy Holdings Ltd, which obtained two loans totalling US$1.225 billion from Deutsche Bank Singapore. The loans were secured by guarantees provided by 1MDB Energy and 1MDB Langat, which was another subsidiary of 1MDB.
There was a bridging loan of US$250 million and a facility loan of US$975 million. The US$250 million loan was made available on May 26, 2014. From this amount, a sum of US$239,939,970 was paid into 1MDB Energy's account with Falcon Bank Hong Kong on May 28, 2014.
1MDB had obtained the loans totalling US$1.225 billion to buy back the options it had given to Abu Dhabi's Aabar PJS Investments to take up shares in the two 1MDB subsidiaries, when 1MDB was raising US$3.5 billion in funds previously to buy independent power plants.
Shafee sought to show the court today via flowcharts that the US$975 million was siphoned off to a fake entity or shell company known as Aabar Seychelles.
He also demonstrated how the money had been transferred in circles numerous times to other shell companies such as Bridge Global Absolute Return Fund, Brazen Sky Limited, Lambasa Global Opportunity Fund and even 1MDB Global Investment Ltd (1MDB-GIL).
The lawyer said the recycling and layering of funds were repeated to give the impression that Brazen Sky had "redeemed" funds from its investment in Bridge Global Absolute Return Fund. 
Shafee then alleged that Hazem dishonestly informed the board of directors that a total of US$1.2 billion had been received from the redemption of the investment portfolios held by Brazen Sky, but concealed from the board that this purported redemption was actually proceeds of the US$975 million loan.
Shafee: There are two frauds here. The Deutsche Bank loan money was meant to be used for the purchase of options, but it was not used for the purchase of options.
Hazem: Yes.
Shafee: But you represented to the board that you have repatriated the money to 1MDB. The audacity is you took the credit when in fact you should be sent to jail twice because you committed CBT twice. Two cycles. It was a big plan by you Azmi, Shahrol, Terrence and Jho Low.
Hazem: I disagree.
Hazem also repeatedly answered "no comment" when Shafee put to him that he committed several CBT and money laundering offences because he authorised funds to be transferred in contravention of its purpose and without authorization from the board.
Najib, 68, is facing four charges of abusing his position to obtain gratification totalling RM2.28 billion in 1MDB funds and 21 counts of money laundering involving the same money.
The hearing resumes before Justice Collin Lawrence Sequerah in September.
The Edge is covering the trial live here.
Users of The Edge Markets app may tap here to access the live report.