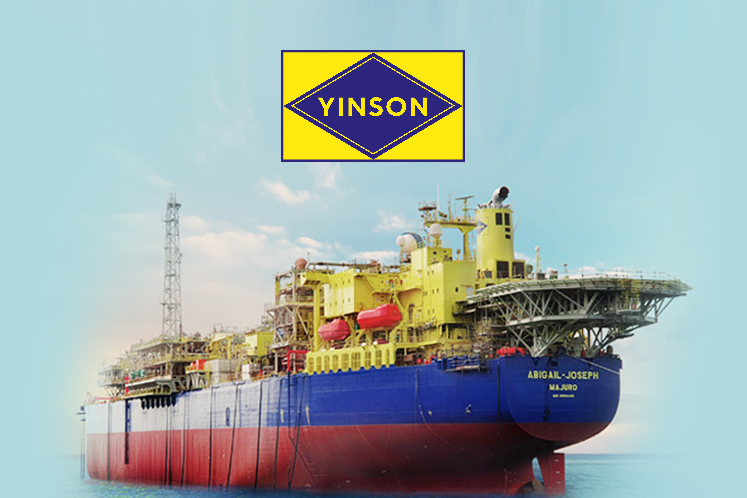 KUALA LUMPUR (April 1): Yinson Holdings Bhd's contract from Aker Energy Ghana Ltd to provide a floating production storage and offloading (FPSO) vessel for the latter's Pecan development project at the deepwater Tano/Cape Three Points (DWT/CTP) in offshore Ghana has been terminated amid the COVID-19 pandemic.
"The termination is due to the decision made by Aker Energy to postpone the activities under the DWT/CTP Petroleum Agreement and the development of the project until further notice amidst the COVID-19 pandemic," Yinson said in the filing with Bursa Malaysia today.
Yinson added that the group will preserve its right under the letter of intent (LoI) for compensation arising from the termination.
Yinson said it had on March 31 received a notice from Aker Energy to terminate the LoI issued on Feb 20 for the proposed award of the contract.
The primary term of the contract is for 10 years, with an option for Aker Energy to extend it by one year for up to five times, for a maximum 15-year term, or as agreed to by the parties.
The termination is expected to have no material effect on Yinson group's earnings and net assets per share for the financial year ending Jan 31, 2021. The group said it will make appropriate announcements to Bursa Malaysia Securities Bhd should there be any material development on the matter.
However analysts are still positive on the counter, considering job replenishment prospects remain intact, and as the company's share price is seen as having been oversold at the current level.
"There may be sentiment-driven selling pressure on Monday, but we reiterate 'add' as Petrobras SA may still go ahead to award a new contract to Yinson," said CGSCIMB Research analyst Raymond Yap in a recent note.
Yap explained that Petrobras's LoI to Yinson for the US$5.4 billion FPSO Marlim-2 contract was turned into a confirmed contract recently, and breakeven production costs are less than US$10/bbl.
"Due to low production costs, Petrobras is also likely to award the FPSO Parque das Baleias contract to Yinson in May or June," Yap said.
Additionally, he noted that several ongoing charters also have low breakeven costs, or paired with strong counterparties, such as in Nigeria.
Yap opined that at Yinson's current share price, investors have already excluded potential job wins as well as priced in potential cancellations of three ongoing contracts.
"In our view, Yinson's share price is too low relative to its strong management team, robust risk-mitigation policies, and valuable contracts on hand," said Yap.
"In our view, it is premature to assume that oil prices will remain this low for an extended period of time, without oil producing nations eventually coming back to the table to agree on output cuts.
"When (hopefully, not if) this happens, quality oil and gas stocks like Yinson will rebound quickly as investor sentiment improves," he added.
In March, Brent crude oil price fell by a sharp 55% to US$22.74 per barrel from US$50.52, while the US West Texas Intermediate crude sank some 52% to US$21.53 a barrel from US$41.76.
Almost one-third of Yinson's share price has evaported since March 3 - when it was trading at RM7.03 - on weak sentiments on the back of the oil price crash that was prompted by the price war between Saudi Arabia and Russia as demand plunged amid the pandemic oubreak.
At the time of writing, Yinson shares slid 4 sen or 0.84% to RM4.73, giving it a market capitalisation of RM5.2 billion.
This report has been updated.