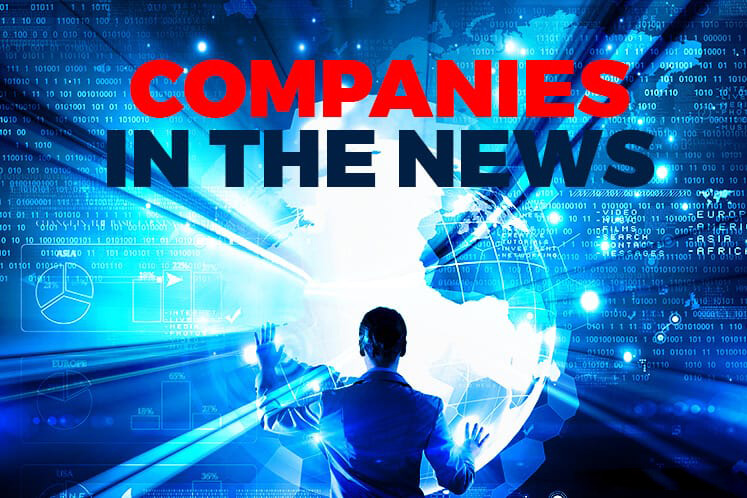 KUALA LUMPUR (June 18): Based on corporate announcements and news flow today, companies in focus on Monday (June 19) may include: Y&G Corp Bhd, XingHe Holdings Bhd, Malaysia Pacific Corporation Bhd, Berjaya Sports Toto Bhd, Priceworth International Bhd and Cahya Mata Sarawak Bhd.
Y&G Corp Bhd has withdrawn plans to buy two adjacent parcels of freehold land totalling 23.39ha in Pontian, Johor, for RM30.96 million, following the expiry of the last extended conditional period on May 26 when conditions precedent in the deal had not been fully complied with.
China-based XingHe Holdings Bhd has today subscribed for 3.12 million shares or a 52% stake in Sea Tuna Industry Sdn Bhd for RM3.12 million to undertake the business of tuna and other seafood processing and trading.
Trading in the shares of Malaysia Pacific Corporation Bhd (MPCorp) will be suspended on June 25 after the High Court allowed a winding-up petition against the company that was filed by RHB Bank Bhd over unpaid debts amounting to RM118.16 million.
Number forecast operator Berjaya Sports Toto Bhd's (BToto) net profit more than halved to RM35.18 million in the fourth quarter ended April 30, 2018 (4QFY18) from RM72.49 million a year ago, due to impairment in value of available-for-sales quoted investments and goodwill on leasing of lottery equipment business in the Philippines.
This resulted in lower earnings per share of 2.61 sen in the current quarter, compared with 5.38 sen a year ago. Quarterly revenue also shrank 5.2% to RM1.4 billion from RM1.48 billion in 4QFY17, due to lower revenue reported by HR Owen Plc and Philippine Gaming Corp Management.
The group declared its fourth interim dividend of 4 sen per share for the financial year ended April 30, 2018 (FY18), payable on Aug 9.
Priceworth International Bhd reported a 300% year-on-year jump in log production in May this year to a record high, thanks to contribution from its operations in the timber concession area FMU5 in Sabah.
Log production grew to 33,635.62 cubic metres from 8,375 cubic metres in the same month last year, Priceworth said in a statement. Month-on-month, it is a 2.5% improvement from April's 32,800.72 cubic metres.
Meanwhile, Priceworth said it has extended its cash option to acquire timber concession area FMU5 in Sabah at a discounted RM235 million until July 31, 2018.
The cash options represents a discount of RM25 million on the original RM260 million purchase price for FMU5 to RM235 million, which has been valued at RM433.8 million.
Cahya Mata Sarawak Bhd (CMS) said today that it has obtained a one-year extension valued at about RM180 million from the Sarawak government to upkeep State roads.
CMS said the extension period will starting from July 1, 2018, to June 30, 2019, following the first extension given by the Sarawak government for six months that will expire on June 30, 2018. The original contract was for 15 years, which expired on Dec 31, 2017.