This article first appeared in The Edge Financial Daily, on May 16, 2019.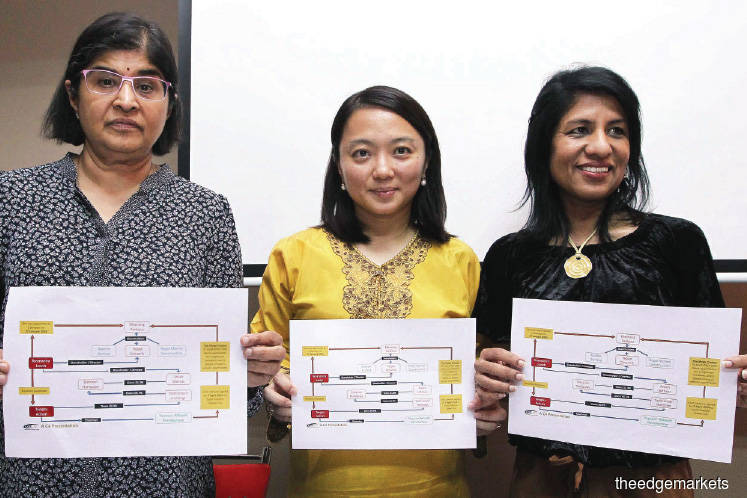 (From left) Ambiga, Yeoh and Gabriel at the press briefing on the proposed development at Taman Rimba Kiara. Photo by Kenny Yap
KUALA LUMPUR: Member of parliament for Segambut, Hannah Yeoh, has come up with a counterproposal to the "scaled-down" plan for the controversial Taman Rimba Kiara condominium project proposed by Federal Territories (FT) Minister Khalid Abdul Samad to be presented for the cabinet to decide.
Yeoh, who is also the Deputy Minister of Women, Family and Community Development, said if her proposal was accepted, it should not encroach into the Taman Rimba Kiara park.
"So, currently there are two proposals and the FT minister has said he will bring them to the cabinet," she told reporters here yesterday.
"I welcome this decision because I also agree that the FT minister is in a conflicted position. This is because he is also the chairman of Yayasan Wilayah Persekutuan (YWP) who now owns part of Taman Rimba Kiara," Yeoh added.
Khalid had previously proposed to scale down the development plan, which initially comprised eight blocks of high-end condominiums occupying 4.9 hectares (12.11 acres), to four blocks involving 3.2ha.
The revised plan would see 1.6ha of open space taken up for development, compared with 3.2ha in the original plan. It would include a 29-storey block with 350 units meant for Bukit Kiara longhouse residents.
Under the initial plan, there were eight blocks of 42- to 54-storey high-end serviced apartments (2,277 units) and a 29-storey block comprising 350 affordable housing units.
However, the move did not get the support of Yeoh and the Taman Tun Dr Ismail Residents Association.
"We are not against longhouse residents having new housing, but it should not encroach into Taman Rimba Kiara. Do not use the longhouse residents to justify greed, do not use them to justify encroachment into a green lung. We will not sit down and accept this," Yeoh said.
Yeoh said she will hold a town hall meeting that is open to everyone, at the Taman Tun Community Centre this Saturday, to update the residents on the current status of the project and the two proposals to resolve the issue.
 Meanwhile, Yeoh questioned why the Malaysian Anti-Corruption Commission (MACC) is taking so long to act on the complaints of graft involving the controversial project, despite multiple reports having been lodged with the commission.
Her predecessor, Lim Lip Eng, as well as the Centre to Combat Corruption & Cronyism (C4), have also separately lodged their reports with the MACC, Yeoh said.
C4 executive director Cynthia Gabriel, who was also at the press conference, claimed that the previous FT minister Tengku Adnan Tengku Mansor had a conflict of interest in the project.
The project is a joint-venture between YWP, which Tengku Adnan chaired, and the project's developer Memang Perkasa Sdn Bhd, Gabriel said.
According to her, an alleged business associate of Tengku Adnan's is also a shareholder or director in the companies that hold stakes in Memang Perkasa.
"I want to reiterate that these information have all been given by C4 to MACC. What is taking MACC so long when the background work has been done by C4? If this is not clear conflict of interest, then I don't know what is," Yeoh added.
The Malaysian Insight reported in February, citing sources, that the MACC had opened investigation papers on the project, and that all the parties involved would be called in to have their statements recorded.
It is unclear if there has been further developments to the case after that.
Also present at yesterday's event was former Bar Council president Ambiga Sreenevasan, who suggested that the Attorney-General (AG) Tommy Thomas look into the possibility of voiding the development project due to its potential "illegality".