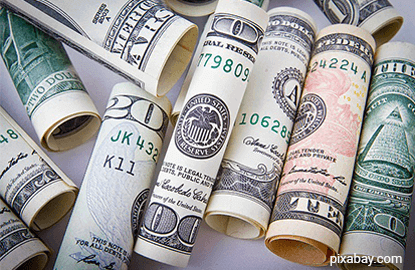 LONDON (Jan 19): The dollar held firm against most of its major rivals on Thursday, after a speech by Federal Reserve Chair Janet Yellen halted its worst run in five months by promising a "few" rises in U.S interest rates this year.
The greenback gained as much as 2% on Wednesday after Yellen's speech, which turned investors back to the narrative of strong growth and rising inflation, which drove the currency higher after Donald Trump's election victory in November.
A correction since late December means the currency is still in the middle of its worst four-week performance since August, reflecting concerns that Trump would prefer a weaker currency and more generally may stoke global geopolitical uncertainty.
But Fed policymakers' expectations of three rate rises this year are the bedrock of predictions for more dollar gains.
"We have washed out a few positions this week and we're back to thinking about the underlying fundamentals," said Jeremy Stretch, head of currency strategy at CIBC in London.
"Yellen's comments are interesting and constructive overall ... but the market does not want to be caught long ahead of the president-elect speaking (on Friday). For now it is cautious dollar buying rather than anything stronger."
The dollar index inched up 0.2% in early trade in Europe. It was marginally stronger at 114.705 yen, but had given back about 0.2% of its gains against the euro to US$1.0646.
Yellen is due to speak again late on Thursday, before Trump's inauguration on Friday.
The dollar sell-off on Tuesday was driven by the president-elect's claim that the strong currency was "killing us" in trade ties with China and signs that he would reject a Republican initiative on border taxes, which had been expected to support the currency.
"Of all the speakers we're getting ... the one I'm going to listen to most for now will probably still be Janet Yellen," said Societe Generale strategist Kit Juckes.
"As the U.S. economy approaches full employment, as wages rise but inflation rises nearly as quickly, how hawkish the Fed dares to be will determine how much the dollar rises."
The day's other big set-piece is the European Central Bank's policy decision and news conference, though expectations of another strong message that would move the euro are limited.
With growth and inflation picking up pace slowly, the bank is expected to argue that its stance on loose monetary policy is still needed to keep the recovery on course, even if that raises nerves in Germany over rises in inflation.
"It will be interesting to see whether (ECB President Mario) Draghi is pressed in the briefing on any degree of dissent within the council," CIBC's Stretch said.
Sterling, which had jumped 3% on Tuesday to vault above US$1.24, after British Prime Minister Theresa May's Brexit speech, was trading at US$1.23 per dollar, having fallen sharply on Yellen's speech.