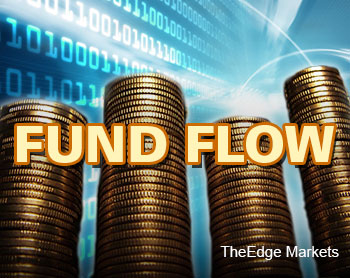 KUALA LUMPUR (Nov 24): Investors classified as foreign have sold RM3.89 billion of Malaysian equity year-to-date, according to MIDF Research.
In his weekly fund flow report Monday, MIDF Research head of equity Syed Muhammed Kifni Syed Kamaruddin  said foreigners sold a net total of RM141.6 million of Malaysian equity last week, compared to the RM27.3 million outflow the week before.
He said global funds' aversion towards Malaysian equity was attested by the gradual but persistent outflows of late.
He said the local bourse has received only two weeks of foreign fund inflows thus far in the fourth quarter of this year.
Syed Muhammed said foreign investors were net sellers on each day except for Tuesday last week.
"We saw the selling intensity from the previous week spilled over into Monday trading as RM86 million net foreign funds exited our bourse," he said.
Syed Muhammed said this was followed by the emergence of RM102 million net buying interest on Tuesday.
"However, it was net selling all the way for the remainder of the week.
"Thenceforth, fund outflows stood at 51 million on Thursday before it ebbed slightly to RM94 million on Thursday and rose again to negative RM58 million on Friday," he said.
Syed Muhammed said that on cumulative basis, foreign investors remained net sellers of Malaysian stocks in 2014.
He said the net outflow as of last Friday had increased to RM3.89 billion.
In 2013, Malaysia reported a net inflow of RM3.03 billion.
He said foreign participation rate nonetheless rose slightly last week.
"Daily average gross purchase and sale increased to RM777 million from RM724 million recorded in the prior week.
"In contrast, we saw lower local participation rates," he said.
Syed Muhammed said in the retail market, the average daily gross purchase and sale declined from RM789 million to RM742 million.
"In spite of the lower participation rate, local retailers were the net buyers for last week.
"Local institutions' participation rate more than halved to RM1.8 billion from RM2.1 billion in earlier week. Furthermore, they continued to be net sellers for the fourth week in a row," he said.
Commenting on the region, Syed Muhammed said the flow into Asian equity continued on last week as global funds made a general return for the fifth week in a row.
More encouragingly, he said the rate of net inflow for the week surpassed two billion dollars mainly attributable a resurgent South Korea.
"Asian stock markets were generally higher last week as investors cheered news of an interest rate cut in China," he said.