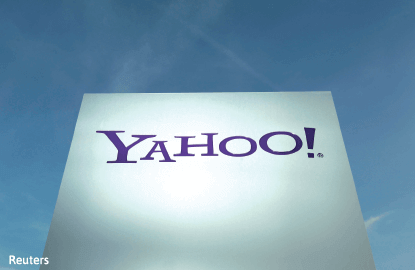 (Jan 24): Yahoo Inc on Monday reported better-than-expected quarterly profit and revenue, and said the sale of its core internet business to Verizon Communications Inc should be completed in the second quarter, allaying some investor concerns that the deal might collapse.
The US$4.8 billion Verizon transaction had originally been expected to close in the first quarter but was delayed by the disclosure of two major cyber breaches that exposed information from more than a billion Yahoo accounts.
The Securities and Exchange Commission has opened a probe into whether Yahoo's data breaches should have been disclosed sooner to investors, the Wall Street Journal reported on Monday.
Yahoo said Monday that it has spent approximately US$10 million related to a 2014 security breach announced in September and a 2013 breach announced in December.
Operating results for the fourth quarter, featuring a 15% gain in revenue from a year ago, appeared to provide some belated vindication of embattled Yahoo CEO Marissa Mayer's strategy. The company's shares rose 1.2% to US$42.90 in heavy after-market trading.
Revenue from Mavens — the mobile, video, native and social advertising units that Mayer has long touted as key emerging businesses — rose 25% to US$590 million.
Gross search revenue fell 6% to US$821 million as Yahoo struggled to win back market share from bigger rivals such as Alphabet Inc's Google.
Cantor Fitzgerald Analyst Youssef Squali said the report shows Yahoo is capable of increasing efficiency but cautioned that search was on the decline and display would be in decline if the numbers were crunched differently.
"You have to remember, this business is still a melting ice cube," said Squali.
Emarketer analyst Martin Utreras said Verizon would likely be reassured by positive user engagement trends revealed in the report.
"The concern was really with the user engagement, whether those data breaches would have a material impact," he said. "But basically, from what they released today, it looks like the engagement hasn't changed that much from what they said the previous year."
The Verizon deal would transform Yahoo into a holding company called Altaba, whose primary assets would include its 15% stake in Chinese e-commerce company Alibaba Group Holding Ltd and a 35.5% interest in Yahoo Japan Corp.
Net income attributable to Yahoo was US$162 million, or 17 US cents per share in the fourth quarter ended Dec 31, compared with a loss of US$4.43 billion, or US$4.70 per share, a year earlier.
The year-ago quarter included a US$4.46 billion write-down to account for the lower value of some units.
Yahoo's revenue rose 15.4% to US$1.47 billion, above analysts' average estimate of US$1.38 billion, according to Thomson Reuters I/B/E/S.
Excluding items, the company earned 25 US cents per share, beating the average estimate of 21 US cents.
The company has said it would not hold a conference call or webcast after the release of the results, citing the pending deal. This is the second straight quarter that Yahoo is not holding a post-earnings call.
Verizon is reporting fourth-quarter results on Tuesday before markets open.