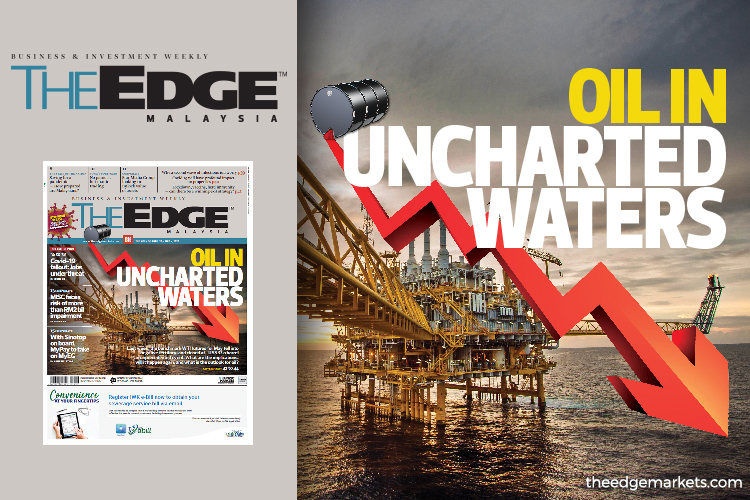 KUALA LUMPUR (April 25): Last week, the West Texas Intermediate (WTI), one of the three benchmarks indices for crude oil, closed at -US$37, a first in the history of oil prices. This basically means that an oil seller would have to pay a buyer US$37 to take a barrel of oil, which is illogical.
The reason for the plunge to negative territory is attributed to a lack of storage capacity at Cushing, Payne county in Oklahoma, coupled with May futures reaching expiry.
In a nutshell, speculators did not want to take physical delivery at settlement, and with nowhere to store, they were dumping it at all costs which resulted in negative prices.
It is unclear if such a situation of oil hitting negative values will crop up again. Analysts covering oil and gas are also divided as to the likelihood of such a scenario repeating itself.
The WTI is generally used as a benchmark for the US. Other benchmarks such as Brent Crude however were largely unchanged dipping by 5%.
Nevertheless, the mere 5% dip does not mean that all is well with the oil market outside the US, where oil is concerned.
OPEC in its monthly report for April this year, highlights that the world economy is forecasted to face a severe recession in 2020, declining by 1.5%, largely brought about by Covid-19. With the onslaught of Covid-19, 80% of the global economy is in a lockdown, there is limited economic activity, which in turn resulted in travel restrictions impacting over 40% of the world's population. This has adversely impacted fuel consumption and driven gasoline to negative territory.
In 2019, oil demand was estimated to average 99.67 million barrels per day, while that of 2020 is now assumed at 92.82 million barrels per day, with higher consumption expected in 2H2020.
Recovery is expected to take place in 2021, but Opec does not divulge any details due to the current uncertain environment.
Read more about what Opec and other research houses say about the outlook for crude oil in this week's issue of The Edge.