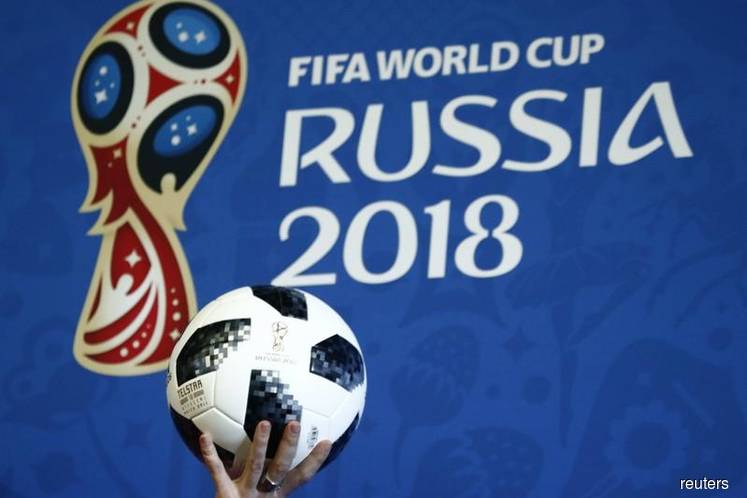 KUALA LUMPUR (June 14): Asia Pacific advertising spend (adspend) is expected to rise from 4% in 2017 to 4.5% in 2018 — higher than the 4.2% forecast in January 2018, which will take total investments to US$215.95 billion (RM860.17 billion), according to leading advertising and digital communications group Dentsu Aegis Network's biannual global forecast.
In a statement today, the group said regional events such as the 2018 World Cup that will be held in Russia, the 2018 Winter Olympics in South Korea, the Asian Games in Indonesia and the Australian federal election will play an important role in stimulating growth.
Geographically, Asia Pacific is a major growth region, contributing 41% of the global increase (US$613.5 billion). Comparatively, North America accounts for 32%, Western Europe accounts for 13% with Latin America at 8% and Eastern Europe 5%.
Dentsu Aegis Network Asia Pacific CEO Nick Waters said the region as a whole displays a positive outlook in terms of adspend, with increasing growth rates.
"We are seeing upward revisions in most key markets, with India, the Philippines and Vietnam showing high rates of growth. Spend in China continues to grow at pace, though driven almost entirely by the ecommerce platforms, Alibaba, Tencent and Baidu.
"Digital remains the dominant growth area with a quarter of Asia Pacific advertising spend expected to be delivered through mobile for the first time. Digital will be the leading form of advertising in half of the markets that we track in the region," he said.
Dentsu Aegis expects China's advertising market to grow 6.5% in 2018, up from the previous forecast of 5.4%, to reach RMB630 billion — 16.2% of global ad investment.
Growth will be driven by digital, which is forecast to command 60% of advertising spend, an increase of 14.8%.
Online regional giants Baidu, Alibaba and Tencent are projected to contribute around 80% of this growth, underlining their marketplace dominance.
"Mobile payments are also one to watch in the coming years as platforms such as WeChat or Alipay make cash obsolete in large parts of the country," the group said.
Dentsu Aegis also expects mobile to represent a quarter of global adspend or 25.2% this year, exceeding its previous prediction of 24.8%.
"With mobile payments forecast to be more popular in the coming years, mobile is set to continue on a positive growth trajectory a forecast 23.3% in 2018 and 18.8% in 2019.
"Worldwide digital media spend is forecast to increase by 12.6% in 2018, more than three times the rate of all media (3.9%), to reach US$230.6 billion — a US$25.7 billion incremental increase year-on-year," the group said.
It added that online video (+24.6%) and social media (+21.6%) are particularly strong. Paid search continues to account for the largest share of digital (39%).
"As previously predicted, digital will overtake television (TV) for the first time this year to account for 38.4% share of total adspend vs 35.5%.
"In the US, digital spend is forecast to overtake TV in 2019. Programmatic adspend is expected to grow by 23.2% in 2018 and 19.1% in 2019 as the ability to consolidate programmatic buying strategies across formats and devices continues to be an opportunity for advertisers to reach the most valuable audiences at scale," said Dentsu Aegis.
On the other hand, traditional media spend is forecast to decline by just -0.5% in 2018 and -0.4% in 2019.
"Newspapers and magazines are expected to continue their downward trend, with falls of -7.5% and -6.5% respectively. Radio (+2.0%), Out of Home (+2.2%) and Cinema (+5.9%) spend are expected to show steady growth.
"TV spend is forecast to move back into growth in 2018 (+1.2%), following a -0.7% decline in 2017, remaining a major medium in the mix with 35.5% of overall investment," the group said.