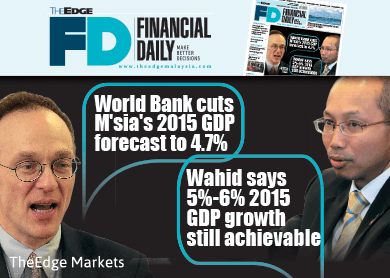 PUTRAJAYA: The World Bank has cut its gross domestic product (GDP) forecast for Malaysia next year by 0.2 percentage point to 4.7%, as it expects the nation's economy to grow at a slower pace amid tumbling oil prices.
"Next year is going to be more challenging for Malaysia. While consumption growth has been remarkable up to quarter three of 2014 (3Q14), we expect to see a decline in exports and a decline in the current account surplus going forward," said World Bank country director for Southeast Asia, East Asia and Pacific region Ulrich Zachau.
He was speaking at the release of the bank's biannual economic monitor report on Malaysia, Towards a Middle-Class Society, yesterday. The World Bank has a GDP growth projection of 5.7% for 2014.
Zachau expects the goods and services tax (GST), which will be implemented in April, to dampen consumption "somewhat" and that inflation is likely to pick up to just below 4%.
"The critical risks will be on the external side, on a weaker external environment. Overall, the world economic outlook is not great," he pointed out, adding that Malaysia faces downside risks due to falling oil prices.
He said the international financial institution will continue to watch the development of crude oil prices in its continued volatility, as it is an "important factor" for Malaysia.
"Low oil prices, in the short term, will help to stabilise the fiscal position. [However] if it continues to stay low, there is adverse risk in the medium term to Malaysia's economic position — in both current account decline and eventually, the fiscal position," Zachau noted.
Nevertheless, he said should oil prices recover from their current level in the short and medium term, the impact on the economy will not be as significant.
World Bank senior economist Frederico Gil Sander (pic) believes there is likely to be some recovery in crude oil prices going forward.
"Most likely, the outlook on oil prices will recover somewhat. We've seen a period where crude oil prices have remained higher than expected and [likewise], they might also go lower than people think," he said.
Gil Sander added that despite the challenges, he believes that Malaysia has learnt much from previous financial crises and that its flexible exchange rate will help it withstand external shocks.
This article first appeared in The Edge Financial Daily, on December 18, 2014.