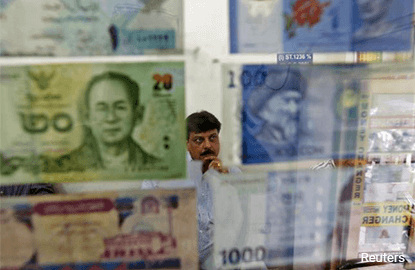 SINGAPORE (Feb 17): The South Korean won eased on Friday after the leader of Samsung Group was arrested over his alleged role in a corruption scandal, while the Singapore dollar struggled to gain traction despite an upward revision to fourth-quarter growth.
The Chinese yuan eased 0.2% after companies stocked up on the greenback, in contrast to their heavy US dollar sales earlier this week.
Moves across emerging Asian currencies were mild, with the South Korean won easing 0.3% to 1,144.85 and edging away from a three-month high of 1,133.0 that had been set on Thursday.
Elsewhere, the Indonesian rupiah and the Malaysian ringgit both eased 0.1%, while the Taiwan dollar edged up 0.1%.       
The won's retreat came after Samsung Group leader Jay Y. Lee was arrested early on Friday over his alleged role in the corruption scandal that has engulfed President Park Geun-hye.
"What's important for the won's movement now is whether the market participants regard Lee's arrest as a start of a crisis for other conglomerates or just as one part of this huge political scandal," said Kim Doo-un, a foreign exchange analyst at Hana Futures.
The Singapore held steady at 1.4172 per US dollar. It had eased to an intraday low of 1.4183 after an upward revision to fourth-quarter gross domestic product came in a tad short of market expectations.
Quarter-on-quarter annualised GDP growth was raised to 12.3% from 9.1% previously, but was slightly below the 12.6% median forecast in a Reuters survey.  
The Singapore dollar seemed to suffer a "knee-jerk sell-off" after the GDP data but later recovered, said Philip Wee, senior currency economist for DBS Bank.
The Singapore dollar regained its footing after January exports exceeded expectations and also because the US dollar remained soft after its selloff on Thursday, Wee said.
Against a basket of six major peers, the greenback inched up 0.1% to 100.50, after shedding 0.7% on Thursday.  
CURRENCIES VS US DOLLAR
Change on the day at 0554 GMT
| | | | |
| --- | --- | --- | --- |
| Currency              | Latest bid   | Previous day  | % move |
| Japan yen                 | 113.36     | 113.25     | -0.10 |
| Sing dlr                  | 1.4172     | 1.4166     | -0.04 |
| Taiwan dlr                | 30.770     | 30.792     | +0.07 |
| Korean won               | 1144.85    | 1141.50     | -0.29 |
| Baht                       | 34.99      | 34.99     | -0.00 |
| Peso                      | 49.960     | 49.970     | +0.02 |
| Rupiah                     | 13328      | 13315     | -0.10 |
| Rupee                      | 67.03      | 67.08     | +0.07 |
| Ringgit                   | 4.4560     | 4.4510     | -0.11 |
| Yuan                      | 6.8664     | 6.8540     | -0.18 |
Change so far in 2017
| | | | |
| --- | --- | --- | --- |
| Currency              | Latest bid   | End prev year  | % move |
| Japan yen                 | 113.36     | 117.07     | +3.27 |
| Sing dlr                  | 1.4172     | 1.4490     | +2.24 |
| Taiwan dlr                | 30.770     | 32.279     | +4.90 |
| Korean won               | 1144.85    | 1207.70     | +5.49 |
| Baht                       | 34.99      | 35.80     | +2.32 |
| Peso                       | 49.96      | 49.72     | -0.48 |
| Rupiah                     | 13328      | 13470     | +1.07 |
| Rupee                      | 67.03      | 67.92     | +1.33 |
| Ringgit                   | 4.4560     | 4.4845     | +0.64 |
| Yuan                      | 6.8664     | 6.9467     | +1.17 |