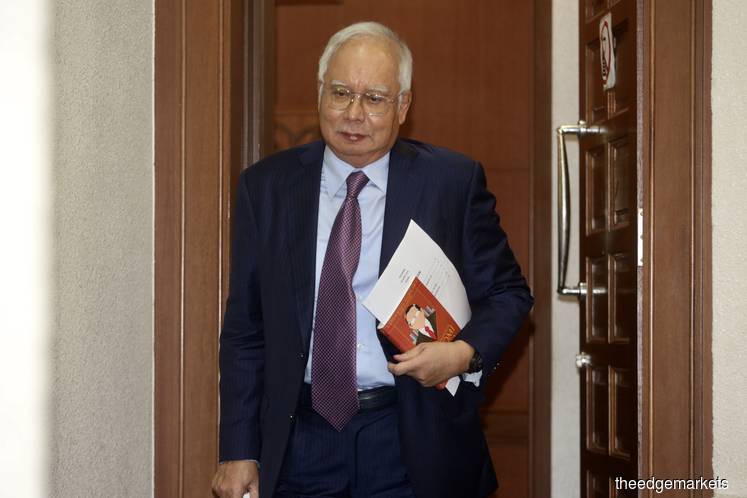 KUALA LUMPUR (April 18): The fifth witness to appear in Datuk Seri Najib Razak's SRC International Sdn Bhd trial has confirmed that cheques worth a total of RM10.77 million were issued by the former prime minister in 2015.
AmBank cheque processing senior manager Badrul Hisam Mohamad confirmed that a total of 15 cheques amounting to RM10.77 million were sent out by Najib during the year via his personal AmBank and AmBank Islamic accounts.
Some of the larger cheques include a RM3.5 million cheque which was paid to law firm Hafarizam Wan & Aisha Mubarak, RM2.5 million paid to Zulqarnain & Co, as well as RM1 million paid to Solar Shine Sdn Bhd.
Najib also paid out RM1 million to United Pasokmomogun Kadazandusun Murut Organisation (UPKO), RM1 million to Umno Pulau Pinang Liaison and RM300,000 to Umno Johor Bahru Division.
The total amount confirms the RM10.77 million which was mentioned by Attorney General Tommy Thomas in his opening statement on April 3.
Cheques issued by Najib in 2015
Account    
Amount (RM)    
Payee    
Date
Ambank Islamic 2022011906    
240,000    
Vital Spire Sdn Bhd    
30/1/2015
Ambank Islamic 2022011906    
300,000    
Centre for Strategic Engagement    
8/2/2015
Ambank Islamic 2022011906    
2,500,000    
Zulqarnain & Co    
2/2/2015
Ambank Islamic 2022011906    
238,914    
Lim Soon Teng    
8/2/2015
Ambank Islamic 2022011906    
100,000    
ABS Trend Master Sdn Bhd    
12/2/2015
Ambank Islamic 2022011906    
1,000,000    
UPKO    
13/2/2015
Ambank Islamic 2022011906    
400,000    
Rumah Penyayang Tun Abdul Razak    
12/2/2015
Ambank Islamic 2022011906    
50,000    
Asmadi bin Abu Talib    
12/2/2015
Ambank Islamic 2022011906    
13,800    
Manisah bt Othman    
12/2/2015
Ambank Islamic 2022011906    
56,500    
MOZ (M) Sdn Bhd    
24/2/2015
Ambank Islamic 2022011906    
1,000,000    
Umno Pulau Pinang Liaison    
26/2/2015
Ambank Islamic 2022011906    
77,300    
Syadilah Enterprise    
24/2/2015
Ambank Islamic 2022011906    
300,000    
Umno Johor Bahru Division    
26/2/2015
Ambank Islamic 2022011906    
1,000,000    
Solar Shine Sdn Bhd    
17/2/2015
Ambank 2022011898    
3,500,000    
Hafarizam Wan & Aisha Mubarak     
21/1/2015
Total    
10,776,514