This article first appeared in The Edge Financial Daily, on October 7, 2019.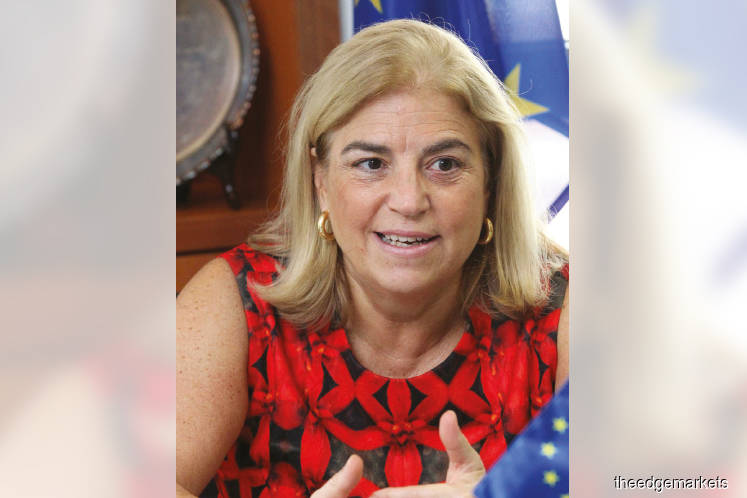 KUALA LUMPUR: While the Malaysia-European Union (EU) trade and investment flows have been stable thus far, Malaysia's trade advantages could decrease in the future, as negotiations on a free trade agreement (FTA) with the bloc remain suspended, says EU ambassador and head of delegation to Malaysia Maria Castillo Fernandez (pic).
This is particularly so as the EU has signed FTAs with Vietnam, Singapore, Japan and South Korea.
"We have also found Malaysia to a bit cautious now in trade policy; before [this] it was very open and certain in the lead at a regional level on free trade, on open trade and rule-based trade. We now see a Malaysia that is taking very cautious steps on trade policy," said Fernandez in an interview with The Edge Financial Daily.
She added that Malaysia has yet to ratify the Comprehensive and Progressive Agreement for the Trans-Pacific Partnership, and negotiations on the EU FTA have yet to be restarted.
Fernandez noted that the EU is Malaysia's third-largest trading partner after Singapore and China, and that the ball for restarting negotiations on an FTA with the EU is in Malaysia's court.
She is worried that Malaysia could be a "missing link" in the region if this cautious trade policy is maintained, as the bloc is soon to be or in FTA discussions with Indonesia, Thailand and the Philippines.
Malaysian officials have cited the EU's treatment of palm oil as a factor in the suspension of FTA negotiations. Under the EU's Delegated Act on Biofuels, incentives for the use of palm oil-derived biodiesel will be phased out by 2030.
Fernandez said it would be a shame if the issue of palm oil jeopardises the Malaysia-EU trade relationship, particularly as it only contributed 4.4% of total Malaysia-EU trade, which amounted to RM180 billion in 2018.
Malaysian trade with the EU comprises mechanics, engineering, electronics, rubber segments and vegetable oils.
She explained that 1.4% of the 4.4% share of total EU-Malaysia trade of palm oil products is for biodiesel, with the EU's palm oil import levels stable, having risen in the past few years.
The EU bought 1.91 million tonnes of palm oil from Malaysia in 2018, making it the second-largest importer after India and ahead of China.
Fernandez further explained that while biofuel demand is set to decline worldwide as consumers push for greener technologies and products, the overall demand for palm oil is set to rise.
The EU has been giving tax incentives for palm-oil derived biordiesel for the past decade. Its legislators have moved to completely phase out those incentives in 2030, starting in 2023.
"That does not mean you can't import palm oil for biodiesel; you can do it, but there will be no more incentives," Fernandez explained, while clarifying that palm oil will still be imported.
She noted that the delegated act will be reviewed by a scientific committee in 2021 before it goes into force. This review would look at a revised data set and would entail a review of all vegetable oils and their respective environmental impacts.
When asked if it was concerned about the environmental impact of soy oil, which is deemed to have a higher environmental impact, Fernandez said the EU has the same sustainability concerns for all vegetable oils.
According to Fernandez, when the initial scientific review was done for the delegated act, data showed that the deforestation rate for palm oil was the highest at that time.
She added that it is important for Malaysia and other producer countries to come forth and present their data and arguments to the scientific panel, as this continuous engagement will lead to a policy that better captures and accounts for stakeholders' views.
Previously, the Malaysian government had stepped in at the last minute for the scientific panel's initial review of the delegated act. The Malaysian government is now more engaged with the EU on the issue, she said.
Fernandez noted that while there has been some increase in Malaysia's engagement with the EU, more needs to be done. She added that the EU's mission here is trying to bring other European diplomatic and trade missions to see the reality of the palm oil industry.
"I always say if you are not under a palm tree you don't realise what all of this means; it is very important to reach out and go outside," Fernandez commented.
That being said, there needs to be more engagement from Malaysia and other producer countries so better agricultural practices, regardless of the crop, can be achieved.
Over potential action from Malaysia and Indonesia through the World Trade Organization (WTO) on the delegated act, Fernandez said the EU is a big supporter of the WTO and its dispute resolution mechanisms, and that those measures are for all WTO countries to use.
Fernandez said palm-oil derived biofuels in the EU would not be substituted by other vegetable oil-derived biofuels, as consumers are now shifting towards electric cars.
She also acknowledged that palm oil does not have a particularly positive perception in the EU currently. In order to counteract that, stakeholders, governments and corporations need to work together to campaign on and highlight the good practices and opportunities in the industry, adding that it is at a turning point, where either sustainability or the status quo is the choice.
She highlighted that the EU works with non-governmental organisations on reforestation works, particularly in Sabah. In addition, it had funded the Malaysian Biomass Industries Confederation, which aims to develop the domestic and regional biomass industry.
'Brexit to have little impact on EU-Malaysian trade'
While she did not comment on what she thought would happen with Brexit, Fernandez said the bloc does not think there will be a significant impact on Malaysian-EU trade ties, emphasising that trading conditions will be the same, regardless of whether there are 27 or 28 members in the EU.
"The UK is not the biggest European investor — it is the third largest. First, you have The Netherlands, Germany and then the UK. For Malaysia, the EU market will still be a huge market of 445 million consumers, instead of 500 million. The conditions will remain the same, and the impact is very little," Fernandez said.
She highlighted that Malaysian businesses and investors should look at diversifying their operations and investments to other countries within the bloc, as there are business and investment opportunities elsewhere in the region.
For Fernandez, the establishment of a Malaysia-EU FTA would make these prospects better, as it would allow greater market access for parties involved.