Neubodi brand and marketing director Kit Joyce Ooi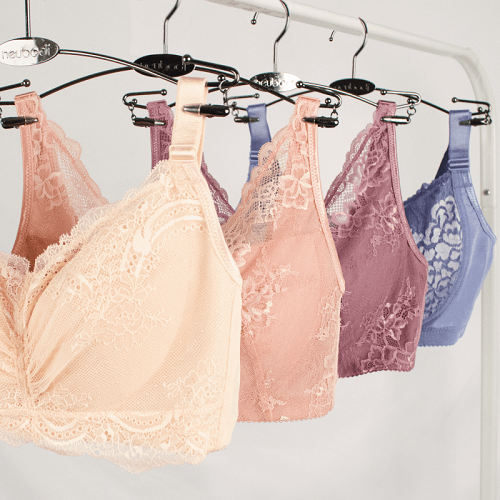 Neubodi's Bodiflex bras
As most women know, bras are a type of clothing that needs to be tried on before purchasing as sizing may differ between brands and types of bras. Because of this, Neubodi brand and marketing director Kit Joyce Ooi spent many sleepless nights trying to figure out how to drive sales once the Movement Control Order (MCO) was announced. 
The company would not be allowed to operate physical stores and this would bring sales to a halt.
With 16 retail stores and 70 employees, its main challenge, like any other retailer, is cash flow. 
So Neubodi is talking to three banks to see whether it can access a low interest rate loan, as was promised under the second stimulus package announced by the government on April 6.
"We're looking to take the loan with a low interest rate. We have been in talks with them for several weeks now but nothing concrete has been offered.
"We are entitled to the wage subsidy as well but a lot of our employees earn more than RM4,000 a month. It helped us a bit but it's not much, only about 15%. The rest we have to DIY (do-it-yourself)," says Ooi.
She feels the subsidy should be extended to six months rather than three months.
The first thing that came to mind when the MCO was announced was that if all retail stores were to remain closed, that would translate to no sales but continued expenses and high overheads.
"We are lucky because by the third week of the MCO, most of our landlords gave either a 50% rental rebate, or rental waiver during this period. This really lifted a huge burden off our shoulders.
"We still need to pay [rent], salaries, and suppliers. We are thankful that most of our landlords gave us a rental waiver because the combined cost is very high. But even then it's still tough because we're surviving on almost zero revenue and need to pay 60% of the [overall] rent. We're bleeding cash," she says.
Ooi believes that the company can survive a maximum of three months without pay cuts, on condition that shopping malls continue to give out rental waivers or rebates. "We were initially projecting a 20% growth this year, but now it's not happening. If the MCO is prolonged another month, it'll be really upsetting for us because then we will need to negotiate with the team and settle on pay cuts. What we are looking at is zero growth [for this year] and we are just aiming to break even," says Ooi.
The company has shifted its focus to e-commerce. Even though it makes some sales through its website and other e-commerce platforms, the revenue generated is not enough to sustain overheads, which are estimated to be between RM600,000 and RM700,000 a month.
"We also have very clear objectives. We want to retain all our staff and we try our best not to cut their salaries. We want to survive this period together. With this, our HR (human resource) and finance departments worked together to be very prudent with our cash flow," she says.
The company's sales were already down 60% ever since the Covid-19 outbreak and once the MCO was put in place, it has been operating at a tremendous loss every month. Even after the MCO is lifted, Ooi does not expect a great resurgence in sales because she believes that people will continue to stay home for safety purposes.
"I expect the business at shopping malls to only pick up by year-end. Hence, going digital is very important to us and in the long run, we are definitely going to further strengthen our omni-channel strategy," she says.
"We have also put in a live chat feature on the website, where online bra fitters are there to assist daily from 9am to 6pm daily."
Directing offline customers online
Neubodi operates an online store and is also available in marketplaces like Lazada and Shopee. Thankfully, the company was listed as one of the essential services as it is classified under e-commerce. "My HR came up with a duty roaster to put our warehousing staff on a rotation. We ensure that not more than three people are in the warehouse at each time, with proper sanitation equipment and masks available for them the entire time," says Ooi
The online store is now the company's only source of income. The marketing team worked to transition its offline customers online. "We know that our target customers are mostly working women who still need to feel supported while working from home so we quickly packaged and relaunched our wireless collection to ensure that it is available to purchase and delivered in time. This worked very well for us," says Ooi.
The company is also educating women on the importance of bras, especially during the MCO because a lot of women might not use one in the comforts of their own home. This can cause issues with a woman's breast shape and size because, as Ooi points out, gravity won't stop operating just because you're at home.
"You will definitely see the effects after a month of not wearing a bra. Our breasts are heavy, and if you're working from home, it's important to wear a bra but choose something more comfortable, like a wireless bra," Ooi suggests.
"Not a sports bra because the idea of this bra is to compress and minimise jiggling during [a] workout, so if you wear it on a daily basis, it compresses your breasts. In a month or two, the shape will change.
"This is why we are educating our customers on social media on the importance of your bra. It's not because we want to sell more bras, but we know the impact if you don't wear one at home," she says.