This article first appeared in The Edge Financial Daily, on December 17, 2018.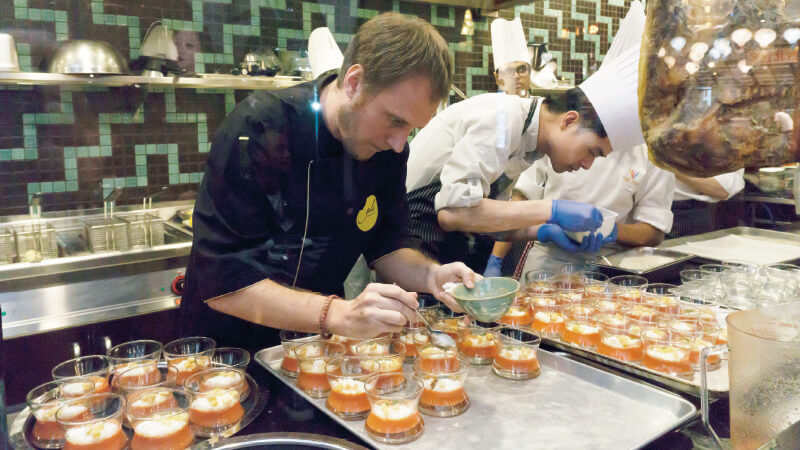 Astray (in black) adding the finishing touches to the chilled gazpacho soup with parmesan.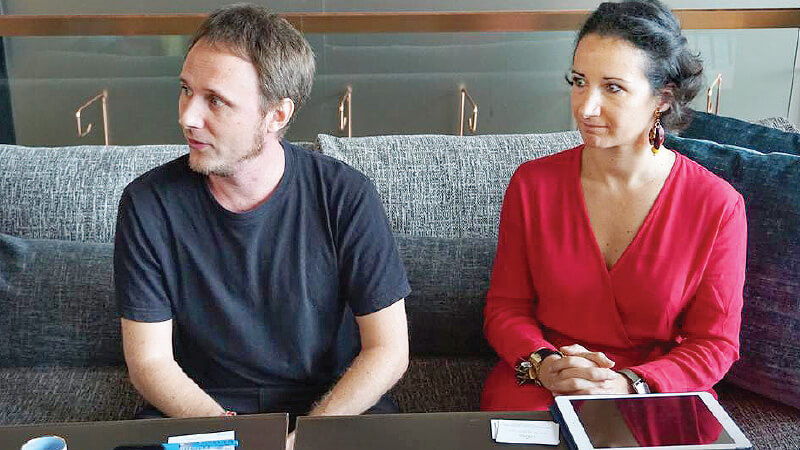 Astray (left) and De Caix during an interview at Park Avenue Lounge, Resorts World Genting recently.
Resorts World Genting's (RWG) La Fiesta restaurant celebrated the arrival of Hermanos Lurton's wines recently. The wines were paired with a menu crafted by chef Jacobo Astray, who previously worked with head chef Ferran Adria at elBulli in Roses, Catalonia, Spain.
La Fiesta has recently introduced two house wines: Hermanos Lurton RWG Tempranillo 2016, DO Toro, and Hermanos Lurton RWG Verdejo 2017, DO Rueda. The Tempranillo 2016 red wine was chosen for its rich body and ripe tannin. Its bouquet is one of lush red fruit and liquorice. Easy to drink, the wine is a perfect accompaniment to Spanish meat dishes and cheeses. Verdejo 2017 is a crisp, lively white wine with fresh notes of pear and citrus. Light-bodied and clean, it stands up well to robust, zesty flavours, making it a versatile, personable vintage, which can be enjoyed by itself, with food or even with dessert.
La Fiesta is the only Spanish restaurant in RWG, designed with the traditional Catalan eatery style in mind. It is tiled with arches, has an earthy palette and muted lighting with a seating capacity of 85 persons. The restaurant specialises in Spain's signature flavours, notably Iberico ham, paella, tapas and a stellar selection of Spanish cheeses.
In an interview with Mathilde Bazin de Caix, the managing director of Hermanos Lurton, who is also the niece of Francois and Jacques Lurton, said that the Lurton family, with origins in Bordeaux, manages more than 20 chateaux or vineyards worldwide. Francois is one of the first in the Lurton family to explore winemaking in other countries. He ventured with his brother, Jacques, into South American countries such as Argentina and Chile, and then went on to Spain in the early 90s. Hermanos Lurton is the marriage of French winemaking techniques and the Spanish terroir of DO Rueda (for white wines) and DO Toro (for red wines), part of the autonomous community of Castile-Leon, Spain, said de Caix. Hermanos, meaning brothers in Spanish, describes the brothers Jacques and Francois, the flying winemakers of the Lurton family, de Caix explained.  
Astray, a native of Galicia in Spain, was part of Adria's elite culinary brigade until the restaurant's closure in 2011. Astray honed his skills as a culinary artist in the kitchen of elBulli — a Michelin three-star restaurant which overlooked Cala Montjoi, a bay along Catalonia's Costa Brava — and later on chose to travel the world to further develop his artisanal yet modern cuisine. Gula Bangkok is Astray's latest culinary venture, from where he continues to push the boundaries of avant-garde cuisine with cutting-edge techniques and modernist artistry through his ever-evolving signature menus. It is this delightful experimentation with techniques and flavours that underlines the menu Astray designed to accompany the wines Hermanos Lurton offers at La Fiesta.
Astray said the wine-pairing dinner he had crafted would see a dish inspired by his time with elBulli, the olive sphere. The dinner also shows Astray's take on gazpacho, rusa salad, croquetas and bomba ali-oli. Astray also included Spain's famed Iberico pork in the menu and paired it with pumpkin puree, sous vide egg and wild mushrooms.
Other quintessentially Spanish offerings include grilled octopus, and beef cheeks on Manchego cheese cream, and to end the dinner on a sweet note, torrijas with macadamia ice cream and chocolate sauce.