This article first appeared in City & Country, The Edge Malaysia Weekly, on June 8, 2020 - June 14, 2020.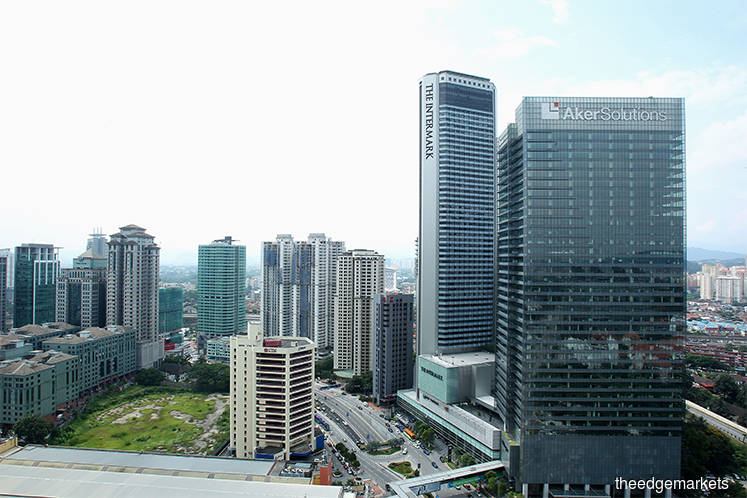 The implementation of the Movement Control Order (MCO) to contain the spread of Covid-19 has created an unprecedented situation where most businesses in Malaysia have asked their employees to work from home (WFH) and, in the process, left their office space unused.
While the current Conditional MCO has allowed many businesses to reopen, many of them still allow their employees to continue to WFH. Samantha, an account manager in a multinational media agency, says her company has extended its WFH arrangement until the end of the year.
She says the company is also looking at the possibility of implementing a flexible work arrangement, whereby employees will only need to go into the office for a few days each week.
"Most of our work can be done anywhere so long as we have a laptop …  I think the company will scale down on office space to save on rental and bills if WFH becomes a long-term arrangement," she adds.
WFH a new trend?
Local companies are also looking to make WFH a permanent arrangement. Recently, Permodalan Nasional Bhd president and group CEO Jalil Rasheed was quoted as saying that WFH is now a permanent option for the state-owned fund, and that most meetings would be a hybrid of virtual and in-person.
Many believe working from home may become the new norm as the MCO has made businesses reconsider their usage of office space. Health security and cost savings are among the main contributing factors to this trend. The adoption of technology and software has also made it easier to WFH.
However, WFH has its disadvantages, such as cyber security threats, inadequacy of facilities as well as the lack of collaboration and communication among employees, all of which would have an impact on productivity.
Property consultants expect a change in preferences for workspace design to accommodate social distancing but they generally do not foresee a major demand shift.
JLL Property Services (M) Sdn Bhd managing director Y Y Lau says demand for office space will see some changes as more companies make adjustments to WFH. "We may see a shift in preferences, such as in layouts, amenities or locations. Some examples include spaced-out seating, low-density workspace and better air quality with good circulation or ventilation. Tenants may also make increasing demands for adequate hygiene facilities and services as they remain cautious," she says.
Knight Frank Malaysia executive director of corporate services Teh Young Khean has observed a slowdown in leasing activity since the start of the MCO, as businesses have either delayed or cancelled altogether their real estate plans to control their cash flow and limit spending. Some might also exercise their contraction rights to reduce occupational costs if the option is available.
"Social distancing means office tenants are going to have to restrategise their workspace areas and schedules, from team rotations, maintaining a minimum distance between tables and desks, to cleaning protocols, for the foreseeable future," he says.
"The Klang Valley has been under pressure for a few years with the oversupply in office stock. Unless something occurs to spur growth, the combination of the oversupply and reduced demand will drive occupancy and rental rates further south."
Death of traditional office space?
While property consultants see a possibility of a lower demand for office space because of the WFH arrangement, they do not think it will mean the death of traditional office space.
They believe office space is still necessary as it is a platform for operations and interaction between staff. Proper office space also ensures that confidential documents remain private.
Knight Frank Malaysia executive director of capital markets James Buckley thinks there will be short-term distress in the office market, including requirements being placed on hold, the subletting of space and lower rents.
"But I doubt the sector will face a structural demand shift towards home working. Some businesses can work well with greater flexibility, but I think there are a lot of positives that come from working in the office, such as team spirit and creativity via human interaction," he says.
Proper office space, JLL's Lau says, will allow office tenants to have control and exclusivity over space, which then allows them to tighten certain measures according to their policy. However, traditional office space needs to shift accordingly with market changes and be more competitive. Landlords should improvise according to the situation.
For example, with many businesses in financial distress because of the Covid-19 outbreak, landlords should offer incentives and focus on health and safety in their properties to retain and attract tenants.
JLL has observed that some landlords are considering offering various types of relief such as discounts or rent deferments to tenants that are facing operation disruptions. Some landlords, Lau says, are likely to ramp up their health, safety, security and environment policy and provide the relevant facilities to cater to their tenants' needs.
Teh concurs, noting that corporate real estate planners will likely include analysis of a building's hygiene policies, ventilation and filtering systems, and cleaning schedules when they are choosing office space.
"Office space is still essential to most businesses … Landlords should consider keeping fitted spaces from outgoing tenants, offering amortisation plans for fit-out costs, partnering with co-working operators, and offering shorter tenancy tenures," he says.
Co-working space
Teh adds that the demand for co-working space — as with traditional office space — is likely to suffer in the short term as businesses look to limit social interaction. However, he sees demand returning later.
"Some will opt for co-working spaces to save on upfront capital expenditure and mitigate risk for uncertain business horizons. The ability to remain nimble and agile will be important for companies wanting to avoid getting locked into long leases," he explains.
This is especially so as businesses continue to cut costs after the MCO ends. Co-working space is generally cheaper than traditional office space in terms of rent, and occupiers need not spend on office fittings and maintenance. Co-working space is also available in various sizes and on shorter tenures, allowing for more flexibility in the current challenging business environment.
While small and medium enterprises (SMEs) and micro entrepreneurs have traditionally been the main occupiers of co-working spaces, property consultants have in recent years observed an increasing number of larger companies and multinational corporations renting such space for their project teams as their growth plans are uncertain.
Many flexible office space operators, including those offering co-working space, serviced offices and virtual offices, have recently announced that they have undertaken precautionary measures — such as workspace sanitisation — at their properties. JLL's Lau expects to see more innovation from co-working space operators to cope with the new norm and demand shift to offer more value.
"SMEs and micro entrepreneurs form a significant segment of the tenant pool for flexible office space, and JLL foresees demand from this segment prevailing due to the various types of aid from the government to ensure their continuity," she says.
"Beyond the MCO, flexible office space can increase its sustainability in the medium to long term by continuing to offer reasonable and attractive value, and by tapping potential areas with good demographics. Operators should continue to be tech-savvy and be able to adapt to future demand in order to remain relevant."