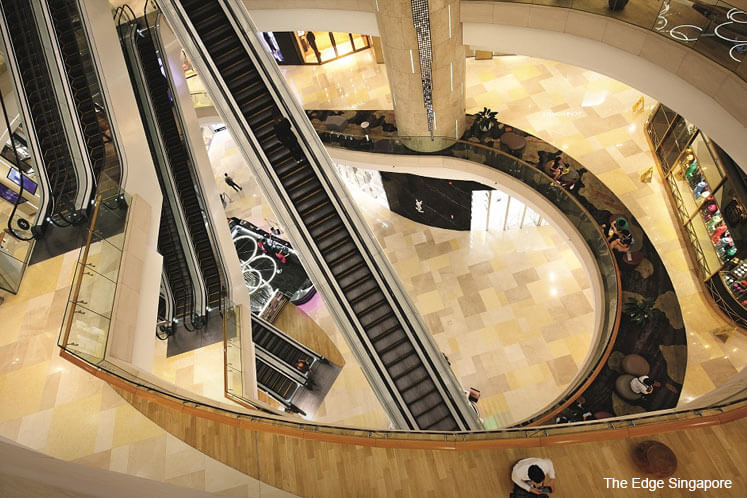 This article appeared in Issue 782 (June 5) of The Edge Singapore
(June 5): Shopping malls located in well-populated suburbs are generally thought to be more resilient than those on Orchard Road or in the CBD. While suburban malls sell everyday necessities, those in the downtown area sell luxuries, which are subject to the vagaries of consumer spending trends. And, in recent years, much has been said about the lack of footfall on Orchard Road. Property sector watchers have pointed out that some shops at the retail podium of One Raffles Place, which is owned by OUE Commercial REIT, have closed, including Uniqlo and Ever green Stationery.
For many investors, the premier locally listed suburban mall operator is Frasers Centrepoint Trust. While it is much smaller than CapitaLand Mall Trust (CMT), all six of its properties are located in thriving suburban areas. Yet, FCT has not been immune to soft retail spending trends in Singapore.
In the January-to-March quarter — FCT's 2QFY2017 — shopper traffic at its malls declined 3.5% y-o-y and 7.7% q-o-q. Tenant sales for the three-month period from last December to February was 12.1% lower compared with the same period last year. Excluding Northpoint, which is undergoing an asset enhancement initiative, portfolio tenant sales were 6.9% lower y-o-y.
Christine Li, director of research at Cushman & Wakefield, is expecting retail property rents to remain soft until 2019. In 1Q2017, URA's rental indices for private sector retail space in the Central Area and Fringe Area fell for the ninth consecutive quarter. Vacancy inched up slightly to 7.7% from 7.5% in the previous quarter.
"We expect vacancy rates to continue growing at the current pace as 6.5 million sq ft of retail space will enter the market from this year," Li warns. "We expect retail rents to stabilise only after 2019, when the supply pipeline has been depleted."
In the meantime, retailers have to cope with rising costs, competition from e-commerce platforms and generally soft retail spending. In fact, even F&B outlets, which mall owners have used to draw footfall to their properties, have not performed to expectations. According to CMT, which holds stakes in 16 malls in Singapore, F&B sales at its properties declined marginally y-o-y in 1Q2017. Alarmingly, even sales at supermarkets located in its properties fell 7.2%. According to the Department of Statistics, F&B retail sales for March fell 2.1% m-o-m and 4.8% y-o-y. Supermarket sales in March were 0.4% lower m-o-m and 2.1% lower y-o-y.
According to UBS, the store closures that have plagued REITs in the US and Australia could soon begin to be felt in Singapore. "As this global store rationalisation narrative endures, we think there is risk that the derating could filter through to [Singapore] retail REITs," UBS says.
However, FCT has a few things going for it. Notably, in 2QFY2017, it saw 4.1% y-o-y rental reversions at 5% of its net lettable area. Some analysts also point out that FCT's performance is bound to improve once the AEI is completed at Northpoint, its second-largest property. Occupancy at Northpoint dropped to 60.7% in 2QFY2017, causing portfolio occupancy to fall to 87.2% from 91.3% in the previous quarter. Although Northpoint's NLA will be reduced by 4%, owing to some reconfiguration, rental rates are likely to rise by 9%. Completion is expected in September and Northpoint's performance should rebound for FY2018.
FCT also has lots of capacity to make acquisitions. As at March 31, it had a debt-to-asset ratio of 29.4%. Since FCT's AUM stands at S$2.64 billion, it has debt headroom of at least S$290 million. The REIT has a right of first refusal to Frasers Centrepoint's 33.3% stake in Waterway Point. The property is valued at S$1.01 billion and is 95.7% occupied. Also, FCT's sponsor, FCL, is due to open Northpoint City later this year. The property is adjacent to Northpoint and was valued at S$1.14 billion as at Sept 30.
Chew Tuan Chiong, CEO of FCT's manager, confirms that it has a right of first refusal over these two properties. He is also confident that FCT's existing properties, especially Northpoint, will remain resilient. "There is a projection there will be an additional 8,000 homes in Yishun. The tenant mix [at Northpoint] will still be very suburban, although you will get new openings. There are many new names that are suburban in nature and they have become a destination, especially F&B," he says.
As for the challenge from e-commerce platforms, Chew says suburban malls are gradually adapting to the trend. "There are areas of mutual benefit we can work towards. For example, the click-and-collect format seems to be quite acceptable in Singapore," he says, referring to shoppers buying online and collecting the goods themselves. "People are sometimes not at home. To us, click and collect in conjunction with the concierge or butler services by some of the startups here, can be a benefit to the mall. They can aggregate their purchases in the mall, and click and collect points, [which] can bring traffic to the mall and offer different kinds of merchandise and experience."
Units in FCT are up 11% this year, and currently offer a forward yield of 5.8%. According to Bloomberg, there are 14 "buy" calls on the REIT and three "hold" ratings.