This article first appeared in The Edge Financial Daily, on January 10, 2019.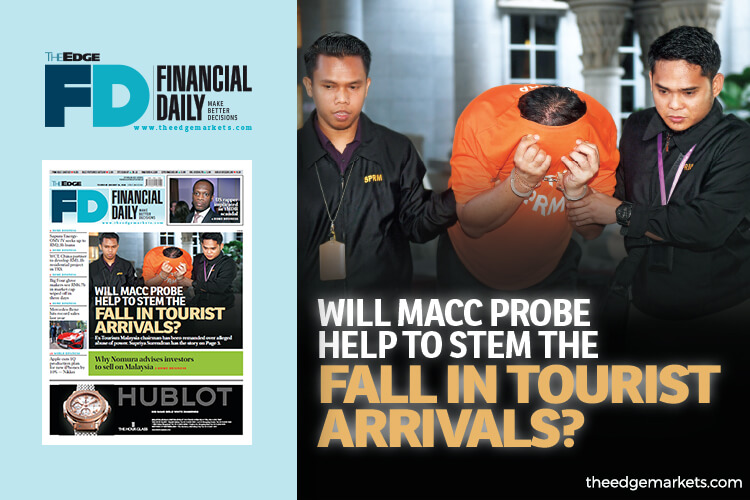 KUALA LUMPUR: Malaysia has missed the annual tourist arrival targets for five years straight since 2013. The trend is worrying given that the tourism industry is a key growth driver, which contributed 14.9% of Malaysia's gross domestic product or RM201.4 billion in 2017.
There has been mounting grouses that the previous government did not do enough to promote Malaysia as a holiday destination amid the rising competition in the region for tourist dollars — a good source of foreign exchange income.
Yesterday, ex-Tourism Malaysia chairman Datuk Siew Ka Wei was remanded by the Malaysian Anti-Corruption Commission (MACC) over an alleged abuse of power involving a government contract worth RM99.69 million.
The probe brings hope that by clamping down on corruption, the budget allocated for promoting tourism will be utilised for the right purpose.
Tourism is the third-highest contributor to Malaysia's foreign exchange receipts. The ministry of tourism, arts and culture (Motac) has set a target to achieve 30 million foreign tourists contributing RM100 billion in receipts by 2020.
In Budget 2019, the government announced that it will allocate RM100 million in matching grants to the private sector for running promotional and marketing campaigns overseas to increase the number of visitors to the country.
Siew, 63, who is also the chairman of Ancom Bhd, was remanded alongside Elizabeth Ken Tzu Ying, 31 who is a director of a media consulting company. The duo were arrested after having their statements recorded at the MACC headquarters in Putrajaya on Tuesday. They were then brought to the Putrajaya Magistrate's Court yesterday morning, where magistrate Irza Zulaika Rohanuddin ordered their remand until Jan 12.
Siew was appointed as the chairman of Tourism Malaysia, an agency under Motac, in September 2016. He is believed to have stepped down from the role in the middle of last year, following the appointment of Datuk Ahmad Shah Hussain Tambakau as the agency's new chairman on July 20, 2018.
At press time, Tourism Malaysia has yet to respond to questions from The Edge Financial Daily on the matter.
The RM99.69 million deal in question was first exposed by Wee Choo Keong, the former Tourism Malaysia chairman whom Siew replaced in 2016. In a blog posting, Wee had referred to the contract, which was signed a few days before the 14th general election, as the "Speedy Gonzales deal".
Ancom, in which Siew is chairman and the single largest shareholder holding a 20.93% stake, wholly owns Redberry Sdn Bhd, which operates a wide range of media platforms including billboards and indoor advertisements in airports.
Dwindling tourism numbers
Malaysia has missed its full-year tourist arrival targets for five years straight since 2013. In September last year, Motac revised the tourist arrival target for 2018 down to 26.4 million from an earlier forecast of 33.1 million.
Motac secretary-general Datuk Rashidi Hasbullah told The Edge Financial Daily in an interview in November last year that Malaysia is on track to meet its target of 26.4 million tourist arrivals and RM84.9 billion tourism receipts for this year.
Based on the latest available data for 2018, total arrivals was at 17.29 million for the first eight months, a 0.3% decline from 17.34 million recorded a year ago.