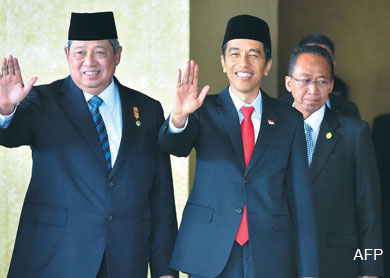 Southeast Asia's largest economy has a new directly elected leader. Jakarta's former Governor Joko Widodo, 53, was this morning sworn in as only the seventh president of the republic since it gained independence from the Dutch in 1949.  
Widodo takes over from outgoing President Susilo Bambang Yudhoyono who was constitutionally barred from contesting for a third five-year term in office.
Just to get a sense of how important the event was, consider this: Among those who witnessed the swearing-in ceremony included Singapore Prime Minister Lee Hsien Loong, Australian Prime Minister Tony Abbott, and US Secretary of State John Kerry.
Indeed, a series of street parties began in Jakarta as well as key cities across the archipelago over the weekend to celebrate the historic change of leadership.   
Few in the region remember the last time such a star-studded cast of glitterati was at hand to witness an Asian leader took office.
That's because Indonesia really matters. With a GDP of around US$1 trillion, it is the third largest emerging market in Asia behind only China and India and by far the dominant economy in the ASEAN region.
Indonesia is talked about as the one country in Southeast Asia with a lot of promise and potential but the question on the mind of Asian leaders who attended the swearing- in as well as global investors today is whether Jokowi, as the new president is known, will be allowed to govern and whether his administration will be able to overcome the obstacles that opposition 'Red and White' coalition, led by the defeated presidential candidate Prabowo Subianto, has promised to put up to derail his reformist policies.
Compared to India, expectations are extremely modest in Indonesia. "Because everyone now believes Jokowi faces tremendous challenges, it is not hard to see Indonesia beat those already low expectations," Clifford Tan, East Asia Head of Global Markets Research for Bank of Tokyo-Mitsubishi UFJ in Hong Kong told theedgemarkets.com in an interview ahead of this morning's inauguration.
Jokowi, a former furniture exporter and mayor of Solo who rose to become Jakarta's governor three years ago, has a clean image in a country long known for its rampant corruption.
Following years of strong growth helped by growing demand for its commodities like gas, coal, copper, and palm oil in China and India, as well as low cost of capital in the aftermath of easy monetary policies of central banks in US, Europe and Japan, Indonesia's economy has begun to falter as investors adjust to a new environment of higher US interest rates and lower commodity prices.
Jokowi's key challenge is kick start economic growth, rein in corruption, cut subsidies and divert savings from those subsidy cuts to rebuild infrastructure.
Indonesia's GDP growth slowed 5.2% in the second quarter and the consensus now is that the country will fall short of 5.5% growth that was expected earlier this year. Jakarta is forecasting 5.8% growth for next year or short of 6% to 6.5% growth that Indonesia has been used to in recent years.
Investors will be watching three things in the first 100 days of the Jokowi administration. First, how quickly will Jokowi move to cut subsidies and raise fuel prices. Falling global prices of oil have made his task slightly easier.
Analysts expect oil prices to rise up to 45% by end-November resulting in savings of US$15 billion.  Without fuel price hikes, Indonesia could spend up to US$ 30 billion on subsidies over the next 12 months.
Secondly, investors will be watching for cues on how flexible he is in building a strong cabinet with technocrats in key economic portfolios like Coordinating Minister for Economy, Finance Minister and the Minister for Trade.
"Selecting competent, popular ministers who are difficult to publicly attack will also help Joko weather difficult politics in the parliament," says Brian Harding, Senior Asia Analyst for Eurasia Group in New York.
Lastly, global investors will be watching Jokowi's own take and the rhetoric of his cabinet and top Indonesian officials on foreign investments.
Both Jokowi and his rival Prabowo were forced to take a more nationalistic approach towards foreign investments during the campaign hustings.
Now that he is in office, he is expected to be more pragmatic in his approach. "While Joko's administration will be focused on adding value domestically for exports and increasing local ownership of foreign ventures, they will also likely be pragmatists who understand that Indonesia must be flexible and more efficient to attract foreign investment," says Eurasia's Harding.
Indonesia has been the best performing market in Asia on five-year, ten-year as well 15-year basis in rupiah terms. It is trading at just under 14 times next year's earnings with corporate earnings growth of 12% expected for next year. The benchmark Jakarta Composite Index is up 20.9% year-to-date and 13.9% over the past 12 months.
If Jokowi can start delivering on some of his promises, the upside could be huge as opposed to India where expectations are already too high.