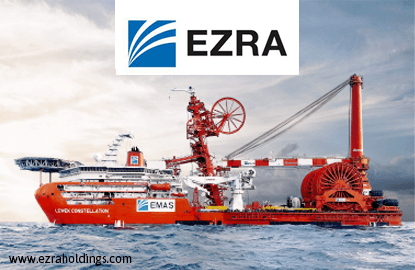 SINGAPORE (Feb 17): Local offshore services provider Ezra Holdings is struggling to stay afloat, as it faces mounting debt, defaults and a winding-up petition.
If it folds, Ezra will be the third Singapore offshore company to succumb to the collapse in oil prices.
Last year, Swiber Holdings and Swissco Holdings were put under judicial management, after running out of cash to repay its bond holders and debtors.
Yet, Ezra is not alone.
Several other offshore companies, including Marco Polo Marine and Pacific Radiance, have either defaulted on bond payments or sought to restructure existing obligations with their lenders to avoid folding.
The current situation is a far cry from just three years ago, when offshore support services companies such as Ezra were benefiting handsomely from high oil prices and plenty of drilling activity.
Back then, Singapore's offshore and marine companies were making ambitious investments for future growth. However, when oil prices tumbled, oil majors were forced to cut spending on exploration and production work.
This in turn caused the entire oil and gas supply chain to grind to a halt. It is this standstill in jobs and drop in asset values that are pushing companies like Ezra to the brink.
Ezra has fought hard to stay afloat since oil prices began sliding from over US$100 a barrel in June 2014, moving innovatively to keep its businesses from going under.
Despite its best efforts, however, it appears that Ezra is now at its wits' end. Meanwhile, losses are mounting across the group.
Can Ezra hang on to survive?
The full story behind Ezra's predicament in "Ezra faces huge debt load, winding-up petition; will it go the way of Swiber?" is on page 15 of The Edge Singapore (week of Feb 20), available at Singaporean newsstands now.