This article first appeared in The Edge Malaysia Weekly, on November 25, 2019 - December 01, 2019.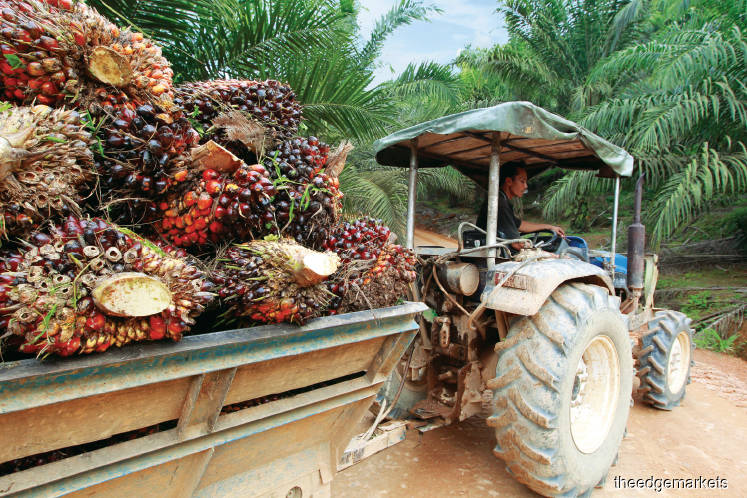 The planter has posted operating losses in five out of the last six quarters
Photo by Abdul Ghani Ismail/The Edge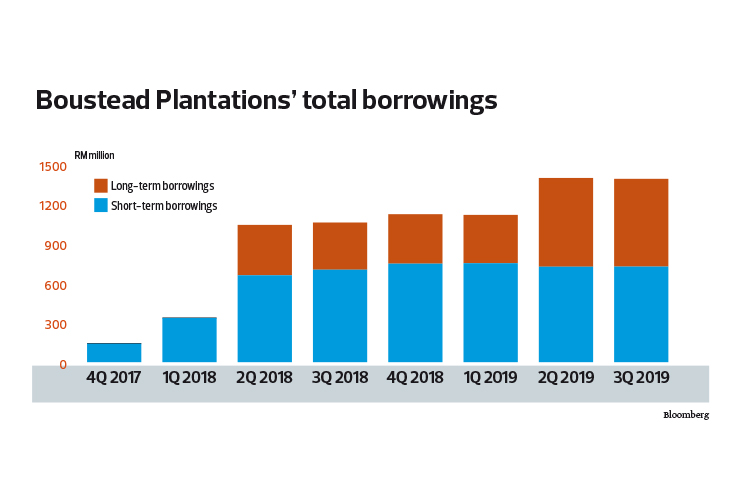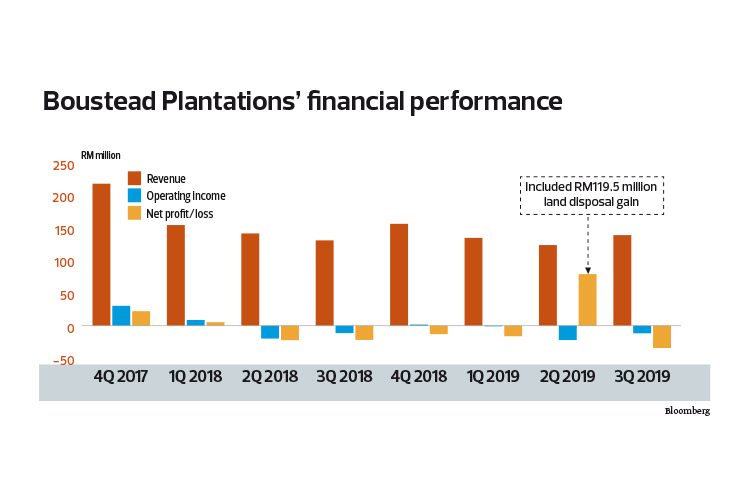 FOR debt-laden, loss-making Boustead Plantations Bhd, the recent upward trend in crude palm oil (CPO) prices could not have come fast enough.
Shareholders are now waiting with bated breath to see if the recovering CPO prices will be enough to accelerate the planter's turnaround efforts after last week's earnings release, which represented a fifth loss-making quarter in the last six.
Additionally, a sustained CPO price rebound would be perfect timing as Boustead Plantations tries to make the best of its expensive acquisitions in the last couple of years that had been dragging its finances.
After falling as low as RM1,834 per metric ton (MT) in March, spot CPO prices breached RM2,530 per MT last week for the first time in 20 months.
In comparison, the planter's all-in cost of production in the nine months to Sept 30 (9MFY2019) was RM2,531 per MT, according to Maybank IB Research's estimate.
It is worth noting that October's spot average selling price (ASP) for CPO was RM2,104 per MT, a 13-month high. November is on pace to beat that with the current average — up to Nov 22 — at RM2,290.57 per MT, based on Malaysian Palm Oil Board data.
"For 4Q2019, we expect Boustead Plantations to broadly break even on lower fertiliser application (typical of 4Q) and higher CPO ASP achieved," Maybank IB Research says in a Nov 22 report.
Among the key takeaways from Boustead Plantations' 3QFY2019 results, released last week, is that it is not making enough revenue to cover its operating costs.
Thus, higher revenue would be much welcomed, particularly as the management had told The Edge last month that "we do not intend to undertake a cash call exercise".
That said, its majority shareholder Boustead Holdings Bhd, with a 57.42% stake, may be hard-pressed to support any cash call regardless, as it is facing a cash squeeze itself.
In 3QFY2019, its operating costs rose 5.9% year on year to RM150.9 million on revenue of RM139.24 million. That was before a further RM17.46 million in finance costs and a RM9.33 million tax bill.
Overall, Boustead Holdings posted a 57% year-on-year deeper net loss of RM34.3 million in 3QFY2019, despite revenue improving 6.2% year on year.
This is the third consecutive quarter that the company has reported operating losses and the fifth out of the last six quarters.
Year to date, Boustead Plantations is still in the black with a net profit of RM28.72 million in 9MFY2019 (9MFY2018: RM21.9 million net loss) on revenue of RM398.1 million (-6.9% year on year).
Note, however, that the 9MFY2019 net profit was boosted by a one-off gain from land disposal in 2QFY2019, which added RM119.45 million to its coffers. Adjusting for the land sale, net losses for 9MFY2019 would be slightly over RM100 million.
A second takeaway is that the company's debt levels seem to have stabilised after surging several times over the past 18 months.
As at Sept 30, short-term borrowings was at RM722.24 million (June 30: RM721.26 million) while long-term borrowings was at RM662.94 million (June 30: RM670.74 million).
Recall that in 18 months up to June 30, the planter had racked up RM1.25 billion in additional borrowings as it digested costly acquisitions.
As a yardstick, it began FY2018 with no long-term debt and just RM140 million in short-term debt on its balance sheet.
A point of concern for shareholders was that the company seemed to be borrowing short term for long-term investments, which the company had acknowledged in a previous statement to The Edge.
That may be due to lower interest rates for short-term revolving facilities at 4.68% annually versus 5.15% to 5.50% for long-term term loans. From the RM1.25 billion in additional borrowings, RM581 million is in short-term debt.
"We are reviewing our short-term financing by matching debt repayments to the cash generation ability of the company and tenure of its assets. An announcement will be made once the terms have been finalised," it said last month.
A third takeaway is that the company's cash-generation capabilities improved substantially in 3QFY2019, which may give shareholders hope that a continued CPO price upward trend would nudge it back into profitability.
In 3QFY2019, Boustead Plantations reported RM48.06 million in net cash generated from operations. That accounts for 51.3% of what its operations has generated in 9MFY2019.
That was enough to cover its investing activities and debt repayments that quarter, with enough left over to boost its cash pile to RM14.17 million compared with RM10.93 million just three months prior, which was a record low.
It remains to be seen whether the company will record significant land disposal gains in the coming quarters to boost its finances. As at Sept 30, assets classified as held for sale have remained unchanged at RM223.41 million.
Despite signs of improving health, however, larger issues remain at Boustead Plantations. First, its immediate concern must be finding a permanent replacement for former CEO Chow Kok Choy, who retired on July 31.
The company previously said it is undertaking a "rigorous process" to find a new CEO and will make announcements in due course.
Secondly, returning the company to better financial health and financial performance is a major task given its expensive acquisitions recently.
Its Sabah and Sarawak estates remain loss-making up to 3QFY2019 with only its operations in Peninsular Malaysia in the black. For perspective, fresh fruit bunches (FFB) from Sabah and Sarawak totalled 439,451 MT last quarter or about 60% of the company's 727,771 MT overall.
In 9MFY2019 so far, the segment performances of Sarawak and Peninsular Malaysia had improved mainly due to "curtailed operating expenditure", according to the company. However, its Sabah estates saw segment loses almost double from RM23.4 million in 9MFY2018 to RM44 million in 9MFY2019, despite a 17% increase in FFB output.
"The lower selling prices and increased depreciation charges were the main reasons for the decline in performance," the company said.
The deterioration comes just as Boustead Plantations is digesting a RM1.15 billion acquisition of 16,494.56ha of plantation land in Sabah in FY2018 — the same year it fell into its first full-year loss since 1973.
A previous analysis by The Edge (Issue 1262, April 15) uncovered that much of the acquired land — which were held via Boustead Pertama Estates — have below-average yields.
Satellite images also reveal irregular planting patterns across non-contiguous parcels set on hilly terrain, which represent hurdles to efficiency.
In a previous response back in April, the company had defended its acquisition as "viable" and that it is confident of improving returns from the Boustead Pertama Estates over time.
Last Friday, the counter closed at 65 sen, giving the company a market capitalisation of RM1.46 billion. Its last five-year high was RM1.34 on May 18 last year — about a month after shareholders approved the acquisition of what is now Boustead Pertama Estates for RM750 million.