This article first appeared in The Edge Malaysia Weekly, on February 18, 2019 - February 24, 2019.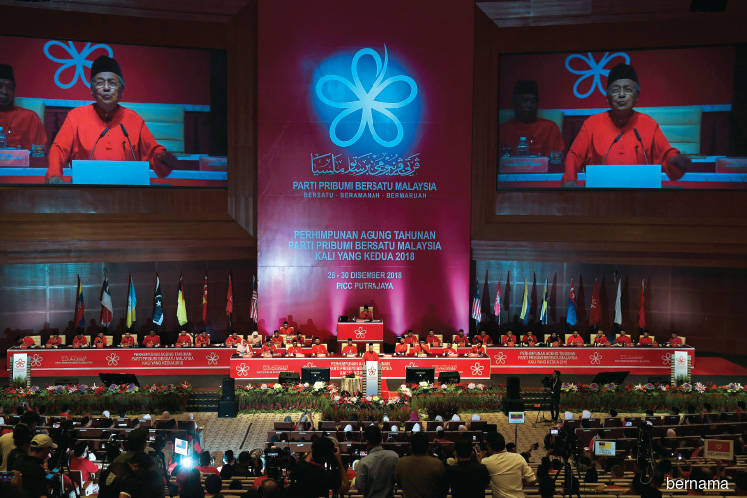 I will have to borrow the tagline from the movie Jaws ll — the sequel to Steven Spielberg's Jaws. It goes like this: "Just when you thought it was safe to go back in the water…" You know the rest of the story.
For this piece, I'll change that to: "Just when you thought it was gone, here it comes again."
I'm talking about former Umno MPs joining Parti Pribumi Bersatu Malaysia (Bersatu) and being accepted with open arms. The recent crossover of seven ex-Umno MPs has triggered criticism and justifications, all of which we have heard before.
Before that, a few months after the 14th general election, we were offered opinions as to why Umno MPs quit their party, why they should not be accepted by Pakatan Harapan (PH), and Bersatu in particular, and why two Umno MPs were accepted by Bersatu almost immediately.
We were told that the turncoats must not be accepted because to do so would be a betrayal of the people's trust in kicking out Umno and BN, which was the main objective of the majority of voters in GE14.
On the other hand, we were also told turncoats were needed for PH to have a stronger voice in parliament in order to bring about changes to the law, notably those that required amendments to the constitution, for which a two-thirds majority is needed.
At the time, we were expecting an Umno exodus. Then things quietened down but we knew it never really went away. And when the seven ex-Umno MPs were welcomed by Bersatu a few days ago, the same criticism and same justifications are being repeated.
But this time, there are more questions, among them, will ex-Umno MPs from Sabah be allowed to join to further boost Bersatu's numbers?
Sabah Chief Minister and Warisan president Datuk Seri Shafei Apdal has made his position clear and is adamant Bersatu should keep out of the state as per the pre-GE14 agreement.
But what if Shafei himself allows ex-Umno MPs in Sabah to join Warisan in the name of consolidating PH's position in parliament? Will that be alright with Bersatu?
Another question concerns the DNA of Bersatu itself. After GE14, it had 13 MPs. Then two ex-Umno MPs came aboard, making it 15. With the seven ex-Umno MPs, it now has 22 MPs — 13 "originals" who had been with the party before GE14 and nine "frogs".
If more Umno MPs from Sabah, or the peninsula, are allowed to join, there will likely be more frogs than original Bersatu members.
That has made some observers wonder if Umno secretary-general Tan Sri Annuar Musa was right in saying that Ummo has reformed and changed, but Bersatu is the one "picking up the bad practices Umno is trying to discard".
DAP's Ronnie Lui has remarked, "Are we witnessing the reverse takeover of Bersatu by ex-Umno members?"
But some political observers do not see that happening. One opines that instead, the opposite is likely to take place, meaning that in the longer term, it is Bersatu that will engulf Umno, killing the party once and for all to become the dominant party championing the Malay cause. The importance of Malay votes to be the ruling party in the local political landscape is a no-brainer.
However, political analyst Dr Agus Yusof questions why there is a need for Bersatu to take the short-cut route of growing the party by accepting former Umno MPs instead of building the party organically. "Why is Bersatu in a hurry? Datuk Seri Anwar Ibrahim [and other component parties] might be uncomfortable. This must be ironed out nicely at the PH presidential council."
Another political observer sees Bersatu as making itself out to be a party "which is open to frogs, all in the name of upholding the Malay struggle".
To him, Bersatu's reasons for accepting the former Umno MPs are hardly credible as "by and large, all were complicit in the 1MDB cover-up directly or indirectly as not a single one of them uttered a word against it. The likes of the ex-Puteri Umno head even willingly let go of her post in the Public Accounts Committee probing 1MDB just to accept a Cabinet post". He was obviously referring to Datuk Mas Ermieyati Samsudin.
Bersatu chairman Tun Dr Mahathir Mohamad nonetheless defended his party's decision, saying, "It is what they are now that counts." That includes Tasek Gelugor MP Datuk Shahbudin Yahya, best remembered for his controversial remarks in 2017 that "rape victims should wed their assailants in order to combat social ills".
To the political observer, Bersatu should at the very least place certain conditions on the ex-Umno MPs, such as sitting out the next general election and not holding any post for a minimum of two years. So far, however, there have been no such caveats. Bersatu is "willing to ignore public displeasure and that of its allies", he says.
However, he concedes that it is all about political survival as "in Bersatu's book, its appeal to the Malays depends on how many seats it has in parliament or it risks fading away as another mosquito party post-Mahathir".
To him, it appears a win-win arrangement for Bersatu and the ex-Umno MPs who have found a "safe haven and become part of the ruling party".
What about its effect on PH? To Dr Agus, the "effect can be seen should PH, via Bersatu, lose in the coming Semenyih by-election."
But the way I see it, winning or losing in Semenyih is still a short-term gain or loss. It is the long haul that Bersatu and PH ought to focus on.
Save by subscribing to us for your print and/or digital copy.
P/S: The Edge is also available on Apple's AppStore and Androids' Google Play.