This article first appeared in The Edge Malaysia Weekly, on October 8, 2018 - October 14, 2018.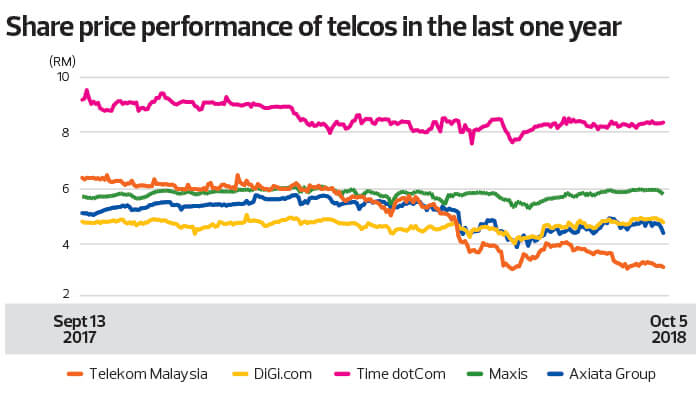 TELEKOM Malaysia Bhd (TM), whose share price has been on the decline since the Pakatan Harapan government took over in May, saw no respite last week. It slid further to close at RM3.08 on Friday, which translates into a year-to-date decline of 50% or a market cap loss of RM12.1 billion. Just a day before the May 9 national polls, it was trading at RM5.
The new government had previously voiced its intention to treat access to the internet as a basic right for all Malaysians via its National Connectivity Plan. TM's latest share price decline came as the government announced late last Tuesday that the company, together with Maxis Bhd, TIME dotCom Bhd and Celcom Axiata Bhd — the country's four key telecommunications companies — have reached agreements on the mandatory standard on access pricing (MSAP), which will result in lower fixed broadband prices.
It will be a tough row to hoe for telcos, and TM, being the largest fixed broadband market player, is seen as the company that will be impacted the most.
Indeed, when Communications and Multimedia Minister Gobind Singh announced that he would work towards achieving broadband connections that are "double the speed, half the price" for Malaysians on May 22, his first day in charge of the ministry, TM's shares lost 70 sen in two days to close at RM4 on May 23.
"Among the four telcos, TM is likely to be the most affected by the price reduction, although I believe a lot of these downsides have been priced into the market. Recall that just at the beginning of the year, TM's share price was hovering at above RM6. Its decline has been going on for a while now. Right now, we just don't know how severe the impact is on the group's earnings," Public Investment Bank Bhd analyst Eltricia Foong tells The Edge over the phone.
She anticipates an earnings decline of 20% to 30% for TM, which will likely result in a lower dividend payout. In contrast, she believes the impact on players such as Maxis, which has limited exposure to the fixed broadband segment, is likely to be small.
FBM KLCI membership at risk
TM's market capitalisation has fallen substantially this year. The stock may be removed from the FBM KLCI, which comprises the 30 largest companies on Bursa Malaysia, if the share price remains at the current level, according to Rakuten Trade Sdn Bhd head of research Kenny Yee.
"It's still too early to say [if the current price weakness] is a good entry level given the negative sentiment [surrounding the stock]. Investors will also have the FBM KLCI November review in the back of their mind, especially if TM's market cap falls below those of the top 35 players. TM is currently at the 35th spot.
"The immediate support level is seen at RM3. If its share price falls below this level, the next support level is envisioned at RM2.60," says Loui Low, Hong Leong Investment Bank's head of retail research.
But not everyone is concerned about TM's possible removal from the benchmark index. AmInvestment Bank analyst Alex Goh, for one, thinks it is too early to tell if being excluded from the FBM KLCI will lead to another bout of decline in TM's share price.
"If you look at index investing, most of the strategies would [involve] the top 20 companies instead of the last few in the top 30," says Goh.
He adds that the potential decline in earnings has already been priced in for TM from the fixed broadband price reduction, which will impact all telcos in terms of margin. Interestingly, he notes that TIME dotCom's share price, which closed at RM8.25 last Friday, is only down 7.4% year to date and appears to have been little affected in comparison.
In view of current headwinds in the fixed broadband segment and the lacklustre earnings outlook in the mobile space, Kenanga Research analyst Cheow Ming Liang downgraded the telecoms sector's rating to "neutral" in his Oct 4 report.
He states that three key priorities have been identified by the government under its broadband agenda, namely speed, affordability and coverage, with the first two appearing to carry more weight than the third.
"[These are] expected to bring about more fixed broadband competition, with Tenaga Nasional Bhd (TNB) having lately decided to join the party. On the wireless connectivity front, we reckon the authorities will encourage more active network sharing within the industry and to leverage the operators' current 3G/4G networks, especially in the rural areas," says Cheow.
Early last month, TNB announced that it will be running a pilot project in Melaka to test the viability of providing broadband services through its fibre optic network, which, if successful, could challenge TM's monopoly in the fixed broadband space.
In the mobile broadband front, Cheow says basic plan offers are already at the affordable level and are powered by the latest 4G technologies, coupled with extensive network coverage. Hence, he thinks the government will not be too harsh on mobile players in terms of pricing.
Public Investment Bank's Foong disagrees. In fact, she thinks the segment will face similar pricing pressure as the average revenue per user (ARPU) has been creeping up in recent quarters despite the price competition seen since 2015. Nonetheless, the telecoms business will continue to be a cash cow despite any pricing pressure, she says.
Still expensive compared with regional peers
Notwithstanding the negative sentiment surrounding telcos here, their valuations remain more expensive than those of some regional peers.
"The local telcos' share prices have continued to underperform the FBM KLCI since mid-2017, with year-to-date losses of 16%. Despite the [weaker] performance, their valuations have yet to fall to appealing levels and they are still trading above their regional peers," Cheow notes in a report.
The local telcos' average forward price-earnings ratio is about 24 times while that of their regional peers average at 21.6 times, he points out. In terms of enterprise value-to-earnings before interest, taxes, depreciation and amortisation (EV/Ebitda), the local telcos also average at a higher 9.4 times compared with the 7.5 times of regional players. And the average dividend yield is only at 3.9% for local telcos compared with the regional average of 4.3%.
On this note, Cheow believes foreign interest in telcos will continue to be lacklustre in the near term.
Foong concurs with Cheow's view on the more expensive valuations. She points to Singapore telcos, which are trading at price-earnings levels of single digits to low teens versus the high teens that most Malaysian telcos are trading at.
Save by subscribing to us for your print and/or digital copy.
P/S: The Edge is also available on Apple's AppStore and Androids' Google Play.