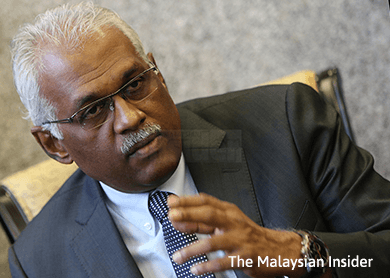 (July 23): A DAP lawmaker today questioned why a travel ban was not imposed on Prime Minister Datuk Seri Najib Razak despite being linked to the 1Malaysia Development Berhad (1MDB) scandal, after several opposition lawmakers and activists were barred from leaving the country.
Klang MP Charles Santiago said Najib is using his position, power and government institutions to keep a lid on those who are vocal about the controversy over the debt-ridden 1MDB.
"The Umno-led government is so afraid of its people knowing the truth, that it is clamping down on lawmakers and media workers who were instrumental in exposing a financial scandal that threatens the financial stability of the country,
"Najib has refused to comment if the RM 2.67 billion traced to his bank account was used during the last general election campaign, where his power was hanging by a thread.
"But there is no travel ban on the prime minister," Santiago said in a statement today.
He also alleged that the police were working together with the government to shoot the messenger, instead of going after Najib and others implicated in the 1MDB controversy following a Malaysiakini report yesterday that The Edge Media Group's owner Tong Kooi Ong, opposition  leaders Tony Pua and Rafizi Ramli were being investigated for alleged activities detrimental to parliamentary democracy.
He said it was pure harassment and a travesty of justice that, according to the report, Pua and Rafizi were also being investigated for alleged tampering and fabrication of documents related to 1MDB to oust Najib.
"They were doing their job as a responsible media organisation.  And the lawmakers and my colleagues were doing their duty by exposing the truth in the interest of the nation.
"But the persecution against them is certainly a precursor to go after everyone who have been harsh critics of the financial scandal, where a federal government-owned development fund ended up in the bank accounts of Najib and his cronies, including flamboyant businessman Low Taek Jho."
Santiago said that Najib's days as prime minister were numbered and that he was afraid of the people knowing the truth.
"Little does he know that these strategies will spell an imminent end to his political career, soon," added Santiago.
Yesterday, Pua was stopped by Immigration officials from leaving on a flight to Yogjakarta, Indonesia, at the klia2 low-cost carrier terminal.
Rafizi checked his travel status on the immigration website and was shown the following message: ""Sila rujuk kepada pejabat imigresen terdekat" (please refer to the nearest immigration office).
Today, Batu MP Tian Chua, activists Datuk Ambiga Sreenevasan, Maria Chin Abdullah, Hishamuddin Rais and Adam Adli Abdul Halim also found the same message when they checked their travel status on the immigration website.
The Star reported today that SRC International managing director and former 1MDB chief investment officer Nik Faisal Kamal Ariff was also barred from leaving the country. – The Malaysian Insider