This article first appeared in The Edge Malaysia Weekly, on March 9, 2020 - March 15, 2020.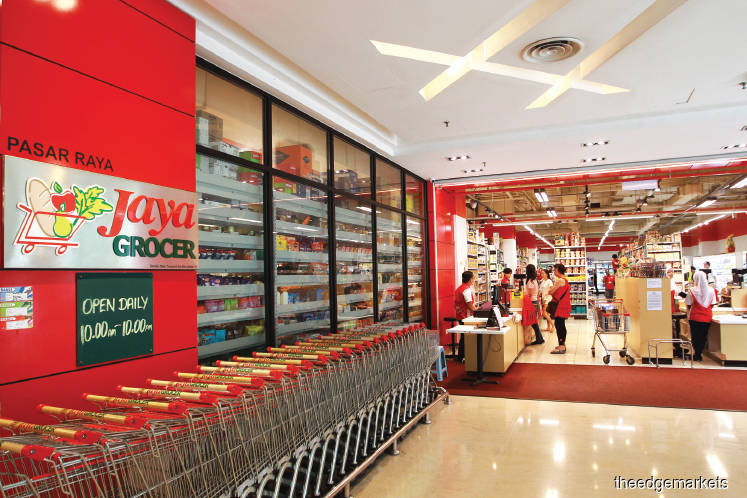 AIGF has a 45% stake in Jaya Grocer. Photo by Patrick Goh/The Edge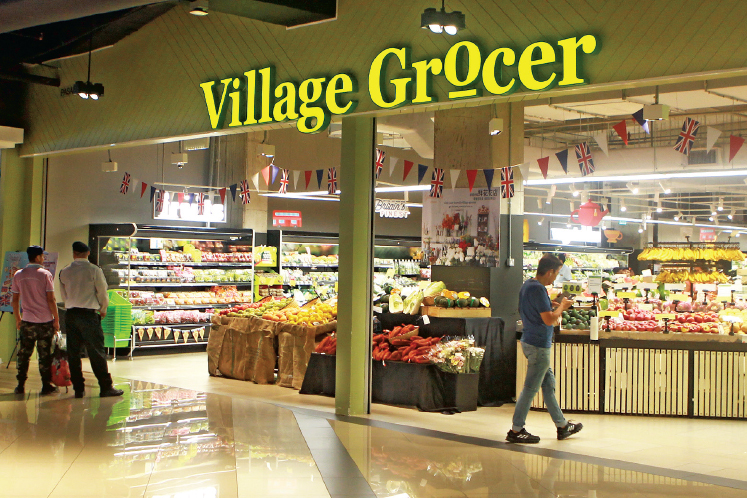 Navis Capital Partners hold a 74.91% stake in Village Grocer. Photo by Patrick Goh/The Edge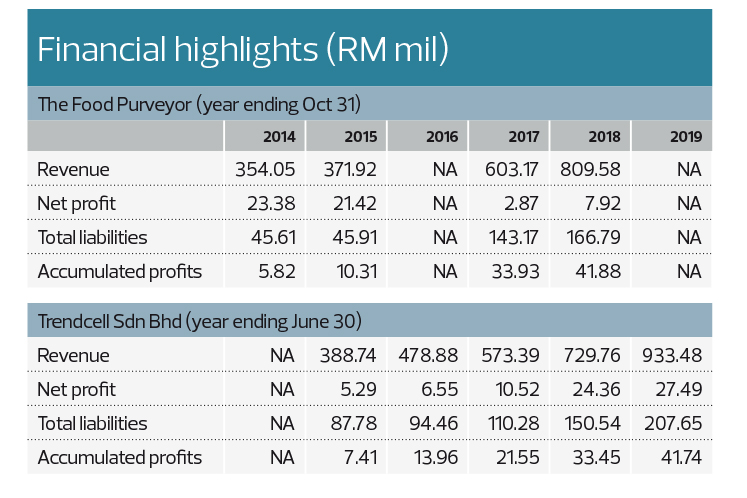 Click / Tap image to enlarge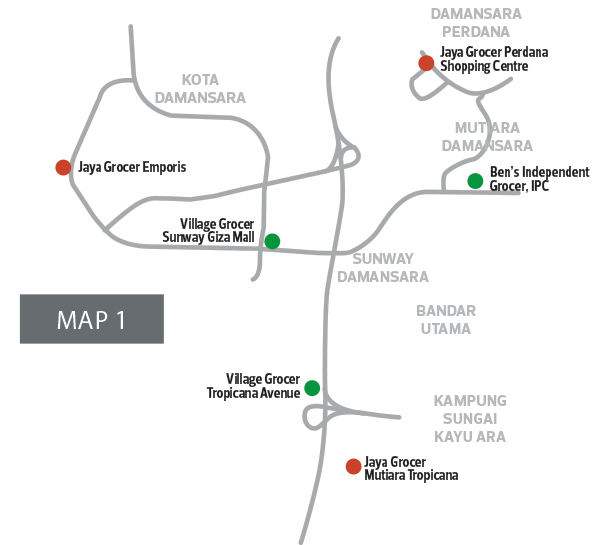 Click / Tap image to enlarge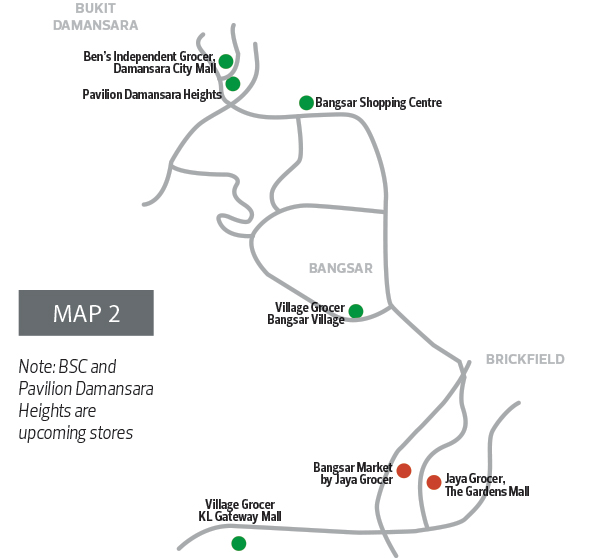 BY now, residents and shoppers in the Damansara Perdana and Mutiara Damansara suburbs, or Bangsar and Damansara Heights, would have observed that the grocery retail scene is dominated by two players: Jaya Grocer and Village Grocer.
Backed by rival private equity funds which have poured in millions of ringgit into Jaya Grocer and Village Grocer, the two retailers  have intensified their rivalry and expanded aggressively over the past couple of years in order to capture a bigger slice of the retail pie.
Jaya Grocer is backed by AIGF Fund Co and Village Grocer by Navis Capital Partners.
AIGF holds a 45% stake in Trendcell Sdn Bhd, the operator of Jaya Grocer, and Navis owns a 74.91% stake in The Food Purveyor, which operates Village Grocer, Ben's Independent Grocer (B.I.G) and Pasaraya OTK.
Both operators have about 30 stores, a number of which are located less than 5km away from the other, particularly in Kota Damansara and Damansara Perdana, as well as in Bangsar and Damansara Heights.
For example, Jaya Grocer has stores in Damansara Perdana, Emporis Kota Damansara and Mutiara Tropicana while Village Grocer has outlets in Sunway Giza, Tropicana Avenue and B.I.G in IPC Shopping Centre.
Google maps shows that the Tropicana Avenue store is located just 1.8km from Mutiara Tropicana while the distance between Sunway Giza and Tropicana Avenue is 2.4km. (See Map 1)
In Bangsar and Damansara Heights, Jaya Grocer has a store in Bangsar Market @ KLEC and The Gardens Mall in Mid Valley City while Village Grocer is located at KL Gateway Mall and Bangsar Village.
The distance between The Gardens and Bangsar Village is 1.9km. But that is not all. The owners of Village Grocer will soon have a new ultra-premium store in Bangsar Shopping Centre and are expected to launch a store in Pavilion, Damansara Heights, in a few years.
That is in addition to the B.I.G DC Mall and a smaller store in Jalan Batai, Damansara Heights, that the group already operates. (See Map 2)
How are the two retailers able to expand in a market with tepid retail industry growth and remain profitable? (See table on financial performance.)
In contrast, all four foreign hypermarkets — Tesco, Giant, AEON BiG and Lulu — are loss-making.
"Jaya Grocer and Village Grocer were established by founders who have had a good track record and are currently backed by PE funds that have sufficient capital to battle it out," Etiqa Insurance and Takaful Bhd chief strategy officer Chris Eng tells The Edge. "Both are in good segments, tapping the aspirational sectors of the middle and upper middle class, for whom a visit to the neighbourhood mall is still a pastime and where cost sensitivity is less," Eng says.
The "upper class" feel of these stores is drawing the more affluent crowd away from the hypermarkets — the once popular one-stop destination to shop at — a trend observed worldwide," he says.
Eng says that for the lower-income group, online options offer lower prices, which does not affect the target market of Jaya Grocer and Village Grocer as much.
Nevertheless, he cautions that there is a limit to their expansion. "This sort of aspirational market segment is concentrated in the bigger cities and will eventually get hit if the economy does not turn around."
Savills Malaysia associate director and head of retail services, Murli Menon, says the backing of PE funds is not the only factor helping the retailers' expansion.
"Having funds backing them definitely helps, and enables them to be more aggressive. However, the other chief factor is that supermarkets, as well as other retailers offering essential products and services, are becoming increasingly important as success factors for retail malls or podiums as people tend to seek out convenience and quick service," Menon tells The Edge.
This inevitably makes supermarkets a crucial anchor tenant, which means that landlords also offer very attractive commercial terms. Consequently, expanding becomes a less risky decision for them.
"The fact that so far [until very recently], there were restrictions on foreign-owned supermarket players in the form of a minimum size also restricted the growth of international supermarket chains, giving more opportunity for local supermarket operators to expand more aggressively," he adds.
However, Eng differs on whether tighter rules imposed on foreign players, versus a more flexible ruling for locals, has enabled the latter's expansion.
He observes that global retailers are pulling back from Asia. Case in point, just two weeks ago, British retailer Tesco exited China and is now in talks to exit Thailand and Malaysia.
"So, even if the regulations were dropped tomorrow, it is unlikely that any global grocer would want to make big inroads into Malaysia anytime soon," Eng says.
A retail player who declined to be named tells The Edge that the retail game is all about who gains market share. It is a volume game since margins are razor thin. Hence, once a store closes, another swoops in. Dairy Farm International Ltd is a good example of a player that has shut dozens of Giant and Cold Storage outlets in the past year, only to see many of the vacated locations snapped up by rival operators.
Exastrata Solutions Sdn Bhd chief real estate consultant Adzman Shah Mohd Ariffin, a real estate agent and licensed valuer, worked with foreign hypermarket chain Carrefour for nine years as its expansion director.
He says PE funds rely on the original owners to drive the business. "However, the grocery business is a complicated environment where margins are thin and there are a lot of minefields leading to potential unknown losses if not carefully monitored. It can be operationally profitable, but not as a business, after taking into account acquisition investment, capital expenditure, shrinkage — comprising loss and unknown loss — and so on.
"So, private equity needs to have the expertise to identify problems in the operations and also potential losses in the long term due to the impact of government policies, competition and such."
What next for these grocers? Is an initial public offering an exit option?
According to Adzman, the lifespan of the PE fund would depend on whether there is an agreement for the original owners to buy back the shares from the investors.
Due to their private nature, PEs do not disclose much, so not much information is publicly available.
"As an exit strategy, an IPO is normally the route they may be looking at," he says.
An investor who is involved in the retail business says the first question for a PE before entering into an investment should be "What is the exit strategy? Is an IPO realistic? If not, who is going to buy from them?"
Ultimately, the PE that is exiting would want to recoup its investment, he says, adding that the typical investment horizon for a PE in grocery retail is five years.
AIGF entered Jaya Grocer in May 2016, and Navis came into Village Grocer in September 2014.
The obvious way out for the investors would be a listing.
"The key thing to note is that the whole market is not growing," the investor points out.
Data by Retail Group Malaysia, on behalf of the Malaysia Retailers Association, shows that the supermarket and hypermarket retail category contracted by 2.3%, 2.9% and 3.2% respectively, in the first three quarters of last year. Retailers expect the final quarter to contract by a depressing 9%.
In the case of Jaya Grocer, should the Teng family, which has the majority stake, opt to list, or sell the business again, the challenge would be to grow the business in the long term.
As for Village Grocer, the retail industry investor observes that its performance is relatively poor compared with Jaya Grocer's (see performance table) and that Navis has held on to the investment for more than five years.
He believes that for Navis, the possible option would be to buy another business and merge the two, "but that would mean additional investments".
Alternatively, he says, Navis could try to improve Village Grocer's performance and profit, but its stores in Bangsar and Damansara Heights will be so close to each other that it could result in cannibalisation.
A 2018 article that appeared in The American Prospect magazine said that in 2015, seven major grocery chains in the US (including A&P, Fresh & Easy, Haggen Food Grocery Store) employing 125,000 workers, filed for bankruptcy.
The article said the private equity owners were behind all seven bankruptcies. "PE firms, famously, have no commitment to the long-term sustainability of the companies they buy, their time horizon is three to five years, until, ideally, they exit these investments.
"They have extracted millions from grocery stores in the last five years — funds that could have been used to upgrade stores, enhance products and services and invest in employee training and higher wages."
But Eng says, "Private equity's focus is to identify and generate returns from investing in unlisted stocks and companies. Usually, not always, the exit is when the company goes for listing. As such, it should not be viewed as unusual or negative that a PE fund sells down its stake when its investment goes for an IPO."
Promoters behind Jaya Grocer and Village Grocer
Jaya Grocer, founded in 2007, is operated by Trendcell Sdn Bhd, which was set up with the aim of establishing a premium supermarket grocer.
Trendcell operates 31 stores in Peninsular Malaysia and its website says, "... we aim to grow further as we establish our position as one of the largest premium supermarkets around."
The retailer also offers online shopping.
The directors of Trendcell are Teng Yew Huat, Daniel Teng Tu Yoong, Anthony Teng Tu King, Daniel Yong Teck Seong and Chong Chooi Yuet.
Trendcell is wholly owned by Jaya Grocer Holdings Sdn Bhd and the shareholders are Yew Huat (55%) and Timbang Perkasa Sdn Bhd (45%). Tu Yoong and one Nor Samsiah Abdullah Din own one share each.
As for Timbang Perkasa, all but one share is held by Acme (M) Holding Pte Ltd. The one share is held by one Zaidaton Akmah Yeop.
Acme Malaysia is wholly owned by AIGF Fund Co Pte Ltd, which in turn is owned by AIGF LP, a company incorporated in the Cayman Islands.
Yew Huat's father, Teng Sek How, opened his first sundry shop in 1944 in Jalan Sentul, Kuala Lumpur. Later, Yew Huat and his brothers opened the well-known Teng Minimarket Centre, popularly known as TMC, in Lucky Garden, Bangsar, which was later sold to Dairy Farm International.
Subsequently, Yew Huat returned to the retail business with the opening of Jaya Grocer at Jaya 33 in Petaling Jaya, Selangor.
CIMB Private Equity Sdn Bhd and Mitsubishi Corp each own 45% of AIGF, or Asean Industrial Growth Fund, with the remaining 10% held by Development Bank of Japan. The fund, launched in 2015, reportedly invested RM300 million for its stake in Trendcell in May 2016.
Village Grocer's history goes back to the 1950s, when The Food Purveyor opened a small grocery store in Gombak, Kuala Lumpur.
Forty years later, it launched Pasaraya OTK and, in 2004, the premium supermarket chain Village Grocer was born in Bangsar Village.
In 2017, the company acquired the B.I.G premium supermarket chain.
At present, it has three Pasaraya OTK, which cater for the middle and low-income segment, 19 Village Grocer stores and seven B.I.G outlets.
Private equity firm Navis Capital Partners owns 74.91% of The Food Purveyor and another 23.25% is held by Armani Wealth Sdn Bhd, which in turn is wholly owned by Pasaraya OTK (Gombak) Sdn Bhd.
The other shareholders of The Food Purveyor are Benjamin Yong Kwet Yue (0.62%), Geoffrey King (0.42%), Charles [email protected] Tseng Chia Chun (0.38%), David Lee Tseng (0.26%) and Khor Geik Mei (0.16%).
It is understood that Navis invested US$68 million in Village Grocer and another US$14 million in B.I.G.