This article first appeared in The Edge Financial Daily, on April 6, 2020.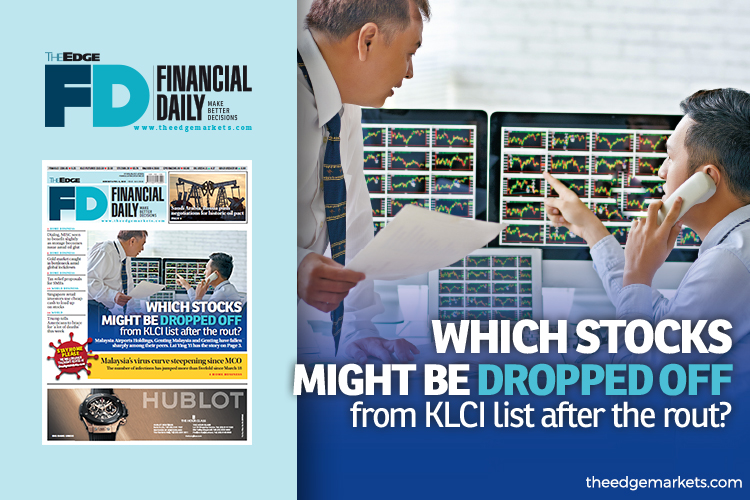 Click / Tap image to enlarge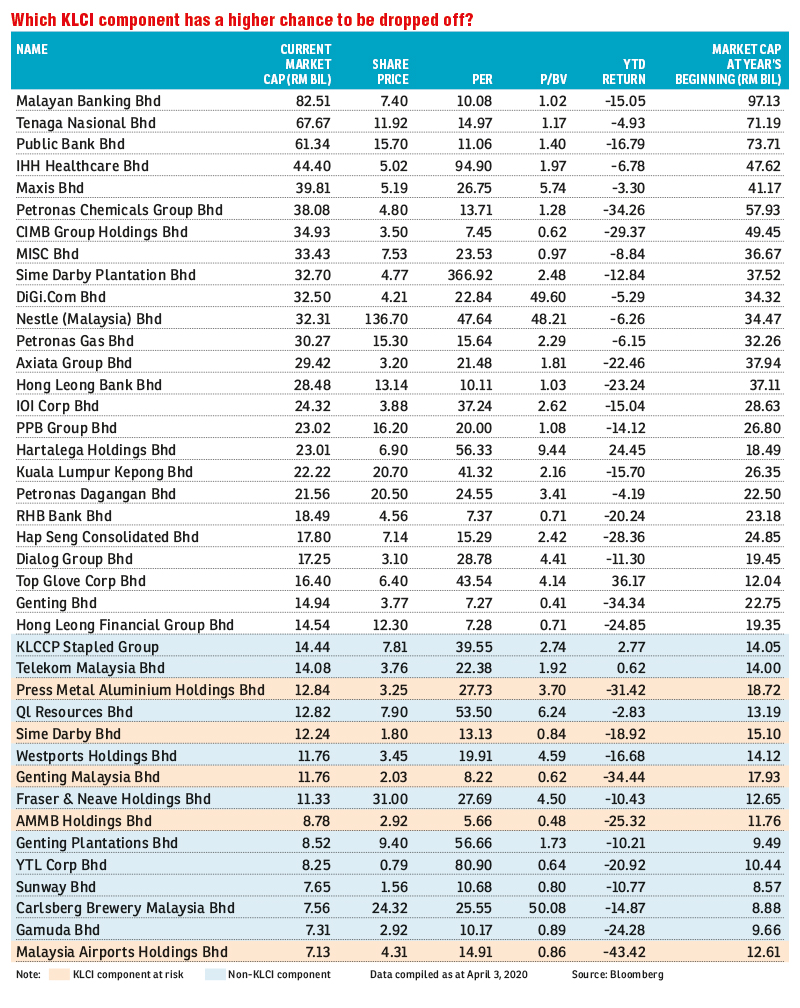 KUALA LUMPUR: The first quarter of 2020, which ended last week ,was an eventful one, to say the least. Just two months ago, the US-China trade war was still the main concern in investors' minds, but now the world's attention has shifted to combating an unprecedented global health pandemic.
The rapid spread of Covid-19 worldwide has derailed economic growth and sparked a strong selling wave across global equity markets.
The severe equity rout has pulled many big-capitalised stocks down to multi-year lows, and in turn their rankings among their peers.
Based on FTSE Russell's rules, a stock would be added as a component of the KLCI if its market capitalisation (cap) rises to 25th place or above, while one will be removed from the index if it falls to 36th position and below.
A random check on the market cap of the top 40 largest Malaysian companies showed that Malaysia Airports Holdings Bhd (MAHB), Genting Malaysia Bhd (GenM) and Genting Bhd have dropped sharply among their peers.
Year to date (YTD), the market cap ranking of airport operator MAHB, whose share price has plunged 43% to RM4.31, has dropped seven places to 40th.
Meanwhile, GenM, which has to shut down its operations at home and in the US, slipped to 32th places from its previous ranking of 26th. Its parent company Genting dropped four places to 24th in terms of market cap. Both companies have seen their share price tumbled 34% YTD to RM2.03 and RM3.77 respectively.
Press Metal Aluminium Holdings Bhd has fallen four rungs to 28th place after its market cap lost 31% YTD to RM12.84 billion. The share price of Asia's leading aluminium manufacturer closed at a three-year low of RM3.25.
The other KLCI components that are nearing the removal threshold are Sime Darby Bhd, currently at 30th place with a RM12.24 billion market cap, and banking group AMMB Holdings Bhd at 35th spot with an RM8.78 billion market cap.
Sime Darby shares have fallen 18% YTD to RM1.80, while AMMB Holdings has lost 25% YTD to RM2.92. MAHB and AMMB Holdings appear to be more prone to being dropped from the KLCI component list, should their share prices remain under selling pressure, before the semi-annual review takes place in June.
Potential companies to be added into KLCI
Simply put, the most potential non-KLCI companies contending to replace the existing KLCI components could possibly be KLCCP Stapled Group (ranked 26th) and Telekom Malaysia Bhd (TM) (ranked 27th), judging by their market cap.
YTD, KLCCP Stapled Group has bucked the downtrend by rising marginally by 2.77% to RM7.81, giving it a total market cap of RM14.44 billion, while TM was up 0.62% to RM3.76, valuing it at RM14.08 billion.
Another non-KLCI constituent, QL Resources Bhd, has seen its market cap overtaken the existing KLCI members and is currently ranked 29th with RM12.82 billion. YTD, the agro-food conglomerate's share price has only fallen a marginal 2.83% to RM7.90.
Other notable changes among the big boys
Interestingly, Petronas Chemicals Group Bhd, which previously held the record for being the fourth-largest Malaysian company in the last five consecutive years, has lost its foothold no thanks to the pessimism about its prospects amid concerns about the industry downcycle and overcapacity.
The petrochemical manufacturer saw its ranking drop by two places to become the sixth largest Malaysian company in market cap at RM38.08 billion. YTD, its share price has shaved 34% to RM4.80.
Meanwhile, Top Glove Corp Bhd and Hartalega Holdings Bhd have seen their market cap rankings leapt the most among the top 40 as the two glovemakers have attracted strong buying interest.
Top Glove, the world's biggest rubber glovemaker, saw its market cap ranking jump 11 places to 23rd with a RM16.4 billion market cap, while Hartalega, currently valued at RM23.01 billion, saw its ranking climb to 17th.
This does not come as a surprise as the share prices of both glovemakers have outperformed given strong demand for rubber gloves due to the Covid-19 pandemic. YTD, Top Glove share price has soared 36% to RM6.40, while Hartalega has risen 24%. Due to bright prospects for their business outlook, both glove manufacturers are able to enjoy frothy valuations, with Top Glove's price-earnings ratio standing at 43 times, while Hartalega is valued at a higher 56 times.