This article first appeared in The Edge Financial Daily, on August 10, 2018.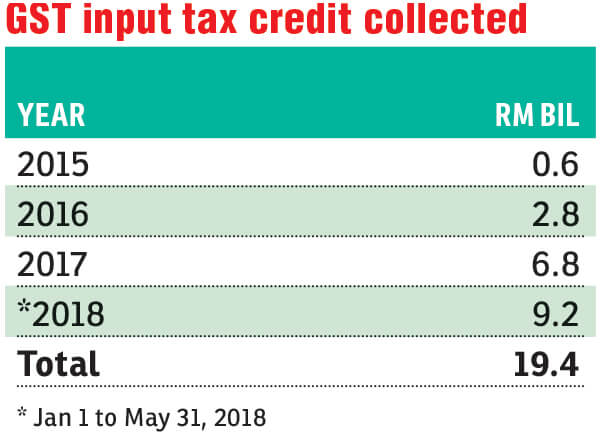 KUALA LUMPUR: Finance Minister Lim Guan Eng has called on former Treasury secretary-general Tan Sri Dr Mohd Irwan Serigar Abdullah to reveal the whereabouts of the RM18 billion goods and services tax (GST) input tax credit that the latter said had been credited into the consolidated fund as stipulated under the Financial Procedure Act 1957.
"If it is there, then we want him to tell us where it is hidden. Perhaps he knows something we do not. So, [the question is] where has he hidden it as he was the Treasury secretary-general then. That is what we want to know," he told reporters at the parliament lobby yesterday.
On Wednesday, Guan Eng said about RM18 billion or 93% of the RM19.4 billion input tax credit under the GST system since 2015 had gone missing.
Of the total input tax credit, RM9.2 billion or 47% was recorded between Jan 1 and May 31 this year, RM6.8 billion or 35% in 2017, RM2.8 billion (15%) in 2016 and RM600 million (3%) in 2015 (from April 1 to Dec 31, 2015).
Under the GST, businesses were allowed to claim credit for taxes paid on purchases two weeks after submission of proper documents.
Over the last three years since the implementation of the GST on April 1, 2015, the gross amount collected via the GST was RM190 billion.
Of that, RM83 billion of input tax over the three years was supposed to go into a Trust Account, but only RM63.6 billion made it into that fund and was eventually refunded to businesses. The remaining amount was RM19.4 billion.
However, RM18 billion is allegedly "missing" as only RM1.48 billion was left in the Trust Account.
Mohd Irwan reportedly said the money, like other revenues from the Royal Malaysian Customs Department, Inland Revenue Board and dividends from Petroliam Nasional Bhd as well as police summonses, must be credited into a consolidated fund.
He added that all monies from the collection of the GST would be accounted for, stressing that there would be no missing funds unlike what had been claimed by Guan Eng.
"Every sen is accounted for. It is the people's money, which is why it is much more important to be credited into the consolidated fund.
"When it is needed [including for input tax credit under the GST, only] then it will be taken out [from the consolidated fund]," Mohd Irwan, who was the Treasury secretary-general from 2011 to May 14, 2018, reportedly said.
Meanwhile, Guan Eng said an open public inquiry, to be headed by an independent established personality, will be conducted after an internal inquiry headed by current treasury secretary-general Datuk Seri Ismail Bakar is completed.
Guan Eng reiterated that the findings of the internal inquiry will be submitted to Prime Minister Tun Dr Mahathir Mohamad.
"We want to have something concrete first. That is why we will do an internal inquiry by the secretary-general (Ismail), who was not involved in the [previous] decision-making process.
"We will then submit the report to Dr Mahathir. My suggestion is for there to be an open inquiry headed by an independent established personality, otherwise those in favour of Mohd Irwan and members of the previous government would say that the internal inquiry is biased," he added.
Asked if the government would lodge reports with the police and the Malaysian Anti-Corruption Commission on the alleged missing RM18 billion GST input tax credit, Guan Eng said it depends on Dr Mahathir and the cabinet's recommendations.
"We can make a report, but we will see the outcome of the internal and open public inquiries first. However, the facts will be deliberated over what is right and wrong, and not lies and falsehood. If we do an open public inquiry, then I think no one will question it," he said.