This article first appeared in The Edge Malaysia Weekly, on October 1, 2018 - October 07, 2018.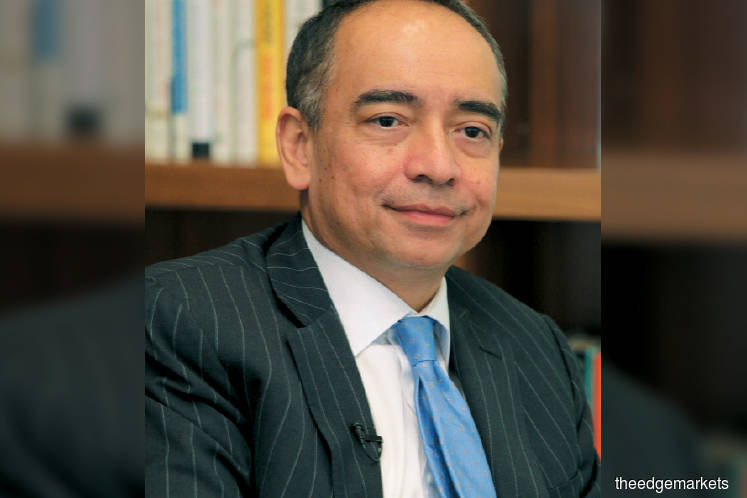 THERE has been much speculation on what Datuk Seri Nazir Razak, chairman of CIMB Group Holdings Bhd, will do next, after stepping down from the banking group that he has been with for 29 years.
The prominent banker turns 52 in November, still well below the age one typically retires.
According to sources, Nazir's main focus, post-CIMB, will be on an Asean-focused private equity (PE) fund that he helped set up earlier this year, known as Ikhlas Capital.
He is a partner in the fund, along with three other well-connected figures — Kenny Kim (CIMB's former chief financial officer), Gita Irawan Wirjawan (Indonesia's former trade minister) and Cesar Purisima (the Philippines' former secretary of finance).
Sources say the fund, with a hard limit of US$1 billion, is targeting a final close of US$500 million to US$700 million sometime next year.
"The fund's investors are mainly prominent Asean families," says one of the sources. There is strong market speculation that Singapore sovereign wealth fund Temasek Holdings Pte Ltd may come in as an investor.
It is understood that Ikhlas Capital will look to invest in the  consumer, technology — albeit not start-ups — financial services and logistics sectors in Asean. It may also consider opportunistic investments in the larger Asia region.
Asked to comment by The Edge, Nazir says he has yet to firm up his post-CIMB plans. However, he does not deny his involvement in the fund.
"I am very passionate about Asean. CIMB has become synonymous with Asean banking. I set up the CIMB Asean Research Institute and the Asean Business Club and was the first chair of the World Economic Forum's Asean business grouping. After I leave CIMB, I would like to be part of another platform that helps bring the region closer together," says Nazir, who is currently in the UK.
According to a PE industry executive, if Ikhlas Capital were indeed to have a final close of US$500 million to US$700 million, it would be among the largest first-time PE funds in Asean. "It will possibly be among the top three or four," he says.
Nazir's entry into the the world of PE comes at a time when Asean is seeing strong growth in PE deals. The region achieved a record year last year with US$20 billion in deal value, up from US$8 billion in 2016, according to Bain & Co. Internet and technology deals, in particular, were favoured, accounting for the bulk of the deals last year, the consulting firm said in its Asean PE report in May.
Apart from PE, Nazir is also expected to be more involved in academia. He is currently on the international advisory board of the University of Oxford's Blavatnik School of Government and was a Chevening fellow at the Oxford Centre for Islamic Studies.
Hence, Oxford would be a logical place for him to do more in academia.
It is also well known that Nazir has two private investments in the UK — luxury bespoke furniture and interior design brand Linley and the Zheng restaurants. However, these are just small businesses that he enjoys being involved in and will not be doing on a full-time basis.
"Linley and Zheng are small businesses controlled by me ... but only fun businesses and mainly run by my partners, the second Earl of Snowdon (professionally known as David Linley) and Adam Abdullah respectively," he says.
Nazir, a vocal critic of scandal-ridden 1Malaysia Development Bhd, tells The Edge that he has "no intention whatsoever" of going into politics, quashing market speculation that he may one day do so.
Such speculation has arisen over the years presumably because of his family background — his father and brother are both former prime ministers of the country.
CIMB announced just last Monday that Nazir would step down as chairman and all other roles within the group by Dec 31. His chairmanship was originally to have ended in August next year.
CIMB said the board will activate its succession plan to decide on the next chairman and the exact handover date. Nazir, who joined CIMB in 1989, was group CEO for 15 years and has been group chairman since 2014.
In his farewell email to staff last Monday, Nazir pointed out that he has been at CIMB all his working life and that it is now time for "the next stage" of his career.
He did not say what this would entail, but hinted that he would pursue opportunities that promoted Asean integration.
"It was always going to be hard to find the perfect moment for me to leave CIMB — not too soon, not too late but always with the firm's best interest in mind. Over the past few weeks, I have spent a lot of time thinking about it and decided that it would be most appropriate for me to leave upon the completion of T18, CIMB's four-year recalibration project," he said.
Analysts do not expect Nazir's departure to have an impact on CIMB's operations. The bank's shares slid 2 sen since last Monday to close at RM6.01 on Friday.
"While Nazir has been the face of CIMB, we believe that the market no longer accords CIMB any sort of valuation premium [for] this particular reason, which might have been the case a few years ago when CIMB was growing rapidly under his [leadership]," Nomura Research says in a report.
Save by subscribing to us for your print and/or digital copy.
P/S: The Edge is also available on Apple's AppStore and Androids' Google Play.