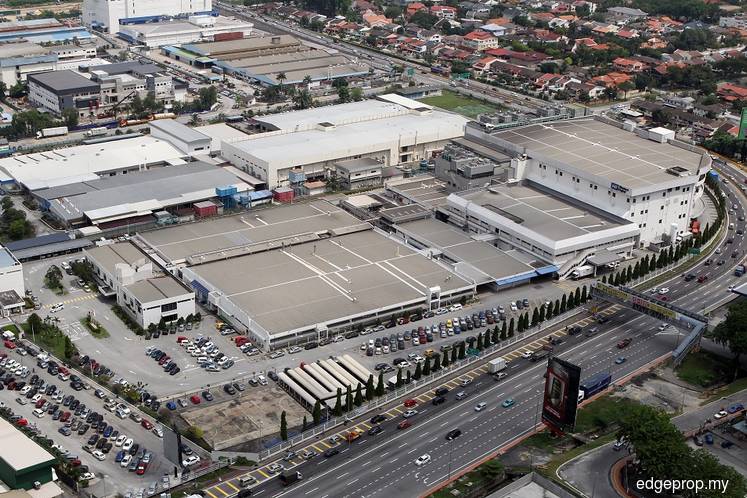 PETALING JAYA (March 21): Western Digital has decided to sell its hard disk drive (HDD) manufacturing facility site at the Sungei Way Free Trade Industrial Zone (pictured), Petaling Jaya, where the company has been operating for over two decades.
Western Digital (Malaysia) Sdn Bhd Managing Director Gouw Kim San told EdgeProp.my that the decision came following the company's deliberations regarding its staff, production and the ongoing business in Malaysia.
"We are going through the process… the first part of it is we will focus on our people and then the moving of our production. We were more concerned with the ongoing business and I think right now that is well on the way hence we are ready now for the disposal of the asset," he said, adding that Knight Frank Malaysia has been appointed as the exclusive agent to handle the marketing and sale of the site.
EdgeProp.my reported in July 2018 that Western Digital was looking at a price range of between RM160 million and RM190 million for the 11-acre site which also offers slightly more than 1 million sq ft of built-up area.
According to Gouw, Western Digital may retain one of the buildings on the PJ site as a regional and technical centre, subject to the offers it receives.
"We haven't decided [which building to keep] yet. Of course that may change once we see the offers and all that, but that is our current view," he elaborated.
He also noted that the company has identified a location in Kuala Lumpur to set up a  regional and technical centre.
"In KL, we will have a unit of about 300 to 400 people. We have started to [look for a site in KL] and we have got a location already. Basically, it will be occupied by [the staff in] one of our current buildings," he said.
This is in line with the company's plan to retain a centre that will house several key engineering teams, core operational planning and regional support functions in the Klang Valley, a Western Digital spokesperson told The Register in July 2018.
Western Digital had announced its plans to cease operations at the PJ facility by end-2019 as part of the company's steps to rationalise its HDD manufacturing operations globally owing to declining long-term demand for HDDs, The Register had reported last year.
Western Digital still has manufacturing facilities in Penang, Johor and Sarawak.