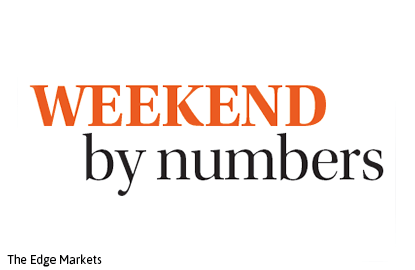 This article first appeared in The Edge Financial Daily, on January 29, 2016.
2 Dance Performances to Watch
One Piece x The Rite of Spring
Back for the fourth time, top Japanese choreographer Un Yamada presents a double bill that will showcase her professional troupe and the rising stars of Malaysian dance. One Piece is Yamada's seminal work, created in 2004 and has since toured internationally, performed by Japan's leading dancers is now making its Malaysian debut. Audiences will also be the first in Southeast Asia to witness Yamada's version of influential ballet and orchestral classic The Rite of Spring. Premiered in Kanagawa in 2013 to commemorate the centenary since Stravinsky unveiled his radical vision. The troupe draws upon the same primitive forces that inspired the Russian composer for their own unique display of intense movement and emotional impact. Catch the show on Jan 30 (8.30pm) and 31 (5pm) at klpac, Jalan Strachan, off Jalan Ipoh, Kuala Lumpur. Tickets are priced at RM43 and can be purchased by calling (03) 4047 9000 or visiting www.ticketpro.com.my.
The Glitz and The City
The Glitz and The City explores the topic of women by women of all ages and all that surrounds it in a spectacular show of song, drama and dance.  The show is performed by students and talents from Broadway Academy featuring show choir, dance, drama and vocal students. Seating is free, and tickets are priced at RM30. To purchase, call (03) 4065 0001 or visit www.dpac.com.my. The Glitz and The City is playing for one night only on Jan 30 (8.30pm) at the Damansara Performing Arts Centre, H01 Empire Damansara, Jalan PJU8/8, Damansara Perdana, Petaling Jaya.
3 Three Musical Acts to Groove to
Mozart's Requiem
The legendary Wolfgang Amadeus Mozart was born on Jan 27, 1756 in Salzburg, Austria. This weekend, celebrate his life and work, which has charmed fans for two and a half centuries, with the Malaysian Philharmonic Orchestra as they present Mozart's Requiem. Led by conductor Andreas Delfs, this delightful concert will be held at the DFP, Tower 2, Petronas Twin Towers, KLCC at 8.30pm on Saturday and 3pm on Sunday. Tickets are priced at RM80, RM100, RM130 and RM180 and can be purchased by visiting www.mpo.com.my or by calling (03) 2331 7007.
The Police and Sting Tribute
Truly a master of her craft, Melissa Indot's sharp yet smooth voice is a gift that keeps on giving. She sings with a fluency and intuitiveness that takes years to achieve. This Saturday and Sunday at 10pm, head over to No Black Tie to experience Melissa along with Jude Macson Bensing, Dave Terbari and Cliff Wong performing music by The Police and Sting. Cover charge is RM60. For reservations or inquiries, call (03) 2142 3737 or email [email protected]. No Black Tie is located at 17 Jalan Mesui, Off Jalan Nagasari, Kuala Lumpur.
ReVamped!
This weekend, Sandra Mannas Wolf will bring us a brand new show called ReVamped!, where she and virtuoso Loh Ui Li have arranged well-known songs to give them a new angle. Sandra has been involved in a few musical productions in Kuala Lumpur: Saidah Rastam's M! the Opera, The Actors Studio's Adam the Musical, the first Short + Sweet Musical Theatre (Nick Choo's winning Little Girl Lost) and The KL Players' British pantos, to name a few. For this show, she will be joined by talented musicians of InTown, Ayam on drums, Farid Izwan on saxophone, Che Wan on bass and surprise guest performers, giving it a fresh appeal. Female audience members are encouraged to come vamped up in their best fashion corsets to be in the running for nightly prizes. Join Sandra and Ui Li at 9pm tonight till Sunday at the Theatre Lounge Café, B1-3A Plaza Damas 3, Desa Sri Hartamas, Kuala Lumpur to enjoy the music. Cover charge is RM65. For inquiries or reservations, call (03) 6730 7982.
1 Charity Event to Support
Stand-Up for Education
Get ready for a night of awesome comedy with Stand-up for Education 2.0 featuring one of Asia's top stand-up comedians, Harith Iskander. He will be joined by other great names on this one-night show on Jan 30, with proceeds channelled towards education programmes for needy and deserving young Malaysians, orphans and underprivileged children championed by the All Malaysia Malayalee Association Foundation. Among the other performers of the night are Paul Ogata (USA), Vivek Mahbubani (Hong Kong), Kavin Jay (Malaysia) and Rizal Van Geyzel (Malaysia). The show will be hosted by Chacko Vadaketh, a BFM newscaster and Hollywood actor. The show will take place at 7.30pm at the HGH Convention Centre, Jalan Sentul, Kuala Lumpur. Tickets are priced from RM149 to RM349 and can be purchased from www.ticketpro.com.my.
2 Movies Not to Miss
Exposed
Exposed is a supernatural thriller that deals with a young woman who experiences strange occurrences after witnessing a miracle, while a police detective Scott Galban (Keanu Reeves) searches for the answers behind his partner's death. Directed by Gee Malik Linton and featuring Ana de Armas, Christopher McDonald, Big Daddy Kane and Mira Sorvino as the supporting cast, Exposed explores two storylines in intercutting scenes, told from different points of view. The film is now playing at major theatres nationwide. For movie listings or to purchase tickets, visit www.gsc.com.my or www.tgv.com.my.
The Tag-Along
Give yourself chills this weekend by catching The Tag-Along, a Taiwanese supernatural film. It tells the story of Wei, whose grandmother has disappeared but strangely, her house is well-kept as if she has never left. Wei checks the cameras installed in her house and sees a video showing her being followed by a mysterious little girl in red. In an odd turn of events, Wei goes missing when his grandmother returns home and his girlfriend discovers that their disappearances might be linked to an urban legend about the little girl. To purchase tickets or for movie listings, visit www.gsc.com.my or www.tgv.com.my.
2 novels that made it to the screen
The Revenant: A Novel of Revenge by Michael Punke
With the Academy awards nominations stirring up news both good and bad, 2015's frontrunner, The Revenant is one of the movies with the most nominations. This weekend, read the novel which inspired the movie — Michael Punke's The Revenant: A Novel of Revenge. First released in 2002, the novel follows an American frontiersman, Hugh Glass and his ordeal in the American wilderness. Part of a party of trappers headed by Andrew Henry, the group is ambushed by Native Americans and Glass is mortally wounded by a grizzly bear. Left for dead, Glass slowly manages the superhuman feat of getting himself out of his predicament alive, albeit beat up. The Revenant is available at major bookstores nationwide and can be purchased from MPH at RM36.90.
13 Hours: The Inside Account of What Really Happened in Benghazi by Mitchell Zukoff
13 Hours sets the record straight on what happened during a night that has been shrouded in mystery and controversy. Written by New York Times bestselling author Mitchell Zuckoff, this is the true account of the events on Sept 11, 2012, when terrorists attacked the US State Department Special Mission Compound and a nearby CIA station called the Annex in Benghazi, Libya. A team of six American security operators fought to repel the attackers and protect the Americans stationed there. 13 Hours is available at major bookstores nationwide and can be purchased from MPH at RM68.90.