This article first appeared in The Edge Financial Daily, on December 15, 2017.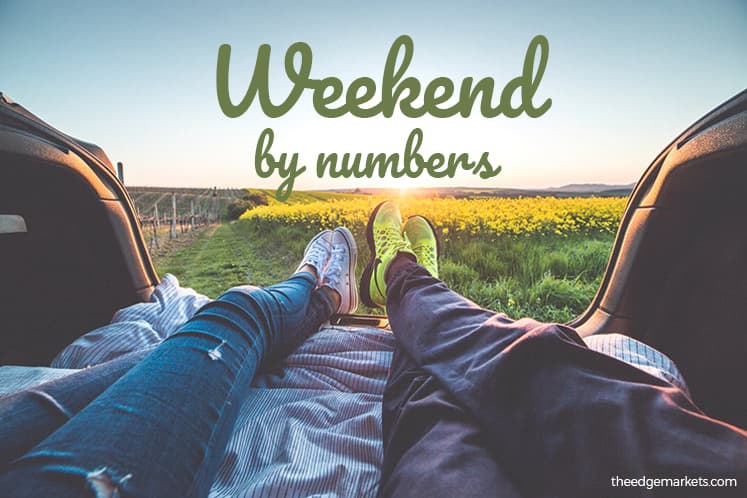 3 Things to get you in the festive mood
St Regis Christmas offerings
The holiday season is made more lavish with St Regis Kuala Lumpur's magical Christmas events. This weekend features gingerbread house making lessons and other fun kids activities including a children's buffet, giveaways and more. Take your kids for a fun-filled afternoon today or tomorrow at 10am or 3pm. Each gingerbread house is limited to two children at RM190, inclusive of a chef's hat, apron, gingerbread house and candy bar. Also, if you're wanting to buy some last minute gifts, grab a St Regis Holiday Hamper which is packaged in an elegant traveling trunk wrapped in finely crafted faux leather with brass locks, studs and features the St Regis crest. A Classic Hamper is priced at MYR338 and the Luxury Hamper is RM738. For more information, call (03) 27276699.
Jollypop Christmas at gatewayKLIA2
Possibly the best way to get your jingle on is to visit the Jollypop Christmas at gatewayKLIA2. There are incredible performances until Dec 25. Children can have the chance to meet Santa and Santarina, dance with Santa and friends and join in some jolly Christmas carolling. There are also fun activities such as decorating gingerbread men and creating your own Christmas tree. Don't miss out on the fantastic decorations including the lifesized Candy Cane House with massive lollipops, smiling gingerbread men, snowmen and marshmallows. For more information, visit gatewayklia2.com.my
IPC Shopping Centre's Christmas Boxes
In the spirit of giving IPC Shopping Centre dims down their decorations to brighten up the lives of 100 Malaysian families in need. This campaign was launched to put together RM100,000 worth of groceries, school supplies and toys to be donated to selected families. The public can choose from four different boxes to donate. The Happiness Box for RM25 contains IKEA Toys and arts and crafts supplies. The Home Box has groceries for RM48. The Back-to-School Box with school supplies for RM120 and finally the Care Box has RM168 worth of groceries and school supplies. IPC Shopping Centre has also roped in partners for this campaign: Absolute Thai has made a cash donation of RM5,000, Spotlight contributed household items, and Popular has contributed stationary. HOPE Worldwide Malaysia has also been identified as the non-governmental organisation partner who will be leading the logistic arrangements and identifying the underprivileged families. For more information, or to donate visit ipc.com.my
2 Ways to meet talented people
Art For Grabs: Laundromat of Love
From the independent group called The Special Brunch, comes Art For Grabs with another fantastic art bazaar at The School, Jaya One. This amazing mini fest takes place four times a year, aiming to bring together creative Malaysians selling homemade art, crafts, books, food, and anything else we can imagine. The bazaar will feature back-to-back events including book launches, forums, workshops, movies and performances. Taking place from today to Sunday, Arts For Grabs evokes ideas, discourse and creativity where all Malaysians are welcome to actively participate in sharing the space, exchanging ideas and hopes and perhaps even love. With 70 arts and crafts booths, 20 local causes and 12 events, Arts For Grabs promises to be an action-packed event. For more information, check out their facebook page @artforgrabs
Yanis Marshall Dance Workshop
The amazing Britain's Got Talent 2014 finalist, Yanis Marshall, is touring the world teaching and performing in countries such as Mexico, Argentina, Canada, UK and the US. Marshall is known for his intricate and elaborate heels choreography seen through his viral videos that have been shared by artists such as Beyonce, Ciara, Natalia Kills and Ariana Grande. He has appeared on the French version of Dancing with the Stars as a coach, choreographed for Ukraine's So You Think You Can Dance, and is currently the choreographer of Cirque du Soleil's Zumanity show in Las Vegas. Today is the last day for eager dancers to catch a lesson from the master, from 8pm to 9:30pm for the heels class and from 10pm to 11:30pm for 18(SX). Held in House of Champions, Subang, Marshall's classes cost RM250 per class and RM360 for two classes. For more information, visit the House of Champions facebook page @houseofchampionsmy
3 Exciting Performances
Enchanted Forest
D'Danze Academy presents the Enchanted Forest 2017 in collaboration with D'Danze Centre and Danze Pointe Music and Dance School. The school's concert is held once every three years allowing students to experience the thrill of performing on stage. This year's concert has a total of 139 participating dancers from the ages of 4 to 22. The original story is by directors Dianne Yap and Ooi Mee Kean, drawing influences from myths and folklore of various cultures. Major items are choreographed by senior and junior teachers. The performance will be an exciting array of talent and enthusiasm taking place in Damansara Performing Arts Centre from today to Sunday at 2pm and 8pm. Tickets are priced at RM98 and RM68. For more information, or to purchase tickets, visit dpac.com.my
Malam Kompang Pusaka
On Sunday, at The Square Publika, Pusaka will present a musical evening called Malam Kompang Pusaka. The event will feature Kompang Jawa by Kumpulan Kompang Anak Selangor from Sabak Bernam, Kompang Melayu by Kumpulan Kompang Parit Sumarto from Batu Pahat, and Kompang Jidor by Persatuan Kompang Kg Parit Madirono from Pontian. There will also be an amazing Kompang making demonstration from 4pm to 7pm. The performances will take place from 8:30pm to 10pm. Admission is free. For more information, visit their facebook @culturetraditionideas
Losertown
This weekend is your last chance to catch Losertown — an original devised musical theatre piece happening at Kuala Lumpur Performing Arts Centre (KLpac). It will be on today and tomorrow at 3pm and 8:30pm. Losertown is about a hero(ine)'s journey from the call to adventure to a tragicomical stumble into the belly of a whale. Directed by Tung Jit Yang, Losertown's cast includes Coebar Abel, Ian Francis Khoo, Endee Ahmad and Khairil Imran. The show also features Hannan Azlan, the HK International Comedy Festival award winner and internationally touring stand-up comedian, performer and musician. Tickets are RM38. For bookings, visit klpac.org
2 Fantastic Food Functions
Taste of Darul Makmur, Hogoh Pahang
The Coffee Terrace located in Genting Grand, Resorts World Genting will be hosting a Pahang food promotion until Sunday. In conjunction with Visit Pahang Year, the promotion will be themed "Taste of Darul Makmur, Hogoh Pahang". This event celebrates Pahang's success as a popular holiday destination that has this year attracted more than two million tourists from around the world. Resorts World Genting recreates a uniquely Pahang atmosphere, with artifacts from the Federal Museum of Pekan enjoying pride of place at Coffee Terrace courtesy of Datuk Ahmad Farid Abdul Jalal. Fourteen impressive artifacts from the museum will be on display, including moulds traditionally used to make kuih and various kitchen implements. The sumptuous dishes available at the Coffee Terrace are priced at RM48 (adults) and RM24 (children) for lunch and RM82 (adults) and RM41 (children) for dinner. Some amazing must-try dishes include the famous Ikan Patin Tempoyak and Nasi Kebuli, Sambal Hitam and Daging Opor. For enquiries, call (03) 27181118 or visit rwgenting.com
Academy Pastry Festival 2017
The Academy of Pastry Arts Malaysia will open its doors to the public tomorrow for their first Academy Pastry Festival. There will be world class pastries for sale, delicate hand-crafted sugar and chocolate sculptures, trial classes and Academy Alumni booths. This premier professional school houses a number of award-winning chefs who not only teach but continue to hone their skills by regularly producing world class pastries. This festival is an exciting opportunity to sample the delectable delights created by the Academy's best. Sale booths set up inside the Academy kitchen's will allow guests to explore the professionally equipped kitchens and try out the delicious range of pastries available. There is even an opportunity for interested students and parents to participate in a trial class which provides a unique and hands on experience by the Academy's pastry masters. The festival will also feature Academy Alumni booths managed by Xiaoly Koh, the owner of Xiao by Crustz, Frennee Sin, the owner of the Le Clairé and Aaron Quay, the co-founder of Pretty On Plate. All proceeds will go towards the Academy of Pastry Arts Scholarship. This scrumptious festival will take place in Academy of Pastry Arts Malaysia tomorrow from 10am to 4pm. For more information, visit academyofpastryartsmalaysia.com