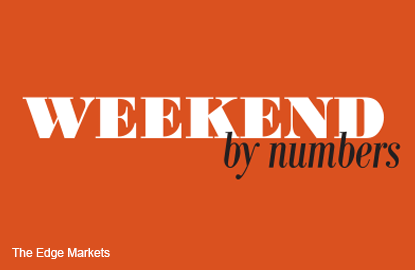 3 musical performences to catch
Saturday Night Fever: The Musical

Premiering in West End at the London Palladium in 1998 and on Broadway at the Minskoff Theatre in 1999, the spectacular musical, Saturday Night Fever, has played over 2800 shows thrilling theatre and music buffs alike throughout the years. Saturday Night Fever The Musical 2015 sees the assemblage of a formidable and first- rated creative team that deliver the most energetic and spectacular presentation of this wonderful musical. This team includes multi-award-winning stage director Bobby Gracia, Tony Award-winning scenic designer David Gallo, TINA Award choreographer Vince Pesce av nd the talented technical director Richard Martin. This musical will be headlined by hugely talented casts, and musicians who will be performing a repertoire of Bee Gees' cult classics. Watch Saturday Night Fever The Musical from now till Sept 13 at Istana Budaya, KL. Tickets are priced from RM138 to RM568 and can be booked at www.milestone-production.com.

Delfs & Hadelich

The Malaysian Philharmonic Orchestra presents Delfs & Hadelich, a performance by renowned German conductor Andreas Delfs and German violinist Augustin Hadelich. The pair along with the orchestra will be performing Brahms' Symphony No 1, a work of towering strength, melodic beauty and structural integrity. It is widely regarded as one of the greatest first symphonies ever created. They'll also be performing Shostakovich's fiery First Violin Concerto. Shows take place on Sept 11 and 12 at 8.30pm. Tickets are priced from RM62 to RM152 and can be purchased by logging onto www.mpo.com.my, calling the MPO at (03) 2331 7007, or by visiting the Box Office at Level 2, Tower 2, Petronas Twin Towers, KL

Mokhtar Samba

Mokhtar Samba and his explosive drumming can be heard throughout the world on tours and recordings with Salief Keita, Youssou N'Dour, Henri Dikongue, Eddy Louiss, Carlinhos Brown, Richard Bona, Tama, Ultramarine, Joe Zawinul, Graham Haynes, Nguyen Le, Jean-Luc Ponty, and many others. Mokhtar's Moroccan-Senegalese heritage mixed with the jazz and afro-fusion atmosphere of Paris has created one of the most important drummers of our time. With this new project, African Jazz, Mokhtar continues his attempt to escape the norm expressions in jazz. The novelty compared to previous projects lies primarily in experimenting with jazz standards laced by African rhythms. Catch Mokhtar live tonight and tomorrow night at 10pm, No Black Tie. A cover charge of RM50 applies. For inquiries or reservations, call (03) 2142 3737. No Black Tie is located at 17 Jalan Mesui, Off Jalan Nagasari, 50200 KL.
2 place to indulge in mooncakes
Si Chuan Dou Hua

Made with premium ingredients, Si Chuan Dou Hua, Parkroyal Hotel's authentic mooncakes, will satisfy your craving for mooncakes this year. Five delectable flavours are available in individual pieces and in collectable gift boxes. Elegantly packed, these mooncakes will not only fill your tummy, but also make great gifts for family, friends and business partners. The flavours available are: red bean paste, white lotus paste with single yolk, golden emerald paste with single yolk, pure lotus paste and assorted fruits and nuts. These mooncakes are priced from RM23 to RM31 per piece. The restaurant serves lunch from noon to 2.30pm and dinner from 6.30pm to 10.30pm. For inquiries or reservations, call (03) 2782 8303 or email [email protected]. Parkroyal KL is located at Jalan Sultan Ismail, KL.

Chynna

This year, award-winning Chinese restaurant Chynna at Hilton Kuala Lumpur headed by Chef Lam Hock Hin and his dim sum masterchef, Chef Woo, is introducing a bold and unique savoury sweet mooncake to the market in celebration of the Mid-Autumn Festival. Ten varieties of mooncakes are available this season, including traditional baked mooncakes which are halal-certified, and a snow skin range. Fashionably-packed with a box inspired by Louis Vuitton, the mooncakes come in Red Prestige Box of 4 and a limited edition Pink Prestige Box of 4. Hilton Premium Club members, Maybank and HSBC cardholders enjoy 15% discount for every three mooncakes purchased (excluding Heavenly Gold mooncake). CIMB credit cardholders receive 20% discount on Red Prestige Box of 4. To order or purchase, log onto www.life.hiltonkl.com or call (03) 2264 2405.
1 good read not to be missed
The Nature of the Beast is the eleventh instalment of Louise Penny's Chief Inspector Armand Gamache series, released on Aug 25. The novel follows nine-year-old Laurent Lepage, who is fascinated by alien invasions, walking trees, winged beasts and dinosaurs in his home village of Three Pines. His tales are so extraordinary that none believe them. However, when he suddenly disappears, the villagers are faced with the possibility that one of his tall tales might be true. They begin a frantic search for the boy and what they uncover deep in the forest sets off a sequence of events that leads to murder, an old crime, and betrayal. The Nature of the Beast can be purchased from Kinokuniya, KLCC at RM75.90.
2 on going art exhibitions
Justin Lim: Modern Absurdity and the Superficial Abyss

Modern Absurdity and the Superficial Abyss by artist Justin Lim is now being shown at Richard Koh Fine Art. The collection consists of predominantly textured paintings painted entirely in black, sculptures and portraits of eyes explores the idea of illumination in art and painting that play on the notion of truth-seeking within an illusionary space. The pieces are both personal and exploratory in nature; documenting the 32-year-old artists' friends, lifestyle and interests such as his past involvement in the local underground music scene as a performer and audience, and his interests in urban subcultures while expanding the potential of the painted surface. The collection will be shown from now till Sept 22. For inquiries, call (03) 2283 3677 or email [email protected]. The Richard Koh Fine Art gallery is located at Bangsar Village II, Level 2, Lot 2F-3, Jalan Telawi 1, Bangsar Baru, KL.

The Penang Art: Then & Now Exhibition The Penang Art:

Then & Now Exhibition at The Edge Galerie will showcase 41 paintings worth up to a million ringgit each. Some of the most distinguished Penang artists such as Yong Mun Sen, Abdullah Ariff, Kuo Ju Ping and Datuk Tay Hooi Keat will be shown at the exhibition. From today till 20, join The Edge Galerie in promoting a greater appreciation of Malaysian art. This exclusive collection of rare artwork was sourced from private collectors in Penang and Kuala Lumpur, as well as from artists themselves and their family members. Comprising mainly paintings in oil and watercolour, the collection includes mixed media works and a sculpture from some of Penang's rising stars. The Edge Galerie is located at G5-G6 Mont' Kiara Meridin, 19 Jalan Duta Kiara, Mont' Kiara, KL and is open 11am-7pm, Tuesday-Sunday. Closed on Mondays and public holidays. For details, please contact The Edge Galerie at [email protected] or call 03-7721-8188 or visit the website at www.theedgegalerie.com.
2 exiting movies to enjoy
Our Little Sister

Our Little Sister tells the tale of three sisters — Sachi, Yoshino and Chika — live together in a large house in the city of Kamakura. When their father, who's been absent from the family home for the last 15 years dies, they travel to the countryside for his funeral, and meet their shy teenage half-sister. Bonding quickly with the orphaned Suzu, they invite her to live with them. Suzu eagerly agrees, and a new life of joyful discovery begins for the four siblings. Our Little Sister won the highest award at the Cannes Film Festival in 2013, the Palme d'Or. Watch the film at GSC Pavilion tomorrow afternoon as a part of their Japanese Film Festival. The movie starts at 2.20pm. For information or to purchase tickets, visit www.gsc.com.my.

Maze Runner: The Scorch Trials

In this next chapter of the epic Maze Runner saga, Thomas (Dylan O'Brien) and his fellow Gladers face their greatest challenge yet: searching for clues about the mysterious and powerful organisation known as WCKD. Their journey takes them to the Scorch, a desolate landscape filled with unimaginable obstacles. Teaming up with resistance fighters, the Gladers take on WCKD's vastly superior forces and uncover its shocking plans for them all. Maze Runner: The Scorch Trials premieres today and will be playing in cinemas across the country. For information on showtimes and ticketing, visit www.gsc.com.my or www.tgv.com.my.
This article first appeared in digitaledge Daily, on September 11, 2015.