This article first appeared in The Edge Malaysia Weekly, on June 24, 2019 - June 30, 2019.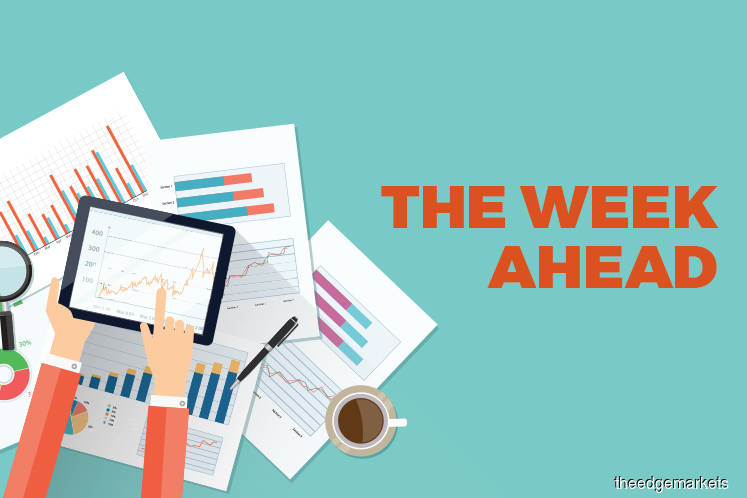 The much-anticipated meeting between US President Donald Trump and Chinese President Xi Jinping during the Group of 20 summit in Osaka is likely to dominate the news this week.
The tariff war between the world's two largest economies has escalated in recent weeks, with the US imposing higher tariffs on almost everything that China exports to the country.
A meeting between the two heads of state gives rise to hope that a trade deal between the countries can still be reached.
US-China Business Council president Craig Allen says a trade agreement is within reach, but is dependent on both leaders having the courage to agree with one another.
A prolonged trade war would have major implications for global economic growth and the industrial supply chain. Apple Inc is said to be contemplating moving 30% of its iPhone production out of China — in a move that could impact about five million jobs in the country directly and indirectly.
Back home, data on two barometers of the Malaysian economy will be released this week. The Department of Statistics will publish the Consumer Price Index (CPI) and the Producer Price Index (PPI) for May on June 26 and 27 respectively.
Malaysia's CPI for April inched up 0.2% from a year earlier to 121.1. The highest increase was seen for housing, water, electricity, gas and other fuels, which rose 2% year on year, followed by education and alcoholic beverages and tobacco at 1.2%.
Meanwhile, the PPI for local production decreased 1.4% year on year in April, with agriculture, forestry and fishing reporting the highest decrease of 11.9%, followed by water supply with a decline of 2.6%.
On the corporate side, Astro Malaysia Holdings Bhd will be releasing its financial results for the first quarter ended April 30.
In the US, new residential sales for May will be published by the country's Census Bureau on June 25. Surveys reveal that 685,000 new houses could have been sold in the country last month, up from 673,000 in April.
On the same day, the monthly House Price Index for April will be announced. The average price of single-family houses with mortgages guaranteed by Fannie Mae and Freddie Mac in the US rose 0.1% in March from the month before — the smallest monthly increase since January 2017.
The world's largest economy will be releasing its final gross domestic product (GDP) growth rate for the first quarter of the year on June 27. Estimates indicate that the economy grew by an annualised 3.1% in 1Q2019, in line with market expectations.
In China, Beijing is expected to release its industrial profit growth rate for May on June 27. In the first four months of the year, profits earned by China's largest industrial firms fell 3.4% from a year earlier to RMB1.813 trillion.
The Asian giant's National Bureau of Statistics (NBS) will be announcing its manufacturing Purchasing Managers' Index (PMI) for this month on June 30. Business confidence in China decreased to 49.40 index points in May from 50.10 the month before, according to NBS data.
On the same day, China will be publishing its official non-manufacturing PMI for June. Economists expect to see a reading of 53.6 index points — lower than the 54.3 index points seen in May when new orders expanded at the softest rate since November last year.
On June 27, several important economic data for this month will be released by the European Union, including the Euro Area Business Climate Indicator, Consumer Confidence Indicator and Economic Sentiment Indicator.
Business confidence in the EU is forecast to have continued to decline in June, following a 0.3 reading in May — the lowest since August 2016 — as managers' views of the past production and export order books deteriorated sharply.
Indonesia will be releasing a set of economic data on June 24, including balance of trade for May and export and import growth as well as motorbike sales for April and May.
The largest economy in Southeast Asia will also be releasing its year-on-year loan growth for May on June 25. Economists are forecasting a growth of 10.7%, lower than the 11.05% growth seen in April, which was already the lowest since June last year.