This article first appeared in The Edge Malaysia Weekly, on July 19, 2021 - July 25, 2021.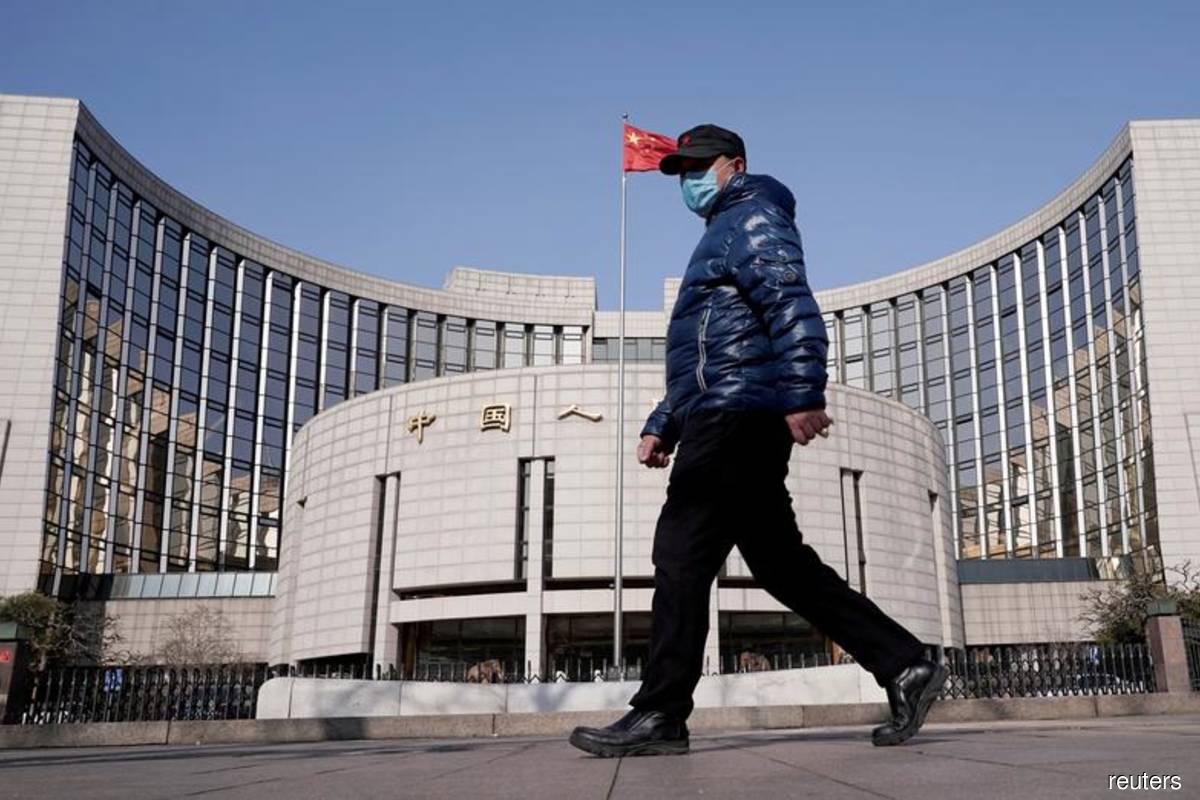 The People's Bank of China (PBOC) will meet this week to fix its one- and five-year loan prime rate (LPR), with the decision to be announced on Tuesday.
According to a Bloomberg poll of 16 analysts on July 15, both the one-year LPR and five-year LPR are expected to remain unchanged at 3.85% and 4.65% respectively. PBOC unexpectedly cut banks' reserve requirement ratio (RRR) by 50 basis points last Thursday, the first monetary policy move in more than a year, suggesting concerns over growth moderation in the second half of the year.
The RRR cut was followed by a partial rollover of the medium-term lending facility and, with weaker economic data, this suggests that the economic risks are mounting, says ING in a Week Ahead report on Asia last Friday.
"We don't think these latest events should trigger a fresh round of changes in policy interest rates, including the LPR and the 7-day policy rate. The economic growth path has not changed, but the risk of bad loans from deleveraging reforms on real estate property developers and fintech is increasing," the Dutch multinational banking and financial services company says.
Meanwhile, the relationship between the US and China remains frosty as Beijing snubbed the planned visit of US Deputy Secretary of State Wendy Sherman. Initial reports say Sherman was supposed to meet her counterpart Le Yucheng in Tianjin this week. However, official State Department itinerary shows that Sherman will visit only Mongolia, Japan and South Korea.
It was reported that Beijing had offered a meeting with Xie Feng, a vice-foreign minister in charge of US affairs, instead of Le.
Sherman's visit to China was supposed to pave the way for a summit between US President Joe Biden and his Chinese counterpart Xi Jinping, to be held later this year. It was also supposed to be the first high-level engagement since the visit by Chinese top foreign policy official Yang Jiechi to Alaska earlier this year, which ended with a public spat with US Secretary of State Antony Blinken.
Elsewhere, Bank of Indonesia (BI) will release its latest policy decision on Thursday. Bloomberg's poll of five analysts expects no change to BI's 3.5% rate.
BI governor Perry Warjiyo recently indicated stable policy rates ahead. Surging Covid-19 infections have dented Indonesia's growth trajectory, and this calls for increased central bank policy stimulus in the near term, states ING.
"With record-low inflation of 1.3%, policy rates have some room to fall further from their current rate of 3.5%, though the central bank manages the policy with a firm eye on currency stability. The Indonesian rupiah is currently struggling with the country's battle with surging Covid-19 infections, and we don't think the central bank will risk more depreciation with a rate cut," it says.
Japan, Malaysia and Singapore will report their inflation figures for June this week, with Japan releasing the figure on Monday, while Malaysia and Singapore will release their respective figures on Friday.
There is no inflation to be reported in Japan, while inflation in Malaysia and Singapore spiked in recent months but has now peaked. ING forecasts for Malaysia's inflation rate to dip to 3.2% year on year in June from 4.4% in May, which was already down from the cycle peak of 4.7% in April.
Singapore's inflation rate is expected to remain broadly stable at 2.4% y-o-y in June.
"We believe the central banks in these countries will see through the most recent inflation spikes and leave monetary policies on hold over the rest of this year," says ING.
Meanwhile, Japan will release its June trade figures on Tuesday, with Bloomberg estimating exports to grow at 46.3% y-o-y, compared with a growth of 49.6% y-o-y in May, and imports to rise 28.3% y-o-y from 27.9% in May. The country is expected to register a trade surplus of ¥450 billion (RM17.2 billion) in June, from a deficit of ¥187 billion in May.
Taiwan will release its industrial production data on July 23, with industrial output expected to increase 10.7% y-o-y in June, from 16.5% y-o-y in May. The ongoing chip shortage should keep semiconductor output near full capacity levels, so the prospects of further acceleration of growth in this sector are limited, says ING.
In corporate Malaysia, British American Tobacco (Malaysia) Bhd, Maxis Bhd and Pavilion Real Estate Investment Trust are expected to announce their financial results for the quarter ended June 30 on July 23.
IGB Real Estate Investment Trust is expected to announce its financial results for the quarter ended June 30 on Tuesday, followed by CapitaLand Malaysia Mall Trust on Wednesday and UOA Real Estate Investment Trust on Thursday.