This article first appeared in The Edge Malaysia Weekly, on January 7, 2019 - January 13, 2019.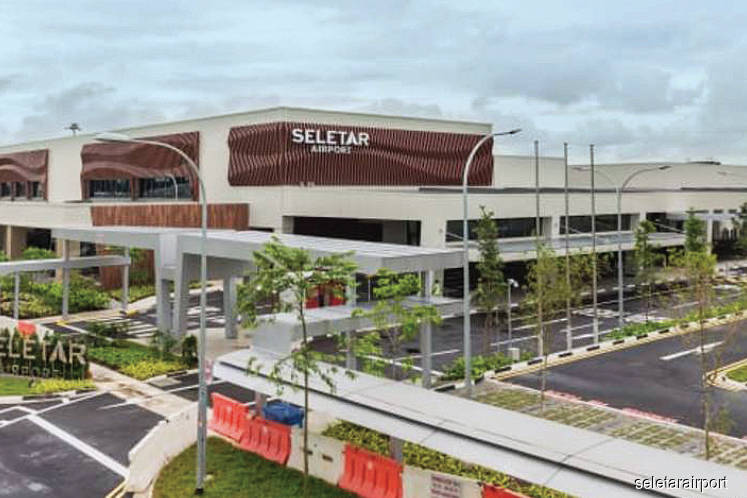 Transport Minister Anthony Loke has said that if the Seletar Airport's ILS flight path is allowed, Malaysia cannot build tall buildings in Pasir Gudang Johor and the Pasir Gudang Port will be subjected to higher risks and multiple restrictions
Politics will likely take centre stage this week as the foreign ministers of Malaysia and Singapore meet in the island state on Tuesday to discuss an ongoing airspace and maritime dispute between the two countries.
The dispute emerged early last  month when Malaysia protested Singapore's plan to introduce the Instrument Landing System, a precision runway approach system, for Seletar Airport. It claimed that aircraft would have to fly very low over Johor's Pasir Gudang airspace when descending into Seletar Airport and that this would affect development in the town and shipping operations at the port.
Then, late last month, the Civil Aviation Authority of Malaysia issued a written notification to pilots, saying that Malaysia would set up a permanent "restricted area" over Pasir Gudang for military activities, effective Jan 2.
Singapore is opposed to this. "The restricted area being within a controlled and congested airspace will impact the existing and normal operations of aircraft transiting through the airspace. We have raised with Malaysia our concerns over the restricted area's adverse impact on civil aviation," Singapore's Ministry of Transport said in a Jan 1 statement.
On the same day, Singapore's Ministry of Foreign Affairs confirmed that the two foreign ministers would meet on Jan 8. "There are also plans for the transport ministers to meet soon," its spokesperson said.
Meanwhile, at home, investors will be watching for the November industrial production data, out on Friday. In October, the Industrial Production Index, which measures real production output of manufacturing, mining and electricity, grew faster than expected at 4.2% year on year, up from 2.3% in September.
On Friday, the Department of Statistics will also release manufacturing statistics for November as well as its monthly bulletin on wholesale and retail trade.
Over in China, there will be foreign reserves data on Monday, while on Thursday, there will be Producer Price Index (PPI) and Consumer Price Index (CPI) data for December. PPI, a measure of factory prices, grew just 2.7% y-o-y in November, the lowest reading in two years, while CPI that month rose 2.2% y-o-y, the lowest in four months. A Bloomberg survey of economists sees China's PPI and CPI coming in at 2.3% and 2.1% in December.
Meanwhile, China's loans and money supply data could be out any­time from Jan 10 to Jan 15.
"Visibly missing is China's December trade data, which is scheduled to be released only on Jan 14, the latest release date at least since 2009. The focus instead will be on the start of the US-China trade talks, with the US government delegation led by Deputy US Trade Representative Jeffrey Gerrish who will be in Beijing on Jan 7," UOB Global Economics and Markets Research says in its weekly outlook report last Friday.
Last Friday, the People's Bank of China expectedly delivered yet another Reserve Requirement Ratio (RRR) cut — the amount of cash banks have to hold as reserves — for the fifth time in a year. The move frees up US$116 billion for new lending as it tries to reduce the risk of a sharp economic slowdown.
Last week, global markets saw more selling as tech behemoth Apple Inc made a rare cut in sales forecast, blaming economic weakness in China. Certain luxury goods with large Chinese following were also sold down, as were smaller technology stocks in the broader supply chain for iPhone components.
Central bank watchers, who expect the Bank of Canada to raise rates on Wednesday, will be looking out for the latest minutes of the US Federal Open Market Committee (FOMC) on Jan 10. US Federal Reserve chief Jerome Powell is also slated to speak at a public forum in Washington this week.
At home, Kuala Lumpur Sessions Court judge M Edwin Paramjothy will rule on whether former Goldman Sachs banker Roger Ng will be granted bail on Monday morning. Ng, who was arrested on Nov 1 last year and has claimed trail to charges in Malaysia, is under remand while awaiting the ruling on extradition proceedings in connection with1Malaysia Development Bhd investigations by the US government.
Meanwhile, Top Glove Corp Bhd, SYF Resources Bhd and Poh Kong Holdings Bhd are slated to have their respective annual general meetings on Tuesday.  Those with extraordinary general meetings include KESM Industries Bhd and Suria Capital Holdings Bhd (both on Jan 10) as well as Oceancash Pacific Bhd (Jan 7).
Save by subscribing to us for your print and/or digital copy.
P/S: The Edge is also available on Apple's AppStore and Androids' Google Play.