This article first appeared in The Edge Malaysia Weekly, on August 24, 2020 - August 30, 2020.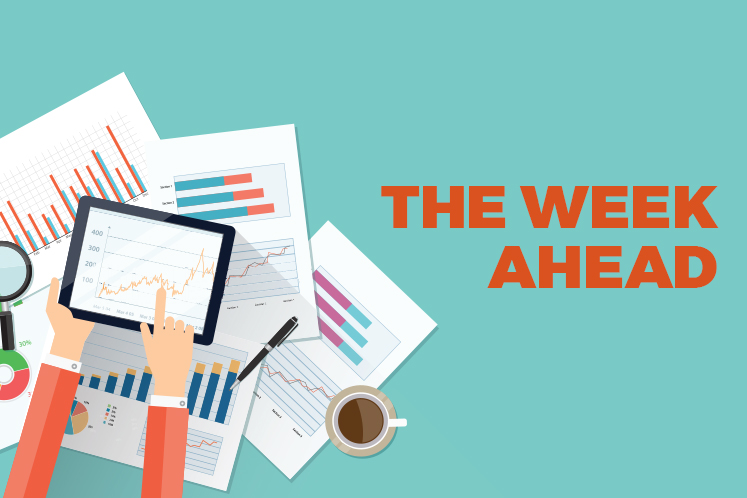 Trade data will take centre stage this week as industrial production and trade releases dominate the calendar for Asia.
On Friday, the Department of Statistics Malaysia (DOSM) will release the July external trade statistics.  Economists expect July exports to decline 1.7% year on year (y-o-y) while imports are projected to contract 2.7% y-o-y, according to a Bloomberg poll.
Last month, Malaysia's exports grew 8.8% y-o-y to RM82.9 billion — exceeding market expectations — compared with the 25.5% contraction in May. The statistics department attributed the improved performance to higher exports to China, the US and Hong Kong, which grew RM4.7 billion, RM2.1 billion and RM1.4 billion respectively.
June imports, however, fell 5.6% y-o-y to RM62 billion, which widened the country's trade surplus to a record RM20.9 billion — a 98.7% jump from a year ago. DOSM said the previous largest trade surplus, recorded in October 2019, was valued at RM17.3 billion.
On Monday, Singapore will release its July Consumer Price Index (CPI) inflation and core inflation data, which is projected to reflect a decline of 0.6% and 0.4% respectively, according to Bloomberg's estimates. The country's July industrial production will also be released and is expected to record a y-o-y increase of 6.1%.
Singapore's 14th parliament will hold its maiden session on the same day, and all eyes will be on Prime Minister Lee Hsien Loong's major speech.
According to an ING Asia report last Friday, although China's industrial profit growth may have softened slightly in July, the markets should take some comfort from the fact that it had remained positive for a third straight month as it signals firming activity and the improved prospects of investment spending.
"In Hong Kong, trade figures should reveal the pinch from the escalation of US-China tensions over the territory's autonomy. Taiwan's industrial production should have benefited from firmer exports in July, though that may not be the case in other countries reporting their industrial production data next week. We see continued negative y-o-y industrial production growth in Singapore and Thailand, although some of this is also due to the base effect," says the report.
It will be a full work week for most of Asia-Pacific while Malaysia and the Philippines will get a long weekend on Monday (Aug 31), in celebration of National Day and National Heroes Day respectively.
As for monetary decisions, Bank of Korea (BoK) will be the only major Asia-Pacific central bank with a monetary policy decision this week (Thursday).
A Bloomberg poll of eight analysts last Friday shows unanimous expectation of no change to South Korea's overnight policy rate at 0.5%.
"The BoK kept its benchmark base rate unchanged at 0.5% in July. We are maintaining our call for the BoK to keep the current record low rate unchanged for this meeting and the rest of 2020. There could be increasing emphasis on non-interest rate tools as well as greater utilisation of fiscal policy," UOB Global Economics & Markets Research said in a report last Friday.
The focus in the US capital markets will be the Federal Reserve chairman Jerome Powell's speech at the virtual Jackson Hold Symposium, on the Fed's Monetary Policy Framework Review on Thursday.
Following the conclusion of the Democratic National Convention, which was held online, the focus now shifts to the Republican (GOP) National Convention, scheduled to start on Monday in Charlotte, North Carolina. In an unprecedented move, however, the start of the GOP convention will begin with US President Donald Trump accepting his party's nomination for re-election from the White House Rose Garden on Monday.
Meanwhile, Canada will be the last G7 country to release its preliminary 2Q2020 GDP data, which is set for Friday. Bloomberg's estimates indicate an unprecedented quarter-on-quarter contraction of 38.9% in economic activity due to the steep April decline from the Covid-19 shutdowns, even though there was a robust rebound in May and possibly June. Switzerland's 2Q2020 GDP is forecast to show a record y-o-y contraction of 9.6%.
On the corporate front, Bursa Malaysia-listed companies scheduled to have their annual general meetings this week include BIMB Holdings Bhd, Panasonic Manufacturing Malaysia Bhd, AMMB Holdings Bhd and WCE Holdings Bhd. Eduspec Holdings Bhd and Systech Bhd will hold their annual shareholders' meeting on Friday while Stone Master Corp Bhd will hold an extraordinary general meeting on Saturday.
The coming week will mark the end of the 2Q2020 earnings release season.